Topic Page: Chickamauga, Battle of, Ga., 1863
---
Definition:
Chickamauga, Battle of (18 September 1863)
from
Andromeda Encyclopedic Dictionary of World History
Battle of the American Civil War at Chickamauga Creek in northwestern Georgia during the Chattanooga campaign. The army of Tennessee under General Braxton Bragg, pursued by Unionists under General William Starke Rosencrans, unexpectedly turned and defeated the North. The Unionists were forced back to Chattanooga and Rosencrans was relieved of his command.
---

Summary Article: Chickamauga, Battle of
from American Civil War: The Definitive Encyclopedia and Document collection
Start Date: September 19, 1863
End Date: September 20, 1863
Major western theater battle. After being pushed out of middle Tennessee following the Tullahoma Campaign (June 23–July 3, 1863), Confederate general Braxton Bragg's Army of Tennessee had stumbled southward into the woods of northern Georgia near Chattanooga, Tennessee. Sensing Bragg's dire situation as well as a potential opportunity, Confederate president Jefferson Davis reinforced the Army of Tennessee by cobbling together units from across the South, most notably by rushing Lieutenant General James Longstreet's I Corps of the Army of Northern Virginia to Georgia from Virginia via rail. By September 1863, Bragg's 65,000 men lay in wait just south of Chattanooga for the Union forces pursuing them.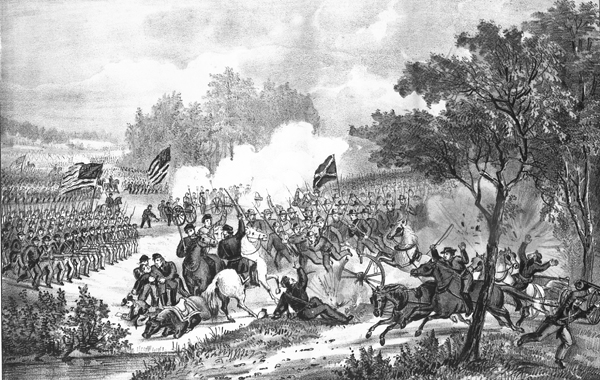 Bragg hoped to defeat Major General William Rosecrans's 60,000-man Army of the Cumberland by isolating and attacking each of its four corps as they pushed through the mountains and woods toward Chickamauga Creek. Dispersed and lacking support, Union major general George Thomas's XIV Corps fell into a Confederate ambush at McClemore's Cove near Davis Crossroads on September 11 but managed to escape largely because of Confederate caution and ineptitude.
Rosecrans quickly concentrated his army, while Bragg squandered a chance to strike Major General Thomas Crittenden's exposed XXI Corps near Lee and Gordon's Mill on West Chickamauga Creek on September 13. After lead elements of the Confederate I Corps arrived on September 18, Bragg then prepared to cut off the Federals from Chattanooga by sweeping across the creek and around Rosecrans's left flank.
On September 19, Union cavalry managed to stall Confederate crossings at Reed's and Alexander's Bridges. This delay allowed Rosecrans to move Thomas's corps into position to protect the Union left flank. Rather than launch a coordinated attack across Chickamauga Creek the next day, Bragg fixated on checking Thomas's corps and committed each of his corps to a series of piecemeal assaults against the hastily formed Union line. Longstreet reported for duty late that night, and Bragg reorganized his army into two wings, one on the Confederate left under the command of Longstreet and one on the right under Lieutenant General Leonidas Polk. At dawn, Polk's corps would move against Thomas, led by Lieutenant General D. H. Hill's corps, followed by Longstreet's drive against the Union right. Polk, however, neglected to send Hill orders, and the attack began nearly two hours late.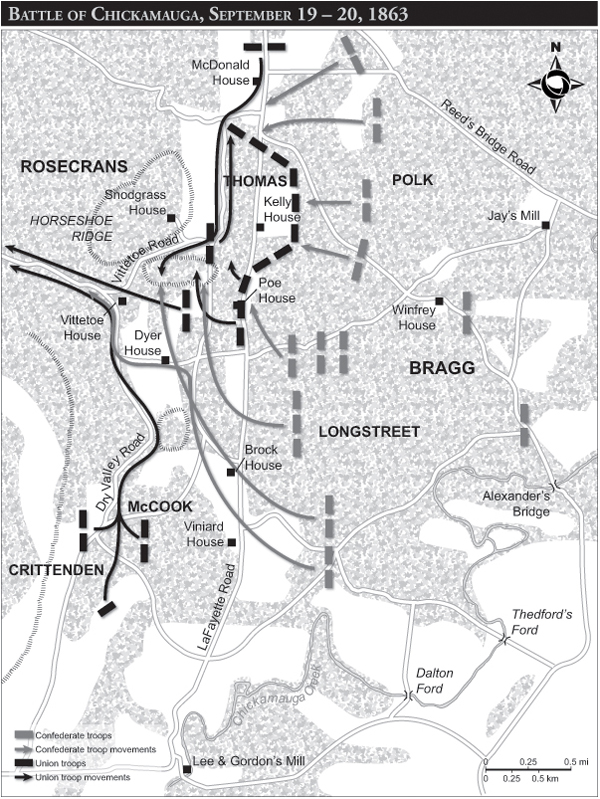 Battle of Chickamauga (September 19–20, 1863)

| | Union | Confederacy |
| --- | --- | --- |
| Force strength | 57,000 | 66,000 |
| Killed | 1,657 | 2,312 |
| Wounded | 9,756 | 14,674 |
| Captured or missing | 4,747 | 1,468 |
Rosecrans, who was preoccupied with managing Thomas's defense, unwittingly opened a gap in his line by ordering the redeployment of one division to plug a nonexistent gap elsewhere along the line. Longstreet's men surged into this gap and sent the Federals reeling back toward Chattanooga. Union colonel John Wilder's Lightning Brigade, equipped with Spencer repeating rifles, and Major General Gordon Granger's Reserve Corps rallied along Horseshoe Ridge, buying the Union army time to withdraw. For his valiant actions in conducting the army's fighting retreat, Thomas earned the nickname "the Rock of Chickamauga."
Casualties during the two-day battle were staggering. The Federals reported 1,657 dead, 9,756 wounded, and 4,747 missing or captured. Although Bragg claimed victory, his losses were even larger: 2,312 dead, 14,674 wounded, and 1,468 missing or captured. The Confederate army was exhausted after the struggle at Chickamauga, and to the consternation of many Southerners, Bragg was unable to follow it up with a credible pursuit.
See also
Bragg, Braxton; Crittenden, Thomas Leonidas; Granger, Gordon; Hill, Daniel Harvey; Longstreet, James; Polk, Leonidas; Rosecrans, William Starke; Thomas, George Henry; Tullahoma Campaign; Wilder, John Thomas