Topic Page: Chesapeake Bay (Md. and Va.)
---
Definition:
Chesapeake Bay
from
Merriam-Webster's Geographical Dictionary
Inlet of Atlantic Ocean, its lower section in Virginia and its upper section in Maryland; 193 mi. (311 km.) long, from 3 to 25 mi. (5 to 40 km.) wide; ab. 3230 sq. mi. (8365 sq. km.); receives the Susquehanna River in the N, the Patuxent and Potomac on the W, the Chester, Choptank, and Nanticoke on the E, and the Rappahannock, York, and James rivers on the SW.
---

Summary Article: Chesapeake Bay
From Ocean
Atlantic Ocean

Northwest

Type

Partially mixed estuary

Area

3,200 square miles (8,200 square km)

Location

Surrounded by Maryland and parts of eastern Virginia, US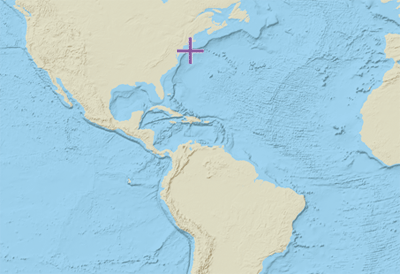 Chesapeake Bay is the largest estuary in the US. Its main course, fed by the Susquehanna River, is over 185 miles (300 km) in length. It has numerous sub-estuaries, and more than 150 rivers and streams drain into it. This body of water was created by sea-level rise drowning the valley of the Susquehanna and its tributaries over the last 15,000 years. Once famous for its seafood, such as oysters, clams, and crabs, the bay is now far less productive, though it still yields more fish and shellfish than any other estuary in the US. Industrial and farm waste running into the bay causes frequent algal blooms, which block sunlight from parts of its bed. The resulting loss of vegetation has lowered oxygen levels in some areas, severely affecting animal life. The depletion of oysters, which naturally filter water, has had a particularly harmful effect on the bay's water quality.