Topic Page: Channel Islands
---
Definition:
Channel Islands
from
Philip's Encyclopedia
Group of islands at the SW end of the English Channel, c.16km (10mi) off the W coast of France. The main islands are Jersey, Guernsey, Alderney, and Sark; the chief towns are St. Helier (on Jersey) and St. Peter Port (on Guernsey). A dependency of the British crown since the Norman Conquest, they were under German occupation during World War 2. They are divided into the administrative bailiwicks of Guernsey and Jersey, each with its own legislative assembly. The islands have a warm, sunny climate and fertile soil. The major industries are tourism and agriculture. Area: 194sq km (75sq mi). Pop. (2000) 144,400.
---
Summary Article: CHANNEL ISLANDS (BRITISH ISLES)
from Encyclopedias of the Natural World: Encyclopedia of Islands
The Channel Islands are British Crown Dependencies situated close to the Normandy coast of France (Fig. 1): Jersey (116 km2); Guernsey (64 km2); Alderney (8 km2); the lesser islands of Sark, Herm, Jethou, and Brecqhou; and adjacent (mostly uninhabited) islets, rocks, and reefs. Their laws and administrative systems are distinct from those of England, and therefore the United Kingdom, having been independently derived from the medieval Duchy of Normandy. Each of the four largest islands is largely self-governing, but Jersey and Guernsey form the centers of two separate bailiwicks with, among other differences, their own postage stamps, banknotes, and coinage.
GEOLOGY
The islands comprise the eroded remnants of part of the Armorican Massif more extensively exposed in Brittany and western Normandy, isolated from France primarily by Holocene sea-level rise. Studied intermittently for over 200 years, they represent a classical area of British geology. The northern Massif comprises (1) the Pentevrian, a crystalline basement yielding isotopic ages older than 900 million years (exposed on Guernsey, less certainly on Sark and Alderney), and (2) a series of metamorphic and igneous rocks (Guernsey, Sark, and Alderney), low-grade metamorphic sediments (Jersey and Guernsey), plutonic intrusions (all main islands), volcanic rocks (Jersey), a conglomerate (Jersey), and sandstone (Alderney) all associated with a 700–400-million-year-old cycle of plate tectonic subduction and mountain building commonly known as the Cadomian Orogeny.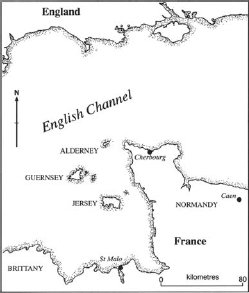 Jersey is composed principally of metasediments and overlying volcanics of very late Precambrian age, intruded by end-Precambrian and Ordovician granites and associated igneous rocks and unconformably overlain to the northeast by Cambro-Ordovician conglomerates with subordinate sandstones and mudstones. The metasediments are predominantly fine- to medium-grained turbiditic sandstones; the volcanics are lavas, tuffs, and agglomerates of andesitic and basaltic composition, succeeded by rhyolitic ignimbrites, lavas, and air-fall or water-laid pyroclastics—all affected by low-grade regional metamorphism. Minor intrusions are common, mostly as dykes, and indicate several phases of emplacement.
Guernsey comprises two distinct parts: (1) a southern metamorphic complex of largely Pentevrian basement composed of metasediments, granite gneisses (the most abundant dated to around 2000 million years ago), and quartz-diorite to granodiorite gneisses—all cut by a large number of minor intrusions, mostly dykes, and (2) a northern plutonic igneous complex of Cadomian age, which is largely diorite, flanked to the east by gabbro and to the north and west by granites—mostly emplaced (with relatively few minor intrusions) by around 500 million years ago.
Alderney comprises a Precambrian basement (of gneiss and diorite) to the west, and sandstone (which is possibly coeval with the post-orogenic conglomerates of Jersey) to the east.
Deposition of the conglomerates and sandstone was followed by a time span of around 400 million years that left no sedimentary record. The three largest islands developed a surface topography of low plateaus, now gently inclined and incised by small streams in steep valleys. Their youngest rocks are unconsolidated superficial sedimentary deposits of Quaternary age, which reflect changing climates and relative sea levels from the Middle Pleistocene to the present day. Largely deposits of interglacial or periglacial origin, they comprise raised beaches, blown sands, "head" breccias, peat, or alluvium in coastal or valley areas, and widespread loess.
COAST, CLIMATE, BIOTA, AND HISTORY
Steep cliffs fringe much of the present coast of all the large islands, indented by sandy bays. Tides have a high range (around 8 m), locally exposing extensive rocky wave-cut platforms or sandy beaches at low water.
Climate is maritime, lacking marked variations or extremes. Thus, Jersey averages a mean daily air temperature of 11.5 °C, experiences ground frosts on only 60 days per year, and has snow or sleet on only 12 days per year. The average long-term annual rainfall is 877 mm on Jersey and 790 mm on Guernsey, but actual annual rainfall may vary considerably from the long-term mean. Investigation of groundwater resources, begun when the islands were occupied by German troops during World War II and continued in more recent years by the British Geological Survey, has facilitated an exceptionally detailed appraisal (on Jersey and Guernsey) of the hydrology of island basement aquifers in three phases, over a 65-year time span.
The largest islands are predominantly rural, with intensively worked arable land and grassland used for dairy farming, plus small areas of heathland, semi-natural mixed deciduous woodland, and wetland. Paleobotanical records reveal that from some 10,000 years ago, periglacial tundra was succeeded by a vegetation mosaic in which woodland was important, its composition varying with changes in climate and sea level. The present biota has closest affinity with neighboring France. Apart from birds, wild flora and fauna are relatively restricted in variety, with few mammals or larger reptiles, although the islands host the most northerly occurrence of some southern European plants and contain some unique subspecies of small mammals.
Historically, Jersey at least was accessible to archaic humans by around 200,000 years ago, who were succeeded in turn by Neanderthals and modern humans. Early inhabitants seemingly adopted a hunter-gatherer lifestyle, exploiting resources both terrestrial (e.g., wild ox, pig, red deer, horse, and goat) and marine (e.g., limpets, periwinkles, and winkles). However, all the large islands were extensively cultivated from around 6000 years ago onward, with inhabitants clearing woodland and leaving some notable archaeological remains. There is evidence of cultural contact with both France and England from at least 3000 years ago, although closest links developed with nearby Normandy. Normandy owed allegiance to the English monarch from the Norman Conquest of England in 1066 until it was incorporated within the then-Kingdom of France in 1204. Thereafter, the Channel Islands faced potential attack by the French and were progressively fortified by the English. A few strong castles were developed on Jersey and Guernsey from the thirteenth to seventeenth centuries, more numerous and widespread redoubts and batteries in the eighteenth century, a series of coastal towers around the beginning of the nineteenth century, and headland forts (particularly on Alderney) within the nineteenth century. Massive coastal fortifications constructed during the German occupation of 1940–1945 are additional features of significant tourist interest.
SEE ALSO THE FOLLOWING ARTICLES
Archaeology / Britain and Ireland / Granitic Islands / Hydrology
FURTHER READING
The geology of Jersey, Channel Islands

. Geologists' Association guide no. 41. London: Geologists' Association.
, , , and . 2003.

The Channel Islands: a new study

. Newton Abbot,UK:

David & Charles

.
, ed. 1977.

The Channel Islands. World bibliographical series vol. 209

. Oxford, UK:

Clio Press

.
1998.

Past landscapes of Jersey: environmental changes during the last ten thousand years

. Jersey:

Société Jersiaise

.
, , , and . 1990.

Great Britain: Channel Islands, in Encyclopedia of European and Asian regional geology

. and , eds. London:

Chapman & Hall:

276-277

.
1997.

Outline and guide to the geology of Guernsey

. Monograph no. 3. Guernsey:

Guernsey Museum

.
, , , , and . 1991.

Hydrogeological investigation in the Channel Islands: the important role of German military geologists in World War II

. Quarterly Journal of Engineering Geology and Hydrogeology

38

:

351-362

.
, and . 2005.

Specialist maps of the Channel Islands prepared by German military geologists during the Second World War: German expertise deployed on British terrain

. The Cartographic Journal

42

:

111-136

.
2005.