Topic Page: Cerebrovascular disease

Summary Article: CEREBROVASCULAR DISEASE
From Epilepsy A to Z: A Concise Encyclopedia
Cerebrovascular disease is the most common serious neurologic condition in all age groups. Isolated or recurrent seizures may be seen following cerebrovascular disease, including ischemic infarction, hemorrhagic infarction, or intracerebral hemorrhage.
Seizures Occurring in Proximity to Ischemic Cerebral Infarction
First seizures: The presentation of a single seizure or new-onset epilepsy in the face of abnormal brain MRI with evidence of cerebral vascular disease was 2539% 1. In addition, in patients older than 60 years of age presenting with partial seizures of cryptogenic origin there is a significant risk of developing an ischemic infarct compared to patients without seizures. Focal seizures predominate in the elderly, with seizure sometimes remaining undiagnosed for prolonged periods of time given their manifestations of acute confusion or memory dysfunction, which may mimic other neurologic conditions. Alternatively, focal seizures with Todd's paralysis may be misdiagnosed as a cerebral infarction despite the absence of abnormality, which is evident on brain MRI. Seizures may precede the obvious manifestations of cerebral infarction.
Seizures occurring with cerebral infarction: In a large prospective analysis, 8.6% of patients developed seizures after ischemic cerebral infarcts, half of which occurred within the first day after the stroke 2. In the Veterans Cooperative Study in elderly patients, 38.3% manifested complex partial seizures, 14.3% simple partial seizures, 7.5% had both, and of the 40% with generalized seizures one third had a definable partial onset, making partial seizures by far the most common seizure type in the elderly 3. The incidence of early seizures (within 1 week of stroke) is about 6%. In nearly 90%, seizures were the presenting feature of the stroke, and in stroke 78% occurred in the first 24 hours 4. The seizures do not necessarily herald an epileptic substrate, with only 8.9% developing late seizures after 10 years 4. The risk of early and late seizures was more favorable with a younger age at the time of the stroke, although status epilepticus imparts a poor prognosis.
Late seizures after cerebral infarction: Late seizures appearing after the first week poststroke up until more than a decade later were seen in 11.5% of patients in a community stroke project in 675 patient over 6 years 5. A higher risk for postinfarction seizures exists, with cortical infarcts (especially for those infarctions in the territory of the middle cerebral artery) a frequent cause of epilepsy in the elderly. The pathogenesis is poorly understood, but this may be due to glial scarring, iron deposition in the cases of hemorrhagic infarction, or hemodynamic factors. Even in the absence of clinical symptoms, diffusion-weighted sequences with brain MRI may reveal evidence of ischemic infarction.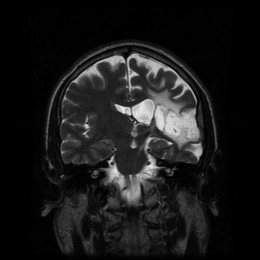 Seizures and Intracerebral Hemorrhage
Early seizures may herald the onset of intracranial hemorrhage or may follow it by several hours. They correlate to the lobar localization of hemorrhage or cortical extension or the presence of blood in the meningeal or intraventricular regions. Seizures are usually partial-onset secondarily generalized seizures, although status epilepticus is a frequent occurrence. Electrographic seizures are also frequently observed when ICU EEG monitoring is employed.
Late seizures occurring after intracerebral hemorrhage are also relatively frequent due to the presence of hemosiderin products containing iron, and they usually require chronic AED treatment. Seizures are more frequent after intracerebral hemorrhage than with infarction, occurring in up to one quarter of cases.
Seizures and Subdural Hematomas
Although subdural hematomas are caused by head injury in most cases, the incidence of seizures is low in patients with chronic subdural hematoma 6.
Neonatal Cerebral Infarction or Hemorrhage
With the development of neuroimaging, there has been an increase in the early identification of neonatal cerebral infarction. Partial or generalized seizures, occurring singly or in clusters, usually have a good response to early treatment. Neurologic examination may confirm the presence of cerebral infarction, typically in the territory of the middle cerebral artery. There may be an eventual progression to chronic epilepsy that merits long-term therapy.
1
Predictive value and morphological pattern of cerebrovascular disease lesions in patients presenting with a first "unprovoked" seizure

. Ann Neurol. (1998); vol.

44

: p.

98-105

.
; ;
2
Seizures after stroke: a prospective multicenter study

. Arch Neurol. (2000); vol.

57

: p.

1617-1622

.
; ; et al.
3
Special considerations in treating the elderly with epilepsy.

Neurology. (2004) vol.

62

p.

S24-S29

.
; ;
4
Population-based study of seizures disorders after cerebral infarction

. Neurology. (1996); vol.

46

: p.

350-355

.
; ; et al.
5
Epileptic seizures after a first stroke: the Oxfordshire Community Stroke Project

. BMJ. (1997); vol.

315

: p.

1582-1587

.
; ; et al.
6
Low incidence of seizures in patients with chronic subdural haematoma

. J Neurol Neurosurg Psychiatry. (1993); vol.

56

: p.

1231-1233

.
; ; ; ; ;
Related Articles
---
Encyclopedia of the Neurological Sciences
Abstract Advancing age is associated with declines in cognitive ability. Incident disease often occurs concurrent to these cognitive declines, parti
The Royal Society of Medicine Health Encyclopedia
Damage to the brain caused by disease of the arteries supplying it with blood. POSSIBLE CAUSES The damage is essentially caused by...
Encyclopedia of Alzheimer's Disease: With Directories of Research, Treatment and Care Facilities
Cerebrovascular disease, which is also known as vascular disease, refers to the dysfunction of any of the blood vessels supplying the cerebrum. The
See more from Credo