Summary Article: Cauliflower
From The Illustrated Cook's Book of Ingredients
This relative of the cabbage is grown in tropical and temperate climates throughout the world. While some varieties are green, purple, and orange, and sometimes pointed in shape, the most familiar type of cauliflower is a round, white head of densely packed curds, or florets. The curds are, in fact, the compacted tips of branching, unopened flowerheads. Cauliflower has a mild flavor when raw, becoming nutty when it is cooked.
Buy
Fall is the season for the choicest cauliflower. Choose snow-white rather than creamy or yellowish heads. Reject any with brown spots or green leaves protruding through the curds, both signs of declining quality. Make sure the cut ends are fresh.
Store
Try to use cauliflower soon after you buy it, although it can be kept, loosely wrapped in a paper bag, in the refrigerator for 3–4 days.
Eat
Fresh:
Separate into small florets for salads and crudités.
Cooked:
Boil or steam whole or in florets; florets can also be roasted, baked in sauce, coated in batter and deep-fried, or sautéed.
Preserved:
Pickle with other vegetables or use in chutney.
Flavor pairings
Brown butter, Gruyère cheese, wheatgerm, garlic, hollandaise sauce, olive oil, parsley, lemon juice.
Classic recipes
Moroccan lamb and cauliflower stew; Pennsylvania Dutch chow-chow; cauliflower cheese; cavolfiore stracciato; gefüllte blumenkohl; fried cauliflower; choufleur à la polonaise.
Common cauliflower
Cauliflower has a mild cabbagelike flavor when raw, becoming rich and savory when roasted. The tight crunchy curds add pleasing texture to curry dishes and stir-fries.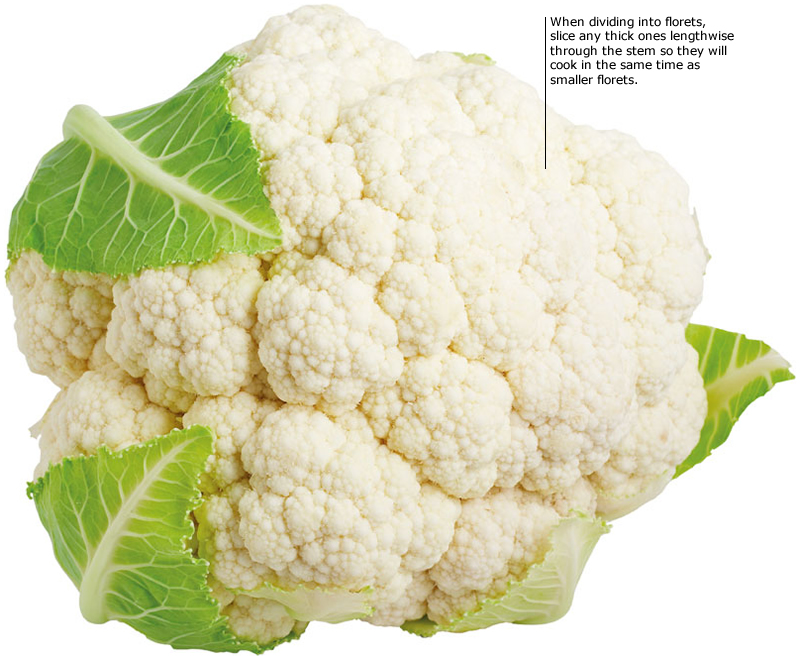 Romanesco
Admired for its intriguing spirals, Romanesco is one of the best-tasting cauliflowers—nutty, meaty, and slightly sweet. The texture is soft and creamy.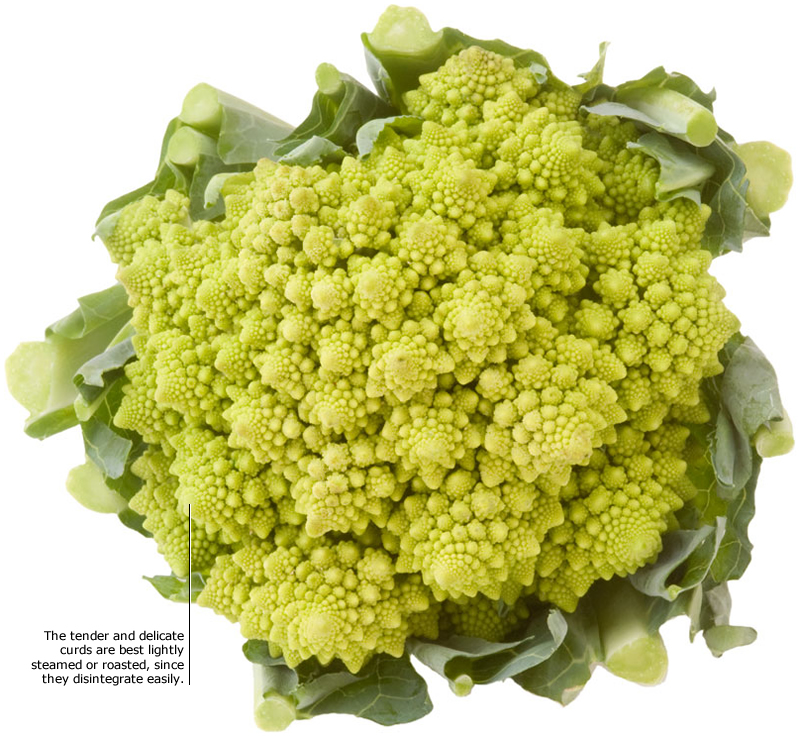 Baby cauliflower
The same variety as full-sized cauliflower, baby heads are kept small by crowding their growing conditions. They make a fine addition to trays of crudités, stir-fries, and steamed vegetable mixtures.