Topic Page: Carson, Rachel Louise (1907 - 1964)

Summary Article: Carson, Rachel (1907–1964)
from Encyclopedia of Activism and Social Justice
Rachel Carson, considered to be the founder of the modern environmental movement, shattered attitudes toward the natural environment by proving the negative consequences of long-term use of chemical pesticides such as DDT among many kinds of living things, including humans. Carson is regarded as one of the most influential writers of the 20th century.
Rachel Carson was born in Springdale, Pennsylvania, on May 27, 1907, to Robert and Maria Carson. Her father, who was 43 years old when she was born, was often away from the family for long periods of time while he traveled and sold insurance. She was raised almost entirely by her mother, and as a small child, Carson spent her childhood engulfed in books and exploring the wooded areas around her home. Her love of nature as a child developed her interests in writing. She was often found writing and illustrating short stories about animals. Her first published work was a short story titled "A Battle in the Clouds"; it appeared in a St. Nicholas League magazine when she was only 11 years old. After graduating first in her class from Parnassus High School in New Kensington, Pennsylvania, Rachel was given an academic scholarship to an elite, private Christian college in Pittsburgh in 1925. At the Pennsylvania College for Women (later known as Chatham College), she studied English and changed her major to biology at a time when women were not typically thought of as being intellectually fit to study or physically capable to practice scientific procedures.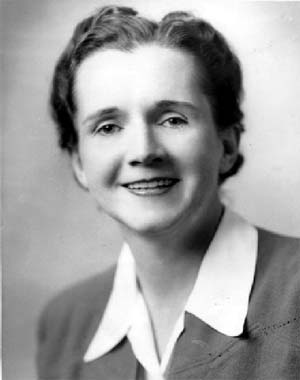 Carson continued on to Johns Hopkins University, where she received her master's degree in zoology in 1932. While teaching zoology at the University of Maryland shortly thereafter, she continued her education during the summer months by studying at the Marine Biological Laboratory in Woods Hole, Massachusetts. While studying over the summers, Rachel developed an intense love for the sea and its natural wildlife. Even though her first passion was research in the field, she first began her professional career in the Bureau of Fisheries (later known as the Fish and Wildlife Services) in Washington, D.C., by writing science radio scripts. She later became chief of publications. This eventually led to a full-time job as an aquatic biologist. Carson was only the second woman hired by the Bureau of Fisheries for a nonsecretarial position. In addition to her work as a biologist, she wrote articles for newspapers on marine zoology; her writing served as an additional means of income.
With support from an editor, Carson submitted an article titled "Undersea" to the Atlantic Monthly, which was published in 1937. This article led to her first published book, Under the Sea Wind, in 1941. This work was critically acclaimed, but went publicly unnoticed in the wake of the uproar of the Pearl Harbor tragedy. Rachel's love for the oceans spawned her next literary venture, titled The Sea Around Us, in 1951. This book stayed on the bestseller list for 86 weeks, was noted in numerous books and magazines, and was translated into 33 different languages. In 1952, The Sea Around Us won the John Burroughs Medal and the National Book Award for nonfiction. Within its first year of publication, The Sea Around Us sold more than 200,000 copies in hardcover.
After her newly acclaimed success by the public and scientific community, Carson left her job at the Bureau of Fisheries to fully concentrate on writing topics of interest. She purchased 1.5 acres of the Southport Island at the tip of Boothbay Peninsula in Maine facing the sea. This motivated her next work, The Edge of the Sea (1955), which was praised for its accessibility, beauty of language, and scientific accuracy. She republished Under the Sea Wind and became famous as a naturalist and science writer for the uninformed public. She published two other articles—"Help Your Child to Wonder" and "Our Ever-Changing Shore"—and planned another book based on the ecology of life. Basically all of Carson's writings were based on ideology of human beings as a part of nature distinguished with the notions defining humanity—the one part of nature with the ability to alter it, and unfortunately enough, the ability to alter it irreversibly for the worse.
In the midst of the World War II era, the concept of chemical warfare was becoming more of a reality to people all over the country. This especially interested Rachel Carson, and she studied the possible effects of such an attack on the oceans and surrounding wildlife. Her view on writing shifted dramatically, from concern for the natural environment to the effects of the use of synthetic chemical pesticides. She spent much of the rest of her life attempting to warn the public about the use of these pesticides and their negative effects. As early as 1945, Carson and a fellow colleague, Clarence Cottam, became distressed by increasing government abuse of newly produced chemical pesticides, DDT in particular; the government was using poisons to kill both predator and pest problems with little regard for its effects on other aspects of nature. During that year, she wrote an article specifically for Reader's Digest on the topic of insecticide experiments conducted near Patuxent, Maryland, which sought to determine the effects of DDT on all aspects of life. Reader's Digest was not interested in the article and did not publish it. Carson then refocused her attention on her trilogy of books about the seas and only returned to the issue of insecticides and pesticides when her books had been completed.
Meanwhile, the federal government was threatening to release a number of pesticides—including DDT, dieldrin, parathion, malathion, and others—to the Department of Agriculture for commercial and public sale and manufacture. In 1962, Carson published Silent Spring, in which she challenged the practices of agricultural scientists and their government counterparts in insect prevention among plants. Carson fought against the use of pesticides like DDT that could potentially harm humans through absorption in plants. The publishing of Silent Spring led to nationwide attention for people in all walks of life, including farmers, the chemical industry, members of Congress, newspaper editors, and even President Kennedy, who set up special sessions of his Science Committee to discuss the issue of pesticides. In 1972, legislation was passed to ban DDT from commercial and private use. Congressional sessions also led to increased public concern and interest over the general use of pesticides and other chemicals. Carson made it known that the use of pesticides was connected to the entire environment: The elimination of one organism and attempts to poison an insect will result in the poisoning of animals and humans.
Once Silent Spring was published, Carson was immediately bombarded with criticism on her data, her interpretation of the data, and even her scientific credentials. Many chemical companies went as far as to call her unprofessional and even a Communist. Another criticism leveled against her was the misconception that she was calling for the elimination of the use of all pesticides, though she was actually encouraging responsible, careful use of the pesticides, marked by a definite awareness of their impact on the environment. Her publisher, Houghton Mifflin, was also pressured to suppress further publishing and advertising of the book, but the publisher refused.
In April 1963, Carson appeared on a CBS TV special in a debate with a chemical company spokesman. Later that year, she was elected to the American Academy of Arts and Sciences and awarded the Cullen Medal of the American Geographical Society.
Rachel Carson died of breast cancer on April 14, 1964, at the age of 56. In 1980, she was awarded the Presidential Medal of Freedom, the highest civilian honor that can be awarded in the United States.
After 7 full months of testimony and Carson's death, the Environmental Protection Agency determined that DDT is not harmful to humans. In addition, DDT was shown to be helpful in the prevention of malaria through the destruction of malaria-carrying insects in many selective environments. Great scrutiny was placed on Rachel Carson after she died—even though she had advocated putting a stop to the use of pesticides in agriculture, not in medicine.
See also

Environmental Movement