Topic Page: Carnegie, Andrew (1835 - 1919)
---
Definition:
Carnegie, Andrew
from
Philip's Encyclopedia
US industrialist and philanthropist, b. Scotland. A telegraph operator with the Pennsylvania Railroad (1853-65), he foresaw the demand for iron and steel, and founded the Keystone Bridge Company. From 1873 he concentrated on steel manufacture, pioneering mass production techniques. By 1901 the Carnegie Steel Company was producing 25% of US steel. Carnegie endowed 2800 libraries and donated more than $350 million to charitable foundations.
---

Summary Article: Carnegie, Andrew
From Encyclopedia of American Studies
The major problem with evaluating Andrew Carnegie, the richest man in the world before John D. Rockefeller took the title around 1910, is that what he said, wrote, and did was frequently contradictory. Carnegie, who was born on November 25, 1835, in Dunfermline, Scotland, and died on August 11, 1919, in Lenox, Massachusetts, advised emperors and presidents about how to manage their countries, but he used spies to ferret out labor organizers in his own factories, and in 1892 he approved Pinkerton strikebreakers to crush a union in his Homestead, Pennsylvania, plant. An avowed social Darwinist, Carnegie considered Anglo-Americans a superior race, but as an anti-imperialist he bitterly opposed American occupation of the Philippines. The press lauded Carnegie, the philanthropist, for donating 311 million dollars—some ninety percent of his fortune—to finance libraries, provide pensions for teachers, give awards for heroism, and for other estimable works. But he never helped the poor directly, and, without compunction, he sold steel to arms manufacturers. Nonetheless, as a pacifist he considered his Peace Palace at The Hague to be "the most holy building in the world because it has the holiest end in view." Then there was the Carnegie who had little formal education and helped create the modern corporation and modern philanthropy.
Biographers suggest that Carnegie's ambiguities stem from the grim realities of his early years. Steam-powered looms had driven his father, William, a weaver, from Dunfermline to Pittsburgh and to appalling daily grinds in factories for himself and his eldest son, Andrew. William remained a political radical to the end of his life, but Andrew idolized industrialization and the men who managed it.
Carnegie's ambitious mother, with whom he lived until her death (he was fifty-one), fueled his insatiable need for success, which began early. He took a job delivering telegraphs and then maneuvered himself into the positions of personal assistant and telegrapher for Thomas Scott, a Pennsylvania Railroad executive. Every dollar he could save was invested, but frugality did not make him rich. Nor did buying low and selling high. Coupled with extraordinary intelligence and superb natural gifts as a salesman, it was Carnegie's enormous talent to recruit as aides men who knew more than he did about industrial processes that enriched him. Additionally, there was his use of the Bessemer process for making steel, his ruthless cutting of labor costs, his reductions in the price of steel, and his understanding of an economic trend that Rockefeller also noticed.
During the Civil War, monopolies had received the federal government's active endorsement because they made possible efficient mass production and thus the Union's victory. After the war the federal government saw monopolies as vital to the national economy. Robber barons who established trusts discovered that they could manipulate government at will and frequently did so.
Adept at irresistible flattery, Carnegie named his first steel plant not for himself but for John Edgar Thomson, president of the Pennsylvania Railroad. This not only implied a close connection to a key figure in American industry but also endeared him to a company that bought his products in volume and was crucial in transporting them to customers throughout the nation.
In 1901 Carnegie Steel was sold to a syndicate headed by J. P. Morgan, in the largest business transaction thus far in world history. Carnegie's price was 303,450,000 dollars in five percent bonds and stock with a market value of some 144 million dollars. The stock had been liberally salted, and Carnegie took most of the bonds together with a mortgage on United States Steel, Morgan's trust replacing Carnegie Steel. This detail very nearly put Carnegie back in possession of the great waterlogged monstrosity when it began to seriously leak a few years later.
As matters stood, however, the deal enabled Carnegie to turn his full attention to philanthropy. Not until he was firmly established as a capitalist was Carnegie much of a giver; his initial ventures in the field were not major donations but two essays published in the North American Review, "Wealth" (June 1889) and "The Best Fields for Philanthropy" (December 1889). In both he emphasizes the extent to which charitable funds are "unwisely spent." And, in the second, he offers the salient observation that unless capitalists use their wealth to ease the anger and resentment of growing numbers of the poor, the result might be socialist or communist upheavals.
"Wealth" was reprinted in dozens of periodicals and brought Carnegie immediate and lasting fame as a philosopher. Some historians believe it is arguably the Gilded Age's most cogent defense of laissez-faire economics and philanthropy in an industrialized state.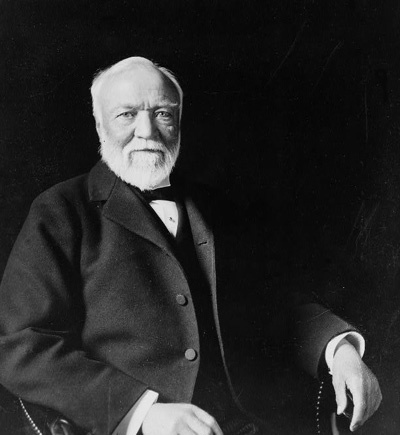 Bibliography
Andrew Carnegie: Robber Baron as American Hero

(

Wadsworth

2002).
,
The Autobiography of Andrew Carnegie and The Gospel of Wealth

. , Intro. (

Signet

2006).
,
Palace of Culture: Andrew Carnegie's Museums and Library in Pittsburgh

(

Univ. of Pittsburgh Press

2011).
,
Andrew Carnegie and the Rise of Big Business

.

3

d ed. (

Longman

2006).
,
Andrew Carnegie

(

Penguin

2007).
,
Meet You in Hell: Andrew Carnegie, Henry Clay Frick, and the Bitter Partnership That Changed America

(

Three Rivers Press

2006).
,
Andrew Carnegie

(

Oxford

1970).
,
Wall, Joseph F.

, ed.,

The Andrew Carnegie Reader

(

Univ. of Pittsburgh Press

1992).
Pierpont Morgan and Friends: The Anatomy of a Myth

(

Prentice-Hall

1973).
,