Topic Page: Carmichael, Stokely (1941 - 1998)
Summary Article: Carmichael, Stokely (1941–1998)
from Encyclopedia of the Sixties: A Decade of Culture and Counterculture
Stokely Carmichael, also known as Kwame Ture, was an activist during the civil rights movement. He was a leader in the Student Nonviolent Coordinating Committee (SNCC) and later joined the Black Panther Party. He is also known for coining the term "black power."
Carmichael was born June 29, 1941, in Trinidad. When he was two, his family moved to the United States and settled in Harlem, leaving him to live with his grandmother until he emigrated in 1952. After graduating high school in 1960, he attended Howard University, a historically black college, in Washington, D.C. While Carmichael was at Howard, his career as a social activist began. He became the leader of the Non-Violent Action Group (NAG), which was created to fight segregation in Washington D.C., Maryland, and Virginia. This group was loosely affiliated with SNCC, an organization that he later joined. He participated in the Freedom Rides, which were designed to desegregate buses and bus terminals in the South, and was jailed on several occasions for his participation in these actions. However, Carmichael felt strongly about the cause and continued to work for equality.
After graduating from Howard in 1964, Carmichael moved to the South hoping that he could continue to help victims of Jim Crow laws. He participated in voter registration drives, sit-ins, and picketing of establishments that were segregated. Much of his work was in Lowndes County, Alabama. There, he founded the Lowndes County Freedom Party to give African Americans a viable candidate for whom to vote. The symbol of this party was the black panther, which stood in stark contrast to the Democratic Party of Alabama's white rooster. The Black Panther Party later adopted this symbol. Carmichael had great success in getting black residents of Lowndes County registered to vote. He raised the number of eligible black voters from 70 to 2,600, which was more than the number of whites registered there.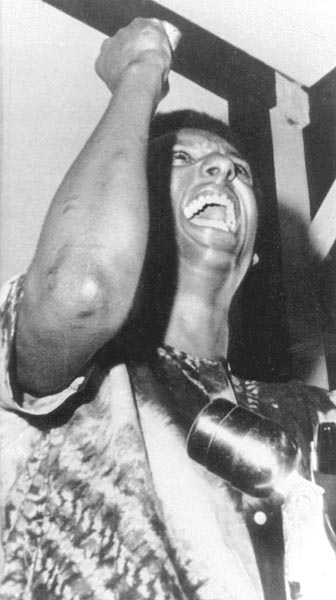 In 1966, Carmichael became the chairman of SNCC. Almost immediately after he assumed leadership he began to challenge the group's nonviolent message. Having lost count at 32 of the number of times he had been arrested for his participation in nonviolent actions, Carmichael increasingly began to question whether the methods of older, more established civil rights leaders, such as Martin Luther King Jr., were making a difference. Less than one month after taking control of SNCC, Carmichael gave his first "black power" speech on June 16, 1966. In this speech, Carmichael urged African Americans to take pride in their skin color and not to let racism affect them. One of his methodologies was pleading with African Americans to have some socioeconomic independence by supporting local community-based businesses. He also wanted African Americans to find political candidates who would represent their interests, not those of the white majority.
After Carmichael's speech, for a while black power became the core goal of SNCC. This upset some members though because northern whites, who had long supported the activities of SNCC, were no longer allowed to get involved. Carmichael, who initially opposed expelling whites from the group, eventually decided that whites should focus on organizing whites, while SNCC would focus on organizing African Americans around the concept of black power.
His advocacy of black power was misunderstood by both whites and African Americans, who thought that he was advocating violence, which they were afraid would lead to a white backlash. In 1967, he was ousted from SNCC, because its members considered their organization a truly mass movement and did not agree with Carmichael's figurehead status or increasingly radical persona. In 1968, the Black Panther Party, inspired by Carmichael's anti-imperialism and black power stance, made him their honorary Prime Minister. Carmichael left the Panthers in 1969 because he did not support their cooperation with white activists.
In 1969, Carmichael announced that the United States was not a nation for blacks and moved to Guinea. He changed his name to Kwame Ture, to honor two African socialist leaders whom he had befriended in Guinea. He founded the All Africans People Revolutionary Party, which advocated pan-Africanism, and returned often to America to try and recruit college students, though without much success. Unlike many of his contemporaries, Carmichael remained revolutionary until the end of his life. He died November 15, 1998, from prostate cancer.
See also Black Panther Party; Black Power; Freedom Rides (1961); King, Martin Luther, Jr. (1929–1968); Student Nonviolent Coordinating Committee (SNCC).