Topic Page: Carlyle, Thomas (1795 - 1881)

Summary Article: Carlyle, Thomas
from Economic Thinkers: A Biographical Encyclopedia
Born: December 4, 1795, in Ecclefechan, Dumfriesshire, Scotland; Died: February 5, 1881, in London, England; Scottish; British historian and essayist; Major Works: Sartor Resartus (1831), The French Revolution (1837), History of Friedrich II of Prussia (1858).
Thomas Carlyle was a Scottish-born historian and essayist. He was given credit for coining the term the "the dismal science," referring to economics or the political economy. The term had nothing to do with the topic of economics as a miserable or dull discipline. The phrase actually was a rebuttal to John Stewart Mill's Principles of Political Economy (1848). Carlyle held the view humans from all races were not the same. Three ideas were prominent in Carlyle's political beliefs. He protested against the doctrine of laissez-faire, he supported the organization of labor, and he advocated emigration. Carlyle died in 1881.
Thomas Carlyle was born in Ecclefechan, Dumfries, and Galloway, Scotland, on December 4, 1795, to James Carlyle and Margaret Aitken Carlyle. Born into a strict Calvinistic family of religion, discipline, and prudence, Carlyle seemed destined to join the ministry. He attended the village school at Ecclefechan and then attended Annan Academy. At the age of 14, Carlyle entered the University of Edinburgh to study mathematics and the classics. He graduated with a bachelor of arts degree. He prepared to enter the ministry at the Church of Scotland, yet to his family's dismay, he lost his faith in Christianity and decided against a career in theology. Instead, he became a schoolmaster for Annan and then Kirkcaldy Grammar School. With the help of his friend and mentor Edward Irving, in 1820 Carlyle landed a position as a tutor for Charles and Arthur Buller. Carlyle eventually moved to London, meeting some great literary figures including Samuel Taylor Coleridge and Matthew Arnold.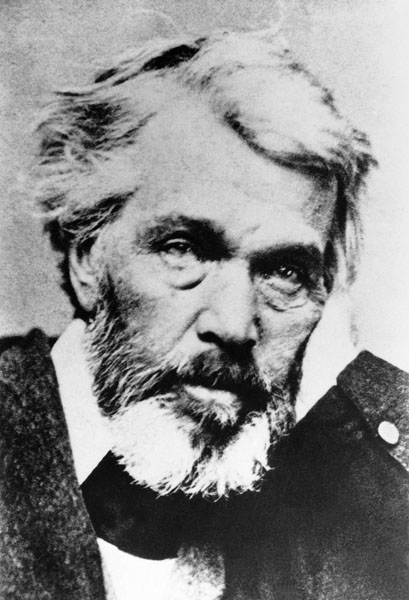 By 1824, Carlyle was a full-time writer and a prudent student of German. In 1826, Carlyle married the writer Jan Baillie Welsh and they moved to Craigenputtock where he wrote Sartor Resartus (1831). It was a general view about life, part autobiographical and part philosophy. Sartor Resartus was originally released as articles in Fraser's Magazine between November 1833 and August 1834. Even though Sartor Resartus was not well received by the press, it would eventually become one of Carlyle's most notable writings. Carlyle had a difficult time finding a publisher and it was not published as a book until 1838.
Carlyle's next challenge and first real, successful accomplishment would come in the form of his three-volume book, The French Revolution (1837). In The French Revolution, Carlyle focuses the reader's attention to the egotism of the nobility and of the monarchy. Carlyle lost the original manuscript when it was burned by a maid of J. S. Mill to whom Carlyle had loaned the original. When it was finally published in 1837, Carlyle's fame as a leading writer of the era was solidified.
In 1840 Carlyle published Chartism, taking a stance against the conventional economic theory of the day. Chartism was a working-class movement that was made up of groups such as miners, factory operatives, rail makers, carpenters, handloom weavers, and artisans. It was primarily an urban and industrial phenomenon, not very well known in agricultural areas. The theory of Chartism reflected the contradiction in society between the rich and poor. It gave a voice to many people who had a grievance about their own situation or a complaint about the current disorder. Carlyle's response to the question of the English condition was that an active government and a responsible social and political order could elevate Britain out of their slump.
Carlyle's pamphlet drew much attention. Chartism expressed his opinion that England lacked a mental or spiritual vigor and enthusiasm. Carlyle's beliefs brought about his next two works. His lecture On Heroes, Hero-Worship, and the Heroic in History showed his respect for strength, especially when combined with a God-given mission. Past and Present embodied his detailed vision of a hero.
By 1857, Carlyle compiled the history of Friedrich II of Prussia into Frederick the Great. This biography, consisting of six volumes, is considered Carlyle's greatest accomplishment in writing because it showcased his exemplary talent at recounting character and beautifully constructing language. Frederick the Great was one of Carlyle's heroes as he admired Frederick's everlasting strength, discipline, leadership, writing abilities, and his very hand in creating the Diplomatic Revolution. Carlyle called this masterpiece his own "thirteen years war." Consuming much of his time in writing Frederick the Great, the writing took a toll on his health.
Carlyle lived his last 15 years as a recluse. He was against the "analytic reasoning and quasi-scientific treatment of social questions by the rationalist political economists and advocated the more emotional and intuitive approach of the 18th and 19th century German thinkers" (Petri Liukkonen 2008). Two events did spark his interest in his final years. One was his defense of Governor Eyre of Jamaica who was dismissed for putting down a black rebellion. The other cause was the Franco-German War in which Carlyle claimed Germany should be the president of Europe.
Thomas Carlyle died on February 8, 1881, in London. Westminster Abbey was offered for his burial, but he requested to be placed beside his parents in Ecclefechan, Scotland.
See also: Mill, John Stuart
Selected Works by Thomas Carlyle
Chartism

. Wiley and Putnam

New York

, 1840.
.
The French Revolution

. Vol.

1

, The Bastille. Charles C. Little and James Brown

Boston

, 1837.
.
The French Revolution

. Vol.

2

, The Constitution. J. M. Dent

London

, 1897.
.
The French Revolution

. Vol.

3

, The Guillotine. James Fraser

London

, 1837.
.
On Heroes and Hero Worship and the Heroic in History

. Grant Richards

London

, 1841.
.
History of Friedrich II of Prussia

. Bernard Tauchnitz

Leipzig

, 1858.
.
Past and Present

. Chapman and Hall

London

, 1843.
.
Sartor Resartus

. Chapman and Hall

London

, 1831.
.
Selected Works about Thomas Carlyle
Thomas and Jane Carlyle: Portrait of a Marriage

. Chatto and Windus

London

, 2002.
.
The Carlyle Encyclopedia

. Farleigh Dickinson University Press

Madison NJ

, 2004.
.
Carlyle and German Thought, 1819-34

. Archon Books

Hamden CT

, 1963.
.
Moral Desperado: A Life of Thomas Carlyle

. Phoenix

Gaithersburg MD

, 1996.
.
Carlyle and Scottish Thought

. St. Martin's Press

New York

, 1997.
.
Thomas Carlyle: A Biography

. University of California Press

Berkeley

, 1993.
.
Guide to Carlyle

. Small Maynard

Boston

, 1962.
.
Thomas Carlyle as a Critic of Literature

. Columbia University Press

New York

, 1910.
.
Carlyle and the Burden of History

. Harvard University Press

Cambridge MA

, 1986.
Carlyle and Tennyson

. Macmillan

New York

, 1988.
.