Topic Page: Cameron, Julia Margaret, 1815-1879

Summary Article: CAMERON, JULIA MARGARET (1815-1878)
from Encyclopedia of Nineteenth-Century Photography
Julia Margaret Cameron was born in 1815 in Calcutta, a week before the Battle of Waterloo and a quarter of a century before the announcement of the invention of photography. Her father, James Pattle, was an Englishman working in India; her mother, Thérèse l'Etang, was French. Of the Pattles' ten children, three died in infancy, leaving Julia and six sisters, all with dark complexions and eyes—inherited from their mother's Indian great grandmother. As children, all seven girls were sent to Europe for the sake of their health and their education, spending much of their childhood with their maternal grandmother in Paris and Versailles.
At the age of 21, Julia and her parents were in South Africa, where they had gone—like many other Europeans living and working in India—to convalesce after illnesses. There she met Charles Hay Cameron, twenty years her senior and an important figure in the British administration of India. Two years later, back in Calcutta, they were married. In Cape Town, too, Julia met another man who was to become very important to her —the astronomer and scientist Sir John Herschel (whom she was later to call her 'Teacher and High Priest').
The newly wed Camerons were soon at the pinnacle of Anglo-Indian society. Charles had succeeded Lord Macaulay in 1843 as the only member of the Supreme Council of India not employed by the East India Company; a year later, when Sir Henry Hardinge arrived in Calcutta as Governor, he left his wife in England and Julia became—at the age of only thirty—his official hostess. Five years later, the Camerons returned to England. Charles was not a healthy man, and he seems to have assumed he could live off the income from his coffee plantations in Ceylon (Sri Lanka), a country he had got to first know when writing his 1832 report on its 'judicial establishment and procedure.'
Charles and Julia were soon as well placed in fashionable London life as they had been in India. The seven Pattle daughters all made 'good marriages' and one, Sara, had returned to London with her husband, Henry Thoby Prinsep, five years before the Camerons. The Prinseps set up house first in fashionable Mayfair, then in Little Holland House, where they surrounded themselves with a coterie of painters (notably George Frederick Watts, who soon moved in), musicians, scientists, and politicians. By then, the Camerons lived three miles away and, though the sickly Charles was often confined to his bed, Julia was frequently at Little Holland House, cultivating the company of the celebrities who would later become subjects of her portraits. She had already met two famous poets—Alfred Tennyson and Henry Taylor (who had been one of Tennyson's rivals for the post of Poet laureate in 1850).
In 1853, Tennyson moved to the village of Freshwater, at the quiet, west end of the Isle of Wight, off the south coast of England. Six years later, while Charles Cameron was visiting his estates in Ceylon with two of their sons, Julia took the two younger boys to stay with the Tennysons and, apparently on impulse, purchased two seaside cottages. Tennyson drove a road down across his estate to the sea to avoid the tourists who came to stare at one of England's most famous men (according to one witness, he was almost obsessed by the thought that everyone was staring at him), and opened a private gate from the grounds of his home, 'Farringford,' into those of 'Dimbola,' as the Camerons' house was called, after one of their estates in Ceylon. Soon, the two families were attracting as many celebrities of the day as at Little Holland House.
Organising musical evenings, poetry readings, plays (she soon built her own theatre) and parties apparently failed to satisfy Cameron's restless energy and intellect. Late in 1863, when Charles was again away in Ceylon, their daughter Julia and her husband, gave Cameron a camera 'It may amuse you, Mother, to try to photograph during your solitude at Freshwater.' There is evidence that Cameron had taken a few photographs before this, or at least collaborated with other photographers; she seems to have experimented with printing other people's negatives. She told Herschel that the painter David Wilkie Wynfield, who made a series of photographs of his fellow painters in fancy dress in the early 1860s, had given her a lesson. It certainly seems unlikely that her children would give her a cumbersome 11" x 9" camera, with its attendant chemical and other accessories, unless she had already shown some interest in the subject.
Cameron herself dated the beginning of her photo graphic career from this acquisition of a camera of her own and wrote on most surviving prints of a portrait of Annie Philpot taken soon after, 'My first success.' She was immensely proud of the picture and immediately sent it to Annie's father (a minor Victorian poet) with a covering note: 'My first perfect success in the complete Photograph owing greatly to the docility & sweetness of my best & fairest sitter. This Photograph was taken by me at 1 p.m. Friday Jan. 29th. Printed—Toned—fixed and framed all by me I given as it is now by 8 p.m. this same day.'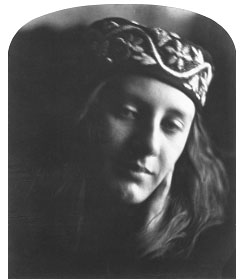 Cameron had at last found an outlet for her restless energy and enthusiasm: 'I turned my coal-house into my dark room, and a glazed fowl house I had given my children became my glass house. The hens were liberated, I hope and believe not eaten. The profit of my boys upon new laid eggs was stopped, and all hands and hearts sympathised in my new labour, since the society of hens and chickens was soon changed for that of poets, prophets, painters and lovely maidens, who all in turn have immortalized the humble little farm erection.' These words, like all her others quoted in this article, come from the twenty manuscript pages of her autobiographical fragment Annals of my Glasshouse, written in 1864 but not published until 1889.
Among the many 'poets, prophets and painters' who came to be photographed at Dimbola were Charles Darwin, Benjamin Jowett, Henry Longfellow, James Spedding, Henry Taylor, Tennyson, Anthony Trollope and G. F. Watts. Others, such as the writers Robert Browning and Thomas Carlyle, had their portraits taken at Little Holland House, to which Cameron sometimes took her equipment. For a select few important subjects, such as Herschel, she went to their homes. By determined application over roughly a decade, she assembled a large portfolio of fine 'close-up' portraits of male heads, virtually life size by virtue of the large negatives she used (at first 11" x 9" and later 15" x 12"), photographic equivalents of the series which G. F Watts painted as a 'Hall of Fame and donated to London's National Portrait Gallery.
These extraordinarily powerful portraits were arguably the first 'close-up' photographs in history (had the Frenchman Nadar made larger prints, he might have had a prior claim). All taken against a totally dark background, they show only the sitters' head and shoulders, while their bodies are draped in dark cloth. Some are in profile—a rather unnatural way of looking at people. Perhaps this was prompted by the intense interest at the time in human physiognomy as an indicator of character, and the widely practised 'science' of phrenology—deducing the power and range of a person's mental abilities from the shape of the head. Cameron's remarkably virtuoso control of lighting in these close-ups—usually from the top, from one side only—certainly highlights every detail, valley and bump.
Cameron's photographs of 'maidens' are blander and less dramatic. Though she did photograph such female celebrities as Marianne North and Marie Spartali (painters), Anne Thackeray (Thackeray's daughter, a successful author in her own right) and Christina Rossetti (no print of this portrait is known to survive), it was extremely difficult for women in Victorian Britain to achieve public status in their own right. Most of Cameron's female subjects were family and friends, and her main criterion for selecting them was their beauty—especially the sort of long-necked, long-haired, immature beauty familiar in Pre-Raphaelite paintings. Two of her favourite models were maids in the Cameron household—Mary Ann Hillier (frequently seen as some Madonna or other) and Mary Ryan, an Irish beggar girl whom Cameron had taken on at least partly, it seems, because of her good looks. The majority of her female models were teenagers, though their dress often makes them look older. With such subjects, she draws her camera back from its extreme close-up position, uncovers all the windows in her glasshouse studio and makes everything softer and prettier.
The children who appeared in her photographs were often local, too. Young Freddy Gould, who was posed as several Biblical characters, including Christ, was the son of a fisherman. With him are often seen one or more of the four children of Thomas Keown, Master Gunner at Freshwater Redoubt, the Royal Artillery fort within sight of 'Dimbola.' One of the few local men portrayed as himself rather than as a fictional character was a young artilleryman, and officers from the fort were often entertained at Dimbola, sometimes taking part in productions at 'Mrs Cameron's Thatched Theatre,' in its grounds.
Though Cameron obviously had a taste for fancy dress—perhaps partly as a result of David Wilkie Wynfield's teaching—she never seems to have photographed scenes from the plays staged in her theatre. She did take the young Lionel Tennyson in costume as the Marquis of St. Cast, a character in Tom Taylor's potboiler Payment on Demand, typical of the Victorian melodramas and farces she put on, despite her otherwise rather sophisticated literary tastes. The home-made settings and heightened gestures used in her literary illustrations and genre scenes have a clear affinity with nineteenth century photographs of such performances and even the first efforts of silent filmmakers two decades later.
Though Cameron had made illustrations of literary, classical and Biblical stories throughout her short photographic career, this element of her work came to an obsessive peak toward the end of that decade, when she made—at Tennyson's suggestion—a series of illustrations for his Idylls of the King and other poems. These were published, probably largely at her own expenses, in two large format volumes, in 1874 and 1875. Her visualisations of poetry are different in style and achievement from those of any other photographer of the time. Her contemporaries decorated books of poetry by Burns, Gray, Milton, Scott, Shakespeare and others with picturesque landscapes, occasionally peopling these with attractively disposed figures in the scenery, but rarely illustrating actual characters or incidents from the story. Cameron certainly shares some of their taste for romantic imagery, but her illustrations are tougher, often conveying strong emotions—tragic as well as romantic.
It has been persuasively argued that many of them—not just the considerable number with Biblical or religious titles—were informed by her enthusiasm for Christianity but today, when public knowledge of such stories and symbols, and of classical literature, is minimal, her pictures still have a powerful directness and emotional impact.
In October 1875, at the height of Cameron's fame, she and Charles suddenly left Freshwater to return to Ceylon. As far as we know, she photographed only one celebrity there—Marianne North, the botanical painter. Cameron did take some pictures of 'natives' as she described them (just as she had called the residents of the Isle of Wight 'peasants'). But she took relatively few, even of these, and her photographic career was almost over. In 1879 she died and—as has often been quoted—the last word to pass her lips was 'Beauty.' Whether the story is true or not, no word could have been more appropriate.
Biography
Julia Margaret Cameron was born on 1815 in Calcutta, India. An extremely energetic and talented writer and artist, in an age when it was difficult for women to achieve success in such fields, she became interested in photography in the late 1850s, and took it up seriously at the beginning of 1864, having been given a large camera by her daughter and son-in-law.
She instantly began to take a series of compelling portraits (many of them, especially those of intellectual and artistic men of the day, in extreme close-up), illustrations of Biblical scenes, and of literature. Her enthusiasm for staging scenes from literature reached its peak in two volumes of illustrations for her friend Alfred Tennyson's Idylls of the King and other poems, published—largely at her own expense, it seems—in 1874 and 1875. Soon after, she and her husband left England to live in Ceylon, where he owned coffee plantations. She took a few photographs there, but spent most of her time helping her husband and his family run their estates. She died in 1879.
See also: Portraiture; Herschel, Sir John Frederick William; and Wynfield, David Wilkie.
Further Reading
The Cameron Collection

,

London and New York

, Van Nostrand Reinhold, 1975.
Julia Margaret Cameron

(rev. ed.), New York, Aperture, 1975.
Annals of My Glass House, Photographs by Julia Margaret Cameron

,

Claremont

, Scripps College and The University of Washington Press (exhibition catalogue).
Jeremy Howard and Pam Roberts,

The Whisper of the Muse, The World of Julia Margaret Cameron

,

London

, P & D Colnaghi (exhibition catalogue).
Cameron: Her Work and Career

,

Rochester

, International Museum of Photography at George Eastman House, 1986 (exhibition catalogue).
Julia Margaret Cameron 1815-1879

,

Southampton University and The Herbert Press

, 1984 (exhibition catalogue).
Whisper of the Muse, The Overstone Album & Other Photographs by Julia Margaret Cameron

,

Malibu

, The J Paul Getty Museum, 1986 (exhibition catalogue).
Julia Margaret Cameron's Women

,

The Art Institute of Chicago & Yale University Press

, 1998 (exhibition catalogue).
Related Articles
---
Chambers Biographical Dictionary
née Pattle 1815-79 British photographer Born in Calcutta, India, she married an Indian jurist, Charles Hay Cameron (1795-1880) in 1838. At the age of
The Bloomsbury Guide to Art
She was born in Calcutta and settled in England only after her marriage in 1838, first in London and then at Freshwater on the...
The Penguin Biographical Dictionary of Women
Julia Cameron was one of the best British portrait photographers of the 19th century. Her subjects included such eminent figures...
See more from Credo