Topic Page: Butler, Benjamin F. (Benjamin Franklin), 1818-1893
---
Definition:
Franklin, Benjamin 1706-1790,
from
Dictionary of Energy
American patriot, author, diplomat, and scientist, famous for his leadership in the founding of the United States, for technological achievements such as the invention of bifocals and the franklin stove, and also for his experiments with electricity. In 1752, he flew a kite attached to a silk string in a thunderstorm, and showed that a metal key tied to the thread would charge a Leyden jar. These experiments led to the use of lightning rods.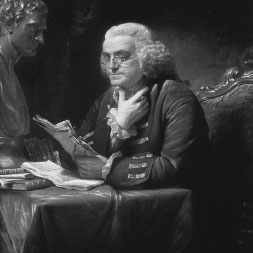 ---
Summary Article: FRANKLIN, BENJAMIN
from The Encyclopedia of American Journalism
When he composed a seriocomic epitaph for his future gravesite, a young colonial tradesman wrote about the body of "B. Franklin, Printer" lying there like an empty, deteriorated book cover, but hoping to appear again someday on a new and corrected edition. Benjamin Franklin (January 17, 1706-April 17, 1790) often looked ahead and considered not only what would improve himself, but also what would foster progress in government, human knowledge, and everyday life. He made celebrated contributions to the world as a statesman, scientist, and inventor, but never lost his pride in his initial occupation. His last will and testament, made at the end of his long and illustrious life, began, "I, Benjamin Franklin, of Philadelphia, printer…." He relied on his skill with words and knowledge from print culture to became a moral leader and democratic philosopher who personified America's Enlightenment.
Early Life and Career
As a boy in a large Puritan family of modest means in Boston, Franklin had little schooling, but ample curiosity and a love of reading. Two books particularly impressed him, one by Daniel Defoe about civic improvements and another by Cotton Mather about doing good. At the age of twelve, Franklin entered the printing trade in Boston as an apprentice to his twenty-one-year-old brother James. Benjamin wrote news ballads and hawked them in the streets until his sagacious father Josiah warned him that verse-makers were usually beggars. The son took the advice and, with The Spectator (published in England by Joseph Addison and Richard Steele) as a model, started prose writing, a skill that he described in his autobiography as a principal means of his advancement.
Using the pseudonym "Silence Dogood," Franklin submitted humorous essays to his brother's newspaper, The New-England Courant, in 1722. The two brothers and other contributors made the Courant a forum for witty criticism of public officials and Puritan leaders. When the Massachusetts legislature reacted by jailing James for a month, his apprentice refused to cooperate when questioned and, taking over the paper, republished a London Journal essay saying that a free people have a right to free expression. Eventually, finding himself in conflict with his older sibling as well as the government, Benjamin ran away to Philadelphia where he worked for Samuel Keimer, an eccentric printer who also quarreled with him.
After some misadventures in London where he had gone to buy printing equipment to start his own business back in the colonies, Franklin returned to Philadelphia in 1726 with resolutions to make his life better by practicing frugality, honesty, and industry and by praising rather than defaming others. He then initiated a personal project to achieve moral excellence by putting more virtues on his list and developing a private liturgy for himself. Franklin's efforts, which he later chronicled in his autobiography, failed from time to time, but, as he expected, he found that the self-discipline made him happier and that a person could do well in the world by doing good.
Franklin grew rich with reliable job printing and a successful newspaper, the Pennsylvania Gazette. Keimer started the paper to beat Franklin into journalism, but the publication did not prosper. Writing under pseudonyms in Philadelphia's only other paper, Andrew Bradford's American Weekly Mercury, Franklin broke one of his resolutions by ridiculing Keimer and was soon able to buy the Gazette for a small sum. The newspaper took popular positions under Franklin and proved to be more entertaining and skillfully edited than the Mercury.
The Gazette and the sayings in his Poor Richard's Almanack, Franklin wrote in his memoirs, provided the common citizen with morally instructive reading. He also said that he kept personal libel out of his paper. When Franklin had something particularly controversial to say he usually did not endanger the good will his paper had generated. A number of his more stinging or risqué essays appeared in pamphlets or in essays published in other newspapers without his name. Some of the pieces were not identified as his until more than two centuries later.
Franklin's stealthy writings included hoaxes that made fun of rigid religious or legal thinking. His "The Speech of Miss Polly Baker," for example, has a brassy woman, who was repeatedly prosecuted for having children out of wedlock, convince a court not to punish her again by making clever, logical arguments and citing the biblical command to "increase and multiply." One of her judges marries her the next day. The tale, which readers often believed was true, was reprinted on both sides of the Atlantic for several decades before he admitted authorship.
Conventional morality could be too much strain at times for Franklin. (One example was his son William, who became Royal Governor of New Jersey in 1763, being born out of wedlock in about 1731.) Generally, however, he was concerned with being an upright citizen and earned the respect of others with his commitment to personal rectitude and public-spirited projects. He was a stern family patriarch and, for both profit and the public good, set up a network of printing offices that stretched across British North America.
Thinking Philadelphia could be improved with joint efforts, Franklin orchestrated the creation of a library, fire company, defense association, college, hospital, and insurance company. He held offices in Pennsylvania and became a deputy postmaster general for North America. His electrical experiments, inventions, and writings made him an international celebrity and won him the respect of scientists in Europe and elsewhere. No American on the eve of the Revolution was better known or more admired.
Franklin on the World Stage
Franklin's extraordinary intellect, dedication to service, and a pleasing personality made him one of the most famous individuals of his time. To many he represented what a person from an ordinary background could achieve with opportunity and the right ideas. To some political opponents and later scholars, however, he could seem like a wily poseur. Maintaining principles at all times was not easy, but Franklin did take seriously his beliefs in freedom, democracy, morality, and the betterment of humanity.
Thinking he had grown wealthy enough and hoping to devote himself to science, Franklin retired from active involvement in his printing business in 1748. His pen remained active, however, as he became embroiled in public controversies and sketched out a vision of a democratic future at a time when the prevailing form of government was monarchy.
Franklin lived in England for most of the twenty years before America declared independence. He represented the Pennsylvania Assembly and later other colonies in arguing for their causes. The experience became frustrating as his often moderate positions and sometimes self-serving actions made him distrusted on both sides of the Atlantic, but he wrote many pointed and sometimes sardonic newspaper essays defending America and warning about the consequences of British policies.
Sent to France to negotiate for assistance after the American Revolution broke out, Franklin set up a press at his residence to print diplomatic materials, propaganda, and amusing essays for his French friends. One of his publications was Information for Those Who Would Remove to America, which was published in both English and French for readers interested in moving to the new nation. The essay offered practical advice about employment and portrayed the country as a land of opportunity, plain virtues, and mutual forbearance. Franklin charmed the French with his natural, down-to-earth demeanor and was lionized as a new world sage.
Franklin was a calming presence at the Constitutional Convention in 1787, particularly at the end when he wrote a widely reprinted speech on the need to approve a document that might be imperfect, but that was nevertheless necessary and as close to perfect as the delegates could make it. He asked the delegates to doubt their own infallibility as far as the flaws were concerned and to realize that any form of government was a blessing to the people if well administered and that any system would collapse into despotism when the people become corrupt enough to need it.
Franklin often worried about democratic debate and the associated journalism becoming too heated and demeaning. In an essay published by the Federal Gazette in 1789 as Congress was completing its work on the Bill of Rights, he explained that he thought press freedom meant a right to express opinions on public matters, but should not mean a liberty to make false statements damaging to an individual's reputation.
Another matter of particular concern at the end of Franklin's life was slavery. He was elected president of a Pennsylvania abolition society in 1787 and wrote a series of public pleas on the subject. His last newspaper essay, written a month before his death, was a parody of arguments for slavery that showed how the same arguments could be used to justify enslaving whites.
Benjamin Franklin was an advocate of freedom and responsibility who, perhaps more than anyone, defined what America should be. He not only talked about what could be done, but also demonstrated what was possible in a democratic environment. Not without reason, Thomas Jefferson, who followed in his footsteps, called the Philadelphia printer the greatest man of the age.
Further Reading
Poor Richard's Politicks: Benjamin Franklin and His New American Order.

New York:

Oxford University Press

, 1965.
The Autobiography of Benjamin Franklin: A Genetic Text.

Edited by J. A. Leo Lemay and P. M. Zall. Knoxville:

University of Tennessee Press

, 1981.
The Papers of Benjamin Franklin.

Edited by Leonard W. Labaree et al. New Haven, CT Yale University Press, 1959.
Benjamin Franklin's Printing Network: Disseminating Virtue in Early America.

Columbia:

University of Missouri Press

, 2006.
The Life of Benjamin Franklin.

Philadelphia:

University of Pennsylvania Press

, 2006.
.
A Sweet Instruction: Franklin's Journalism as a Literary Apprenticeship.

Carbondale:

Southern Illinois University Press

, 1973.
Printers and Press Freedom: The Ideology of Early American Journalism.

New York:

Oxford University Press

, 1988.
Franklin and Bache: Envisioning the Enlightened Republic.

New York:

Oxford University Press

, 1990.
Benjamin Franklin: The Shaping of Genius, The Boston Years.

New York:

Doubleday

, 1977.
The Americanization of Benjamin Franklin.

New York:

Penguin Press

, 2004.
Related Articles
---
Encyclopedia of Emancipation and Abolition in the Transatlantic World
(1818-1893) A Union army general, U.S. congressman, and governor of Massachusetts, Benjamin Franklin Butler was one of the most colorful and...
The Underground Railroad: An Encyclopedia of People, Places, and Operations
(1818-1893) A hero of the Civil War, General Benjamin Franklin "Beast" Butler aided runaways fleeing the collapsing southern economy. A native...
See more from Credo