Topic Page: Burton, Tim, 1958-

Summary Article: Burton, Tim
from Movies in American History: An Encyclopedia
Tim Burton was voted the 49th greatest director of all time in 1996 by Entertainment Weekly. He was the youngest director on the list. Burton became an influence in Hollywood at a young age due to his unique, darkly humorous, and often quirky cinematic vision. His films are intensely personal and highly stylized.
Born Timothy William Burton on August 25, 1958, in Burbank, California, he spent much of his childhood secluded and entertained himself by watching horror movies and drawing. Burton lived near a cemetery and has commented on the "weirdness" of the situation. His rather macabre childhood has influenced his filmmaking.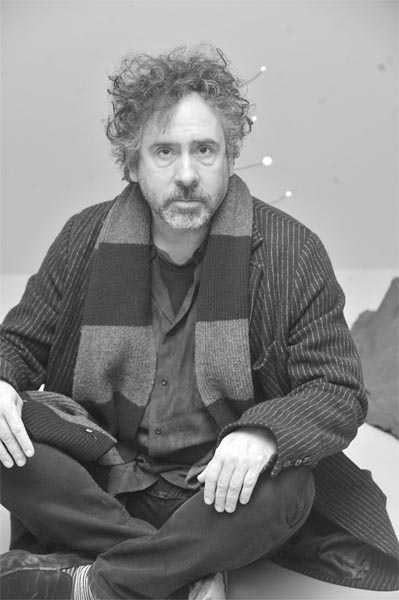 After high school, Burton studied animation at the California Institute of the Arts, founded by Disney, from whom he would eventually obtain a fellowship. He worked at Disney on The Fox and the Hound (1981) and The Black Cauldron (1985), but found that he often had artistic differences with his colleagues. Allowed by Disney to work on personal projects, he created a six-minute tribute to the horror actor Vincent Price titled Vincent (1982), and the movie Frankenweenie (1984), which was judged by studio administrators as unsuitable for children.
Paul Reubens (a.k.a. Pee-wee Herman) was so impressed by Frankenweenie that he asked the then 27-year-old Burton to direct Pee-wee's Big Adventure (1985), which, to the delight of studio heads, turned out to be a huge hit. His successful turn with this film led to his being chosen to direct the quirky supernatural comedy Beetlejuice (1988), which starred Michael Keaton and which was embraced by critics and audiences alike. Based on the critical and box-office success of these two films, Burton was tapped to direct the enormously expensive Batman (1989), on which he again worked with Keaton.
His next movie, Edward Scissorhands (1990), is considered by many his seminal work. The film, which featured the extraordinarily talented Johnny Depp as the eerily seductive Scissorhands, found Burton at the height of his creative powers and showcased his ability to create a highly stylized and painstakingly designed film. The working relationship between Burton and Depp has been a fruitful one, as they have gone on to make five more films together.
Batman Returns (1992) saw Burton once again working with Keaton. The film was darker and stranger than the original, showing how much creative freedom he had won. The film did well, but many people were disappointed by it. While working on Batman Returns, he also produced the wildly popular The Nightmare Before Christmas (1993), which he had written himself. The stop-motion animation movie emphasized Burton's gothic style and dark humor. Mixing two of his favorite themes, Christmas and Halloween, today it has become a cult classic.
Although Ed Wood (1994), his tribute to the legendary "worst director of all time," did poorly at the box office, it received some of the best critical reviews of Burton's career. The vibrant Mars Attacks! (1996) was a step away from his typical style and was met with mediocre reviews and little box-office success, despite the appearances by big name stars.
Burton returned to form with Sleepy Hollow (1999), where he again worked with Depp. His next two films were more conventional. The remake Planet of the Apes (2001) did well at the box office but was panned by critics. He followed with Big Fish (2003), which disappointed fans.
Charlie and the Chocolate Factory (2005), a more faithful retelling of Roald Dahl's original story, was a commercial and critical success. His second stop-motion film, Corpse Bride (2005), received an Academy Award nomination for Best Animated Feature Film and garnered more critical praise. Many consider it to be the spiritual successor to The Nightmare Before Christmas.
His most recent work, Sweeney Todd: The Demon Barber of Fleet Street (2007), received a Golden Globe nomination for Best Director and won an Oscar for Best Achievement in Art Direction.
As of 2009, all but three of his feature films have been nominated for an Academy Award in some category. Sweeney Todd won the Best Motion Picture (Comedy or Musical) and Best Actor (Comedy or Musical) Awards at the 65th Golden Globe Awards.
Selected Filmography
Alice in Wonderland

(2010);.
Sweeney Todd: The Demon Barber of Fleet Street

(2007);.
Charlie and the Chocolate Factory

(2005);.
Big Fish

(2003);.
Planet of the Apes

(2001);.
Sleepy Hollow

(1999);.
Mars Attacks!

(1996);.
Ed Wood

(1994);.
Batman Returns

(1992);.
Edward Scissorhands

(1990);.
Batman

(1989);.
Beetlejuice

(1989);.
Pee-wee's Big Adventure

(1985).
Related Articles
---
Wiley-Blackwell Encyclopedia of Literature: The Encyclopedia of the Gothic
Tim Burton (1958–) is an American filmmaker, producer, writer, and artist whose work has been associated with the Gothic. His films evoke the atmosp
The Halloween Encyclopedia
(1958-) American filmmaker whose films as a director included Pee-Wee's Big Adventure (1985), Batman (1989), and Edward Scissorhands (1990), before
Chambers Biographical Dictionary
1958- ♦ US film director Born in Burbank, California, he studied animation at the California Institute of the Arts and worked for Walt Disney Studios
See more from Credo