Topic Page: Second Battle of Bull Run (1862)
---
Definition:
Bull Run, Second Battle of
from
Philip's Encyclopedia
(August 28, 1862) American Civil War battle. On the old battleground of 1861, 48,000 Confederates under General Robert E. Lee defeated 75,000 Union soldiers under General John Pope, and once more, Lee threatened Washington, D.C. Union losses were 16,000 to the Confederates' 9000. Pope was dismissed as commander of the Union army, and General George McClellan, the former commander, reassumed control.
---

Summary Article: Bull Run, Second Battle of
from American Civil War: The Definitive Encyclopedia and Document collection
Start Date: August 29, 1862
End Date: August 30, 1862
Major engagement of the Second Bull Run Campaign. With the failure of Major General George B. McClellan's much vaunted but poorly executed Peninsula Campaign against Richmond (March–July 1862), President Abraham Lincoln pinned his hopes on two officers who had enjoyed success in the western theater: Major General Henry Halleck, who became general in chief of Union forces, and Major General John Pope, who took command of the new Army of Virginia. Halleck now ordered Major General Ambrose E. Burnside north from Fort Monroe to Falmouth and directed McClellan to bring his army to Alexandria and join Pope for an overland march to Richmond, which would protect Washington. Confederate general Robert E. Lee was determined to strike before the Union forces could be united. He ordered Major General Thomas J. "Stonewall" Jackson to strike at Pope's rear.
Second Battle of Bull Run/Manassas (August 29–30, 1862)

| | Union | Confederacy |
| --- | --- | --- |
| Force strength, approximate | 62,000 | 50,000 |
| Killed, wounded, or captured/missing | 16,000 | 9,200 |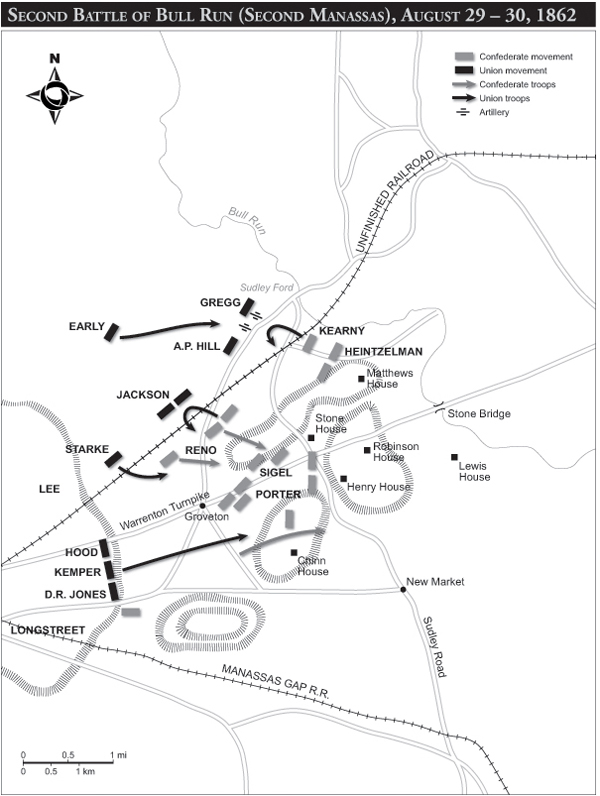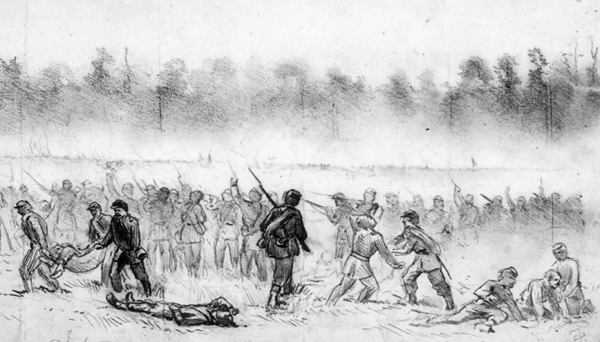 Lee's strategy succeeded brilliantly. On August 9, Jackson defeated advanced units of Pope's army at Cedar Mountain. Lee then devised a risky plan to draw Pope into a trap. Lee divided his force into two wings, sending Jackson to engage Pope while Lee himself marched with Lieutenant General James Longstreet's corps to strike the unsuspecting Pope as he concentrated on Jackson. Jackson's infantry moved quickly around Pope's flank and destroyed his headquarters and supply base at Manassas Junction on August 26. Pope then moved to attack Jackson in the belief that he was isolated from the main Confederate army, only to be drawn into a trap.
On August 28, 1862, the two sides clashed in a fierce contest at Groveton. Jackson had only 20,000 troops at his immediate disposal. Although Pope had at least 60,000 men of his own, he failed to deploy them to advantage. Jackson then concentrated near the old battlefield at Manassas Groveton. Meanwhile, unbeknownst to Pope, Lee and Longstreet had pushed through Thoroughfare Gap with 30,000 men to get within striking distance.
The Second Battle of Bull Run began on August 29. Pope threw away his numerical advantage by committing his men piecemeal with no apparent order or plan as they arrived on the battlefield. The Confederates were well positioned and concealed behind a railway embankment in a forested area that ran from Warrenton Pike to Sudley Springs. Two Union corps rushed headlong into the action. The first, Major General Franz Sigel's I Corps, was soon halted by Confederate musket and artillery fire. The next, Major General Samuel Heintzelman's III Corps from the Army of the Potomac, went in with more success. The division of Major General Joseph Hooker briefly held the ridge of the embankment before it was repelled by Confederate troops. Union troops under Major General Philip Kearny charged Jackson's left, which was held by Major General A. P. Hill's division. Kearney briefly pierced the line, but Hill, having just received reinforcements, repulsed the attack and drove off Kearny's men. The fourth and final Union assault saw Brigadier General John Reynolds's division cut down by withering Southern artillery fire as it attempted to cross the field.
As this action unfolded, Major General Fitz John Porter's V Corps, from the Army of the Potomac, arrived on the Union left. Pope immediately ordered Porter to attack, but having learned of the arrival around noon of 30,000 Confederate reinforcements under Major General James Longstreet, Porter hesitated. Pope did not believe his subordinate and once again ordered him forward. Porter ignored the order, ruining his career but undoubtedly saving the Union many more casualties. Longstreet had indeed arrived and taken position on Jackson's right, from which he could assail Pope's left. Pope's failure to crush the much smaller force of Jackson on the August 29 opened the door for another bold move by Lee.
Overnight the Confederates consolidated their lines, which led Pope to mistakenly believe that they were withdrawing. Informing the War Department of his pending "victory," Pope ordered an attack for the next morning. On August 30, Porter's men advanced. Massed Confederate artillery and musket fire repulsed two Union charges. A third Union assault saw the Union troops approach the railway embankment, but a massive Confederate counterattack sent them into a hasty retreat. Longstreet then ordered his own men forward in a furious attack spearheaded by Brigadier General John Bell Hood's division that collapsed the Union left. Pope's shattered army managed to make a brief stand on Chin Ridge before being driven back by Hood. A second stand on Henry Hill allowed the survivors to escape. Narrowly avoiding complete disaster, Pope's men beat a hasty retreat to nearby Centreville by nightfall.
The Second Battle of Bull Run claimed as many as 16,000 Union casualties. The Confederates lost 9,200. Pope was entirely discredited by the debacle at Bull Run but placed responsibility for the loss on his own officers, principally Porter, whom Pope succeeded in ruining. In the end, Pope had only himself to blame for poor planning and faulty tactics. The Second Battle of Bull Run served only to reveal Lincoln's perennial problem of securing competent senior leadership in the eastern theater of war. Having removed Pope, Lincoln subsequently turned again to McClellan to deal with Lee's invasion of the North.
See also
Bull Run, First Battle of; Burnside, Ambrose Everett; Groveton, Battle of; Halleck, Henry Wager; Hill, Ambrose Powell; Hooker, Joseph; Jackson, Thomas Jonathan; Kearny, Philip; Lee, Robert Edward; Lincoln, Abraham; Longstreet, James; McClellan, George Brinton; Pope, John; Porter, Fitz John; Potomac, Union Army of the; Reynolds, John Fulton; Virginia, Union Army of