Topic Page: First Battle of Bull Run (1861)
---
Definition:
Bull Run, First Battle of
from
Philip's Encyclopedia
(July 21, 1861) American Civil War conflict, fought near Manassas, Virginia. Under-trained Union troops led by General Irvin McDowell, at first successful, were eventually routed by Confederate troops under General P.G.T. Beauregard, reinforced by General Thomas J. Jackson, who earned his nickname 'Stonewall' at the battle.
---

Summary Article: Bull Run, First Battle of
from American Civil War: The Definitive Encyclopedia and Document collection
Event Date: July 21, 1861
First major land battle of the Civil War. With the war already under way, the Northern public and press clamoring for action, and 90-day enlistments in some volunteer regiments about to expire, President Abraham Lincoln ordered a military offensive against the Confederate capital of Richmond. He took this step against the advice of his professional military advisers, who counseled delay until Union forces could be better trained and organized.
The Union offensive was to begin with the capture of the strategically important Confederate rail intersection of Manassas Junction, Virginia, located some 29 miles southwest of the federal capital, just west of Bull Run. Brigadier General Irvin McDowell, commanding the Department of Northeastern Virginia at Washington, D.C., was to march to Manassas with 35,000 men and defeat some 22,000 members of the Confederate Army of the Potomac under Brigadier General P. G. T. Beauregard. As McDowell moved against the Confederates from the east, Major General Robert Patterson, commanding the Department of Pennsylvania with another 18,000 Union troops, had the important assignment of preventing Confederate troops in the Shenandoah Valley from reinforcing Beauregard from the west.
McDowell, a career staff officer with no command experience, departed Washington on July 16, but his advance was glacial. It took two days for his army to reach Centreville, to the northeast of the meandering stream of Bull Run. Here McDowell ordered a reconnaissance by Brigadier General Daniel Tyler's division. Tyler's troops clashed with two Confederate brigades at Blackburn's Ford, after which McDowell spent two more days organizing his forces and developing a battle plan.
McDowell's delay proved costly to the Union side, for it enabled Brigadier General Joseph Johnston and some 12,000 Confederates to elude Patterson and move by the Manassas Gap Railroad from the Shenandoah Valley to reinforce Beauregard. This was the first troop movement by rail in U.S. history. Patterson did not learn of the Confederate movement until July 20, and by then all of Johnston's men except one brigade had joined Beauregard.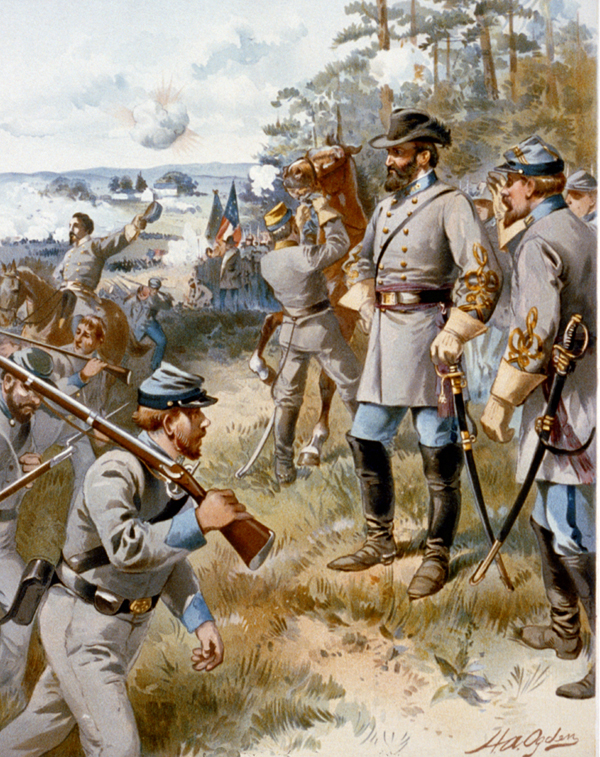 The First Battle of Bull Run opened early on the morning on July 21, 1861. Each commander planned to carry out an envelopment of the eastern flank of the other, with McDowell attempting to cut off Beauregard from reinforcement from the west and Beauregard attempting to sever McDowell's line of communications to Washington. Both plans proved difficult for poorly trained troops to execute. In any case, inadequate orders delayed execution of the Southern attack. By 2:00 a.m. on July 21, McDowell had some 12,000 men moving west on the Warrenton Pike to a ford on Bull Run at Sudley Springs. At 5:00 a.m. Union artillery beyond Bull Run opened up on the Confederate lines as Union infantry there feigned an attack south from Centreville against the eight-mile-long Confederate defensive line.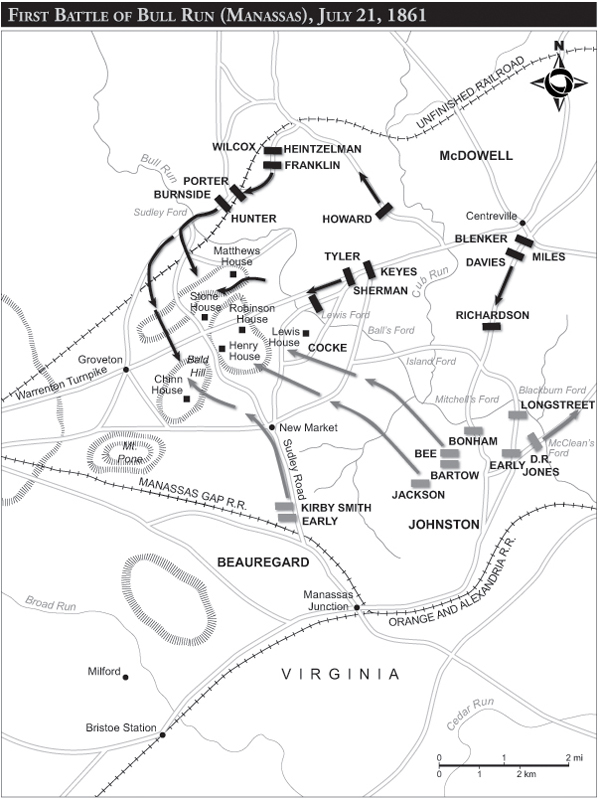 First Battle of Bull Run/Manassas (July 21, 1861)

| | Union | Confederacy |
| --- | --- | --- |
| Force strength (engaged) | 18,000 | 18,000 |
| Killed | 460 | 387 |
| Wounded | 1,124 | 1,582 |
| Captured or missing | 1,312 | 13 |
Already three hours behind schedule, the Union flanking attack began with apparent promise. Confederate scouts had, however, detected the Union movement and reported it, allowing Beauregard to rush reinforcements from the Confederate right to the threatened northwest some miles distant. Battle was fully joined in midmorning, with Confederate troops under Colonel Nathan G. Evans bearing the brunt of the Union assault. Beauregard's reinforcements arrived on the battlefield piecemeal, but Confederate troops under Brigadier General Bernard E. Bee and Colonel Francis S. Bartow managed to hold against the disjointed Union attacks until noon. Union numbers then began to tell as the Confederates were driven back to Henry House Hill. A Union victory appeared in the offing, with only a Virginia brigade under Brigadier General Thomas J. Jackson and South Carolinians led by Colonel Wade Hampton holding formation. Exhorting his disoriented soldiers to stand firm, Bee saw Jackson's positions and shouted to his men, "Look, there's Jackson standing like a stone wall. Rally behind the Virginians." Shortly thereafter Bee was mortally wounded, but he had given Jackson his famous sobriquet of "Stonewall."
Halted by the steady stream of Confederate reinforcements, the Federals now regrouped. For two hours the battle raged back and forth with charges and countercharges. Beauregard and Johnston both arrived on the scene to take personal charge of the Confederate defense, and Beauregard directed a counterattack across Henry House Hill, which captured Union batteries and by 4:00 p.m. had sent Union troops reeling back. At first the Union withdrawal was orderly, but then an artillery shell tore into a wagon on Cub Run Bridge, causing a bottleneck on the main route to Centreville. The retreat then became a confused, panicky stampede back to Washington. Adding to the confusion and congestion were the numerous carriages of the civilians who had come out of Washington to witness what they expected to be a major Union victory.
This significant tactical victory was a great boost to Southern morale and garnered the Confederates a sizable collection of discarded Union weapons and supplies. The battle hardly changed the strategic situation, however, for the Southerners were themselves little better organized than their opponents and in any case were incapable of a major offensive against Washington. Union casualties in the battle numbered 2,896: 460 killed, 1,124 wounded, and 1,312 missing or deserted. Southern casualties were 1,982: 387 killed, 1,582 wounded, and 13 missing. The casualty totals were modest by the standards of the war's future engagements, but both sides now realized that more resources would be necessary to secure victory in the war.
See also
Bartow, Francis Stebbins; Beauregard, Pierre Gustav Toutant; Bee, Barnard Elliott; Evans, Nathan George; Hampton, Wade; Jackson, Thomas Jonathan; Johnston, Joseph Eggleston; McDowell, Irvin; Patterson, Robert
Further Reading
Army of the Potomac: Birth of Command, November 1860-September 1861

. Da Capo

New York

, 2002.
Donnybrook: The Battle of Bull Run, 1861

. Harcourt Books

New York

, 2004.
Battle Cry of Freedom: The Civil War Era

. Oxford University Press

New York

, 1988.
Stonewall Jackson: The Man, the Soldier, the Legend

. Macmillan

New York

, 1997.