Topic Page: Brueghel, Pieter (c. 1525 - 1569)
---
Definition: Brueghel, Pieter the Elder (c.1525-69) from Environmental History and Global Change: A Dictionary of Environmental History
---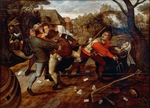 Summary Article: Brueghel Pieter, the Elder
From Chambers Biographical Dictionary
also spelt
Breughel
or (after 1559)
Bruegel
also called
"Peasant" Brueghel
c.1520-1569
Flemish artist
He was born in the village of Bruegel, near Breda, and was the pupil of Pieter Coecke van Aelst (1502-50). An early influence on his work was Hieronymus Bosch. He was made a master of the Antwerp guild in 1551 and then went to Italy. His work was highly regarded, particularly by Rubens, and much of it was bought for royal collections, but his reputation went into decline until the beginning of the 20th century. His pictures, often highly sophisticated moral commentaries derived from everyday sayings and proverbs, mainly depict earthy peasants engaging in all sorts of activities against a backdrop of well-observed landscape, and the truthfulness of his rendering of peasant life and weather conditions marks his work out from the Italianate style of his Netherlandish contemporaries. This genre reached its highest expression in his later works, The Blind Leading the Blind (1568), The Peasant Wedding (1568) and The Peasant Dance (1568). His principal works are in Vienna but there are two examples, The Adoration of the Kings and The Death of the Virgin, in the National Gallery, London.
相关 Credo 文章
---
The Macmillan Encyclopedia
Although popularly called Peasant Brueghel, he was a learned man, whose patrons included Cardinal de Granvelle...
The Bloomsbury Guide to Art
Pieter the Elder was the most important Netherlandish artist of his generation...
Chambers Biographical Dictionary
also spelt Breughel or (after 1559) Bruegel also called "Peasant" Brueghel c.1520-1569 Flemish artist He was born in the village of Bruegel, near Bre
查看来自 Credo 的更多信息