Topic Page: Brooks, Gwendolyn, 1917-2000
---
Definition:
Brooks, Gwendolyn Elizabeth
from
The Columbia Encyclopedia
1917–2000, American poet, b. Topeka, Kans. She grew up in the slums of Chicago and lived in that city until her death. Brooks's poems, technically accomplished and written in a variety of forms including quatrains, free verse, ballads, and sonnets, deal with the experience of being black and often of being female in America. She attracted critical attention with her first volume, A Street in Bronzeville (1945). Brooks went on to win the 1950 Pulitzer Prize for poetry for Annie Allen (1949), becoming the first black woman to win this award. Her verse was collected in The World of Gwendolyn Brooks (1970), which also includes an earlier novelette, Maud Martha (1953). Her work took on a more radical tone beginning with In the Mecca (1968); the subsequent poems in Riot (1970) are written in street dialects. Her other writings include Primer for Blacks (1980) and To Disembark (1981).
---

Summary Article: BROOKS, GWENDOLYN (1917-2000)
from Africa and the Americas: Culture, Politics, and History
Born on June 7, 1917, Gwendolyn Brooks, a black poet, won the Pulitzer Prize for poetry in 1950—the first African American to win a Pulitzer in any category. She went on to receive countless awards and honors during her lifetime. One of her many posthumous honors was the renaming of the Illinois State Library as the Gwendolyn Brooks State Library on June 6, 2003. A published poet at the age of thirteen, Gwendolyn Brooks would publish numerous works including two autobiographies, a single novel, and volumes of poetry such as A Street in Bronzeville (1945), Annie Allen (1949), The Bean Eaters (1960), In the Mecca (1968), Riot (1969), Family Pictures (1971), The Tiger Who Wore White Gloves (1974), Beckonings (1975), Primer for Blacks (1980), To Disembark (1981), Gottschalk and the Grande Tarantelle (1988), Children Coming Home (1991), and her final volume of poetry, published posthumously, In Montgomery (2003).
Gwendolyn Brooks's mother, Keziah Wims Brooks, influenced Brooks's life and works. Gwendolyn Brooks revealed this influence through autobiography, novel, and poetry. She made operative her mother's refrain, "Brighten your corner where you are," when she spoke to the universal, through the particular, from her corner on the South Side of Chicago. Brooks proclaimed in her first autobiography, Report From Part One (1972) and in other works, that she speaks to all black people as she pointedly articulates in her call. Even prior to this clarion call, the centrality of the black subject and the assumption of a black audience prevailed. Africanisms permeate the works of Gwendolyn Brooks, whether she crafted these works prior to the Fisk University Black Writers' Conference in 1967 or subsequent to the conference.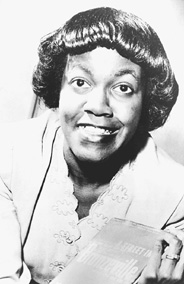 In the late 1960s there was a redirection of Brooks's voice to her people. This redirection manifested itself in major decisions that marked lifetime and life-altering changes, such as the move from white-owned Harper and Row to black-owned Broadside Press. Redirection of her voice resounded further when Brooks confessed a disregard for the white audience response and critical reception of her works. Brooks's inscription of meaningful, pronounced Africanisms in the black experience is not coincidental but conscious. For instance, the poem "To Those of My Sisters Who Kept Their Naturals" (1980) continues the concern and dialogue about black hair, for it is really about image and competing definitions of beauty. Brooks celebrates the the natural hair that stands the test of time.
In Gwendolyn Brooks's only novel, Maud Martha (1953), the author crafts a coming-of-age story about an intelligent young black woman who develops a keen awareness of life in Chicago as she moves from childhood to adulthood while reflecting on sibling, marital, and familial relationships at each level of her development. Brooks consistently makes of vital importance all facets of black life, depicts black people as subjects, and captures the events of the past, the concerns of the present, and the promise of the future as she harnesses the interconnectedness of life and the unity of all worlds—the living, dead, and unborn.
See also:
Haley, Alex; Literature, African American
References
The Soul of Gwendolyn Brooks.

" In Say That the River Turns: The Impact of Gwendolyn Brooks, edited by Haki R. Madhubuti. Chicago: Third World Press, 1987.
, Jr. "
Gwendolyn Brooks' Maud Martha: A Critical Collection

. Chicago: Third World Press, 2002.
, ed.
Warriors, Conjurers, and Priests: Defining African-centered Literary Criticism

. Chicago: Third World Press, 1994.
.
Say That the River Turns: The Impact of Gwendolyn Brooks

. Chicago: Third World Press, 1987.
, ed.
On Gwendolyn Brooks: Reliant Contemplation

. Ann Arbor: University of Michigan Press, 1996.
.