Topic Page: British diplomacy
Summary Article: Royal Visits
from Britain and the Americas: Culture, Politics, and History
For more than two centuries, members of Britain's royal family have paid numerous visits to almost every country in the Americas. The most memorable and heavily publicized visits have been official state visits, which are made in order to introduce the heir to the throne to the overseas dominions, to strengthen ties with the mother country, to be present at ceremonies or commemorative celebrations, to promote trade relations between the two nations, or to improve diplomatic relations and seek support in anticipation of an upcoming crisis, such as the 1939 visit of King George VI and Queen Elizabeth to the United States during their Canadian tour just three months before the outbreak of World War II. Economic benefits are also derived from sales of numerous souvenir booklets, pins, and china celebrating these official tours, and they remain very popular items among today's royal memorabilia collectors.
Members of the royal family serving in the Royal Navy have been on ships calling at ports in the Americas; their visits tend to acquire semiofficial status. Other family members have held official positions in Canada or have been married to its governor-general. In recent years, improvements in transportation and communications have enabled royalty to visit more frequently on an official basis and in pursuit of personal interests, such as supporting charities, doing hands-on volunteer work, going to school, visiting friends, pursuing business or publishing interests, or visiting their own homes.
In 1786, the future King William IV was the first royal visitor to America when he enjoyed a riotous twenty-first birthday celebration during shore leave in Newfoundland; subsequent leaves in Nova Scotia and Quebec enabled him to become intimately acquainted with "ladies" of the better houses. His brother Prince Edward, later father of Queen Victoria, was assigned to the garrison at Quebec in 1791, where he attended the opening of the first Canadian Parliament and visited Niagara Falls. In 1794 he was promoted to commander-in-chief of British forces in Nova Scotia and became commander-in-chief of British forces in North America in 1799. During his tenure there, he improved fortifications, devised a telegraph system, improved public works, and built a magnificent mansion for himself and his French mistress. He was so highly revered by Canadians that Prince Edward Island was later named for him, and sixty years later, the ruins of his home were shown proudly to his grandson, Albert Edward, Prince of Wales, who was the first member of the royal family to tour Canada and the United States officially, from July to October 1860. Ostensibly, the trip was made to open the Victoria Railway Bridge across the St. Lawrence, but in reality his parents hoped that his mind and character would be improved. The trip was successful beyond anyone's imaginings, with its wildly enthusiastic crowds, extensive news coverage, and bevies of pretty girls eager to dance with the prince; the prince responded with a hitherto unsuspected diplomacy and charm that would make him one of the most influential figures in Europe during the next half-century. The residual goodwill from the prince's visit to the United States also did much to ease tensions between Britain and the United States during the Civil War. But it would be another forty years before the next royal tour when the future King George V and Queen Mary would embark on the first royal transcontinental rail tour of Canada, in 1901.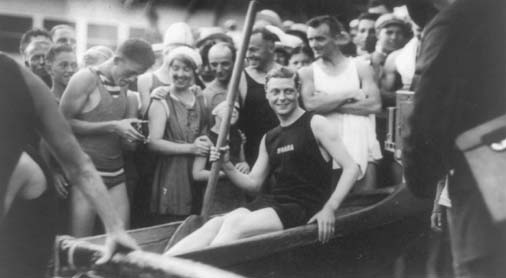 Inasmuch as King George V refused to travel outside Britain after his coronation in 1911, his son Edward, Prince of Wales, toured extensively on behalf of the royal family. His boyish good looks, charisma, and approachability captivated the public and were key factors in sending him on major tours to Canada and the United States in 1919, 1923, 1924, and 1927, as well as a 1931 South American trip that was the first royal tour to include travel by air. His enjoyment of the American lifestyle was evidenced by his propensity for American clothes, cars, slang, and women, as well as his purchase of a cattle ranch in Alberta to which he paid several lengthy visits before its sale in 1962. After his abdication (as Edward VIII) and marriage to US-born Wallis Simpson, he served as governor-general of the Bahamas (1940-1945) and later made long visits to the United States.
The most triumphant of all royal tours occurred when King George VI and Queen Elizabeth became the first reigning monarchs to visit Canada and the United States, from May 17, 1939 to June 15, 1939. Newspapers on both sides of the border covered the royal tour to the exclusion of almost all other news, since the itinerary included a visit with the Dionne quintuplets, a stop at the New York World's Fair, and an informal sojourn at President Roosevelt's Hyde Park home that featured a picnic lunch of hot dogs, beer, and strawberry shortcake. Major cities were swollen to twice their normal size with crowds, and the first royal walkabout occurred in Ottawa when the king and queen spontaneously plunged into a crowd of veterans after a ceremony at the War Memorial. The royal couple's visit was also targeted at maintaining Canadian support for Britain on the eve of war, diffusing US isolationism, and increasing support for President Roosevelt's initiatives to aid Britain. It launched the public image of a caring, compassionate royal couple, which paid great dividends during World War II and the period of postwar austerity.
Queen Elizabeth II and Prince Philip have been able to travel more frequently than any of their predecessors because of the speed and comfort provided by jets and the royal yacht Britannia, which was often used on visits in which British trade relations were discussed with local businessmen. The royal couple visited the Americas innumerable times for independence ceremonies of Caribbean islands, centennial commemorations of Canadian provinces, celebrations of the queen's silver and golden jubilees in 1977 and 2002, and the openings of the Saint Lawrence Seaway (1959), a World's Fair (1967), and the Montreal Olympics (1976), at which they watched their daughter, Princess Anne, in competition as a member of the British equestrian team. Notable visits to the United States include Prince Philip's attendance at President John F. Kennedy's funeral in 1963, a US bicentennial visit in 1976, a visit to President Reagan's ranch in 1983, and occasional visits by the queen to horse breeding farms in Kentucky in pursuit of a foal that might finally win a Derby race for her.
As a young man, Prince Charles had already paid numerous visits to the Americas, including a 1970 White House visit during which President Nixon not only tried to arrange a match with his eldest daughter, Tricia, but also recorded his meeting with Prince Charles on the Oval Office taping system. After his marriage to Lady Diana Spencer in 1981, the prince and, now, princess of Wales visited Canada in 1983, 1986, and 1991, Brazil in 1991, and the United States in 1985, where Princess Diana danced at the White House with actor John Travolta and gave a much-needed boost to his career. The enormous public interest in the royal couple can be measured by the huge press contingent accompanying their tours and the many souvenir books of their tours that were published in the United States. After their separation, Princess Diana appeared in behalf of breast cancer charities in the United States, with her last appearance at Christie's in New York before the auction of her gowns for charity in June 1997, two months before her death.
Prince Charles travels frequently in pursuit of charitable donations to The Prince of Wales Trust, as an ambassador for British business interests, and on official tours such as his first visit to Saskatchewan in 2001 and a visit to Brazil in 2002, where he was presented with an eighteen-inch plaster model of a proposed statue of himself as a winged angel saving the world. On his 1998 visit to Vancouver, Prince Charles was accompanied by his sons Prince William and Prince Harry; the enthusiasm of the crowds who greeted them left no doubt that traditional royal visits were still a formidable public relations tool for promoting trade, goodwill between nations, and the image of the monarchy.
See also:
Anglophilia; British Commonwealth; British Empire
The Queen's Travels.

London: R. Hale, 1987.
, and Heather Fisher.
A Royal Visit to the Former Colonies.

" American History Illustrated

2

:

3

(1967):

40-51

.
"
Daylight upon Magic: The Royal Tour of Canada, 1939.

Toronto: Macmillan of Canada, 1989.
.
Kings, Queens, and Canadians: A Celebration of Canada's Infatuation with the British Royal Family.

Markham, ON: Fitzhenry and Whiteside, 1987.