Topic Page: Booth, John Wilkes, 1838-1865
---
Definition:
Booth, John Wilkes
from
Chambers Biographical Dictionary
1839-65
US assassin
Born in Baltimore, he became a successful actor in Washington, DC. In 1865 he entered into a conspiracy to avenge the defeat of the Confederates, and shot President Lincoln at Ford's Theatre, Washington, DC, on 14 April. He managed to escape to Virginia, but was tracked down and, refusing to surrender, was shot dead. He was the son of the actor Junius Booth and brother of Edwin Thomas Booth.
---
Summary Article: Booth, John Wilkes
From The Social History of Crime and Punishment in America
American stage actor and Civil War southern sympathizer, John Wilkes Booth was born in Bel Air, Maryland. On April 14, 1865, he shot President Abraham Lincoln at Ford's Theater in Washington, D.C. Lincoln died the next morning. Booth was killed 12 days later, on April 26, when he and fellow conspirators were surrounded by pursuers while hiding in a barn. Booth was the ninth of 10 children of Junius Brutus Booth and Mary Ann Holmes. Booth's father was a renowned Shakespearean actor and his older brothers, Edwin and Junius Brutus Jr., followed in their father's footsteps. Booth also had theatrical ambitions. In 1855, at the age of 17, he made his stage debut. Because his early performances revealed his inexperience and he did not want to be compared to his father and brothers, Booth used a pseudonym, "J. B. Wilkes."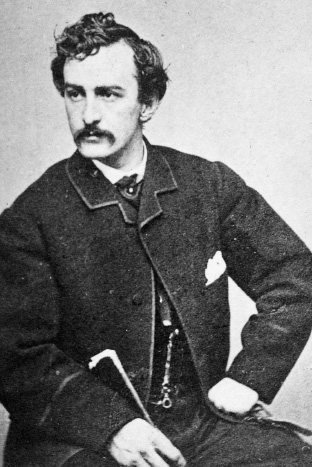 In 1858 Booth performed in Hamlet with his brother, Edwin, playing Horatio to Edwin's Hamlet. By 1860 Booth had progressed from novice actor to leading man. He performed both in the south and north of the Mason-Dixie Line. In January 1861, Booth was performing in Albany, New York, on the same night that Abraham Lincoln stopped there en route to his inauguration as president of the United States. Having injured himself during an earlier performance, Booth was returning to the stage that night and did his performance with his injured arm strapped to his body. There is no record that Booth and Lincoln encountered each other that evening in Albany. As the war continued, Booth was estranged from his brother, Edwin, who supported the Union. Booth was arrested in St. Louis in 1863 when he made treasonous remarks about Lincoln and his administration, but released when he took an oath of allegiance to the Union. With a small group of conspirators, Booth began plotting to kidnap President Lincoln and turn him over to the Confederate administration in Richmond, Virginia. Booth thought that Lincoln could be exchanged for Southern prisoners of war held by the Yankees.
When the kidnapping scheme planned for March 1865 failed because Lincoln did not appear at the expected place, Booth began to think of assassinating Lincoln. According to the plan, Booth was to assassinate Lincoln. At the same time, the vice president, Andrew Johnson, and the secretary of state, William Seward, were to be killed. This would leave the federal government in disarray. However, Booth's conspirators, George Atzerodt and Lewis Powell, failed to successfully carry out their assignments. Powell seriously wounded but did not kill Seward. Atzerodt lost his nerve and did not try to kill Johnson.
On April 14, only Booth accomplished his part of the plan. He shot Lincoln as his wife, Mary Todd Lincoln, and Major Henry Rathbone and his fiancée, Clara Harris, sat in their box watching the performance of the play Our American Cousin. Rathbone was stabbed and seriously injured when he struggled with Booth. Then jumping to the stage below, Booth shouted out the motto of the state of Virginia, Sic simper tyrannis ("Thus always to tyrants") and then, "The South shall be free" (witnesses disagree about the wording of his second declaration).
Booth managed to escape, but had fractured a bone in his leg either when he jumped to the stage or later. He sought medical attention from Dr. Samuel Mudd (who would be arrested as one of the conspirators). After several days, Booth and the man accompanying him were able to cross the Potomac into Virginia. But they were tracked to the farm of Richard Garrett by a detachment of Union soldiers. When the barn was set on fire, Booth appeared and was shot.
According to the report of Lieutenant Colonel Everton Conger, the commander of the detachment, Booth was killed by Sergeant Boston Corbett, a hat maker from Troy, New York. Corbett had disobeyed the order that Booth be taken alive. Corbett claimed that he had fired because Booth raised his pistol to shoot. Booth's body was taken back to Washington for identification. The body was buried at the Washington Arsenal on October 1, 1867. In 1869, Booth's remains were turned over to his family for burial in the family plot in Baltimore. Eight people accused of conspiring with Booth were tried before a military tribunal. One of the accused conspirators was a woman, Mary Surratt. She and three men, including Powell and Atzerodt, were hanged on July 7, 1865. The other accused men, including Dr. Mudd, were sentenced to prison, but three (one died of yellow fever) were eventually pardoned.
See Also: 1851 to 1900 Primary Documents; 1961 to 1980 Primary Documents; Czolgosz, Leon; Guiteau, Charles; Lincoln, Abraham (Administration of); Political Dissidents.
Further Readings
American Brutus: John Wilkes Booth and the Lincoln Conspiracies

. New York:

Random House Trade

, 2005.

John Wilkes Booth: Man to Murderer

."

Mankind: The Magazine of Popular History

, v.

1/8

(1968).
. "

American Gothic: The Story of America's Legendary Theatrical Family—Junius, Edwin, and John Wilkes Booth

. New York:

Simon & Schuster

, 1992.
.
Related Articles
---
The Social History of Crime and Punishment in America
American stage actor and Civil War southern sympathizer, John Wilkes Booth was born in Bel Air, Maryland. On April 14, 1865, he shot President Abrah
Broadway Plays and Musicals: Descriptions and Essential Facts of More Than 14,000 Shows through 2007
[17 January 1940] play by Elmer Harris [Longacre Thea; 5p]. John Wilkes Booth (Richard Waring) assassinates Abraham Lincoln (Charles Keane), flees F
Bridgeman Images: Peter Newark American Pictures
Artist: Currier N. (1813-88) and Ives, J.M. (1824-95) Location: Private Collection Credit: The assassination of Abraham Lincoln (1809-65) in the box
See more from Credo