Topic Page: Booth, John Wilkes, 1838-1865
---
Definition:
Booth, John Wilkes
from
Chambers Biographical Dictionary
1839-65
US assassin
Born in Baltimore, he became a successful actor in Washington, DC. In 1865 he entered into a conspiracy to avenge the defeat of the Confederates, and shot President Lincoln at Ford's Theatre, Washington, DC, on 14 April. He managed to escape to Virginia, but was tracked down and, refusing to surrender, was shot dead. He was the son of the actor Junius Booth and brother of Edwin Thomas Booth.
---

Summary Article: Booth, John Wilkes
from American Civil War: The Definitive Encyclopedia and Document collection
Birth Date: April 26, 1838
Death Date: April 25, 1865
Professional actor and President Abraham Lincoln's assassin. John Wilkes Booth was born on April 26, 1838, in Bel Air, Maryland. He decided as a young man to pursue an acting career, and by the age of 17 he had made his national debut. Considered a talented actor, Booth toured much of the nation in road shows. As he honed his dramatic skills, he also seemed to grow emotionally unstable. By the late 1850s, he had become a fierce secessionist who believed that the South was being systematically oppressed and persecuted by Northern interests. So fixated was Booth on this thinking that even many Southerners found his obsession off-putting. In 1858 he joined a Virginia militia unit known as the Richmond Grays, which was activated during John Brown's Harpers Ferry Raid (October 16–18, 1859). Booth's hatred of Brown's extreme abolitionism led him to witness Brown's execution by hanging that December.
As the Civil War progressed, Booth continued to act, but as Union victories multiplied after 1863, his behavior became ever more strange and incomprehensible. It is quite likely that Booth was mentally ill by 1865. In the late spring of 1864, Booth gave up his acting career and became something of a drifter. By late 1864, he began consorting with Mary Surratt and her son John, who was a Confederate spy. They ran a boardinghouse not far from the White House in Washington, D.C.
Soon enough, Booth hatched a plot to ambush Lincoln's coach, kidnap the president, transport him to the South, and ransom him for Confederate prisoners. Booth attracted a small retinue of followers and coconspirators, but an attempt to kidnap Lincoln on March 17, 1865, was called off at the last moment. Increasingly delusional, Booth now plotted a group assassination against Lincoln and some of his cabinet members. On April 14, 1865, Booth, acting alone, stole into Ford's Theatre in Washington, made his way to the presidential box, and shot Lincoln in the head in front of his horrified wife and several other spectators. Lincoln died the following morning.
Booth broke his left leg as he leapt from the box to the stage below during his getaway, but he managed to escape and for a time eluded a small army of Federals bent on tracking him down. Finally, on April 25, 1865, after an 11-day dragnet, Booth was discovered hiding in a barn on Richard H. Garrett's farm just south of Port Royal in northeastern Virginia. The Union soldiers demanded that Booth surrender. When he refused, they set the barn on fire. As he sought to escape the flames, Booth was shot and killed by Sergeant Boston Corbett.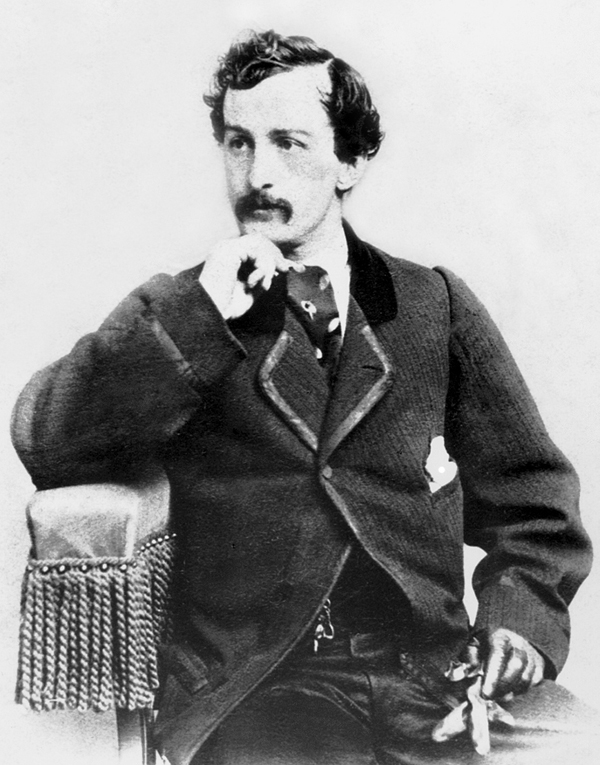 See also
Ford's Theatre; Harpers Ferry, Virginia, John Brown's Raid on; Lincoln Assassination; Surratt, John Harrison; Surratt, Mary Elizabeth Jenkins
Related Articles
---
American Civil War: The Definitive Encyclopedia and Document collection
Birth Date: April 26, 1838 Death Date: April 25, 1865 Professional actor and President Abraham Lincoln's assassin. John Wilkes Booth was born on Apr
The Columbia Encyclopedia
(wĭlks), 1838–65, American actor, the assassin of Abraham Lincoln, b. near Bel Air, Md.; son of Junius Brutus Booth and brother of Edwin Booth. He ma
Encyclopedia of the American Civil War: A Political, Social, and Military History
President Abraham Lincoln knew that the possibility of his assassination was a constant possibility. In his desk drawer was an envelope marked...
See more from Credo