Topic Page: Bergman, Ingrid, 1915-1982

Summary Article: Bergman, Ingrid
from Movies in American History: An Encyclopedia
Ingrid Bergman was born in Stockholm, Sweden, on August 29, 1915, to a Swedish father and German mother. Losing both of her parents at an early age, she went to stay with an aunt and uncle. At the age of 18, Bergman was accepted at the Royal Dramatic Theatre School in Stockholm, where she studied acting and made her stage debut. Her first film role came in Gustaf Molander's Munkbrogreven in 1935. A year later she starred in Molander's Intermezzo, the film that would propel her to stardom on the big screen. Intermezzo caught the attention of Hollywood producer David O. Selznick, who bought the rights to remake the film in English, with Bergman in mind for the lead role. The Hollywood version (1939) of the film was such a success that Selznick signed Bergman to a seven-year contract. Bergman, however, made only two films with Selznick, partly because he took a break from making films, and partly because Bergman was loaned out to other studios by Selznick. She played a variety of roles during this early period in her career, including a Victorian barmaid in MGM's Dr. Jekyll and Mr. Hyde (1941), and the iconic Ilsa, opposite Humphrey Bogart's Rick, in Warner Bros.' Casablanca (1942).
Selznick persuaded Ernest Hemingway that the beautiful young actress was perfect for the female lead in For Whom the Bell Tolls (1943); her performance earned Bergman her first Best Actress Academy Award nomination. She would win the first of her three Best Actress Oscars the following year for Gaslight (1944), in which she portrays a naive wife driven toward insanity by her husband. Gaslight is one of several films in which Bergman's character suffers at the hands of her husband—others included Notorious (1946) and Under Capricorn (1949), both directed by Alfred Hitchcock, who also directed Bergman in Spellbound (1945). Proving her versatility as an actress, Bergman played Sister Mary Benedict in her next film, The Bells of St. Mary's (1945). Featuring fan-favorite Bing Crosby as Father Chuck O'Malley, the friendly rival of Sister Mary at the local parish, the picture proved to be Bergman's biggest box-office success and earned her another Academy Award nomination. In 1946, she returned to the stage, playing the lead role in Joan of Lorraine on Broadway. The performance earned her a Tony Award for Best Actress. In 1949, she went on to star in Joan of Arc, a screen adaptation of Joan of Lorraine. Although the film was a box-office disappointment, Bergman received another Best Actress Academy Award nomination for her performance.
Later in 1949, Bergman made the fateful decision to send Italian director Roberto Rossellini what was basically a fan letter, in which she indicated that she was very much interested in working with him. Rossellini responded by rewriting a part in his script for Stromboli and offering the role to Bergman (1949). While filming Stromboli, Bergman and Rossellini, both married, began a torrid affair. Both would seek divorces from their current spouses, although Bergman's husband agreed to their split only after she revealed to him that she was carrying Rossellini's child, a son, Roberto, who was born in 1950. Although Bergman and Rossellini ultimately married, news of the couple's affair, and of Bergman's willingness to leave not only her husband but also their daughter to be with Rossellini, cost her many of her American fans and negatively affected her Hollywood career. Bergman and Rossellini lived in Italy and made five films together between 1950 and 1955. In 1952, Bergman gave birth to twin girls, one of whom, Isabella, became a noted actress and model.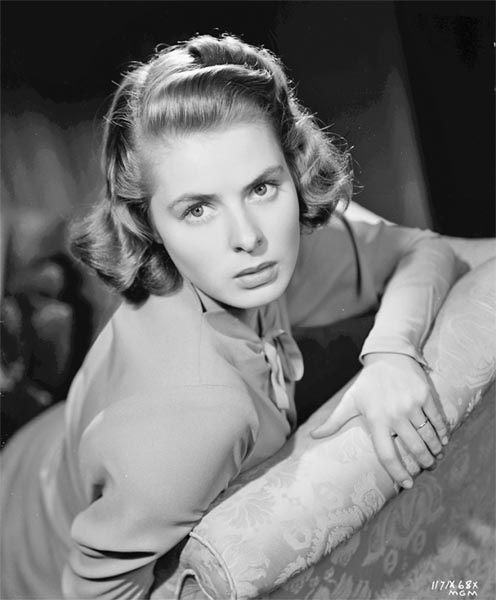 Bergman worked solely with Rossellini until 1956, when she made Elena et les hommes with Jean Renoir, a film that reignited international interest in the actress. During the same year, she was welcomed back to Hollywood, starring in the Twentieth Century-Fox production of Anastasia, for which she won another Best Actress Oscar. Although her Hollywood career was back on track, her relationship with Rossellini was deteriorating, and the couple divorced in 1957.
In 1959, Bergman won an Emmy for her lead role in a television production of The Turn of the Screw; and in 1965, she made her London theatre debut. She won her third Academy Award in 1974—a Best Supporting Actress Oscar—for her role in Murder on the Orient Express. Divorced from her third husband and diagnosed with cancer in 1975, Bergman made her last film in 1978, Ingmar Bergman's Autumn Sonata. Her final role came in the television miniseries A Woman Called Golda, in which she played the part of Golda Meir. The role won Bergman an Emmy and a Golden Globe. She died in London on August 29, 1989 on her 67th birthday.