Topic Page: Bayeux tapestry
---
Definition:
Bayeux Tapestry
from
Philip's Encyclopedia
(c.1080) Strip of linen embroidered in wool, measuring 70m x 48cm (231ft x 19in), which depicts the life of Harold II of England and the Norman Conquest in more than 70 scenes. An unfounded tradition attributes its design to Matilda, wife of William I (the Conqueror), but it was probably commissioned by William's half-brother Odo, Bishop of Bayeux, to glorify William and legitimate his rule.. It is now in a museum in Bayeux, N France.
---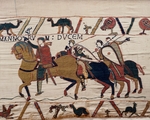 Summary Article: Bayeux tapestry
From The Columbia Encyclopedia
This so-called tapestry is in fact an embroidery that chronicles the Norman Conquest of England by William the Conqueror (William I) in 1066. It is a long, narrow strip of coarse linen, 230 ft by 20 in. (70 m by 51 cm), embroidered in worsteds of eight colors in couching and stem stitch. The embroidery is a valuable document on the history and the costumes of the time. Its provenance and date have long been disputed. Tradition attributes it to Queen Matilda, wife of William the Conqueror, and her handmaidens; but it is now thought to be of somewhat later origin and possibly the work of English embroiderers. The embroidery is preserved in the Bayeux Museum.