Topic Page: Battle of Iwo Jima
---
Definition:
Iwo Jima, Battle of
from
The Hutchinson Unabridged Encyclopedia with Atlas and Weather Guide
Intense fighting between Japanese and US forces 19 February–17 March 1945 during World War II. In February 1945, US marines landed on the island of Iwo Jima, a Japanese air base, intending to use it to prepare for a planned final assault on mainland Japan. The 22,000 Japanese troops put up a fanatical resistance but the island was finally secured on 16 March. US casualties came to 6,891 killed and 18,700 wounded, while only 212 of the Japanese garrison survived.
images
Iwo Jima Memorial
---
Summary Article: Iwo Jima
From Britannica Concise Encyclopedia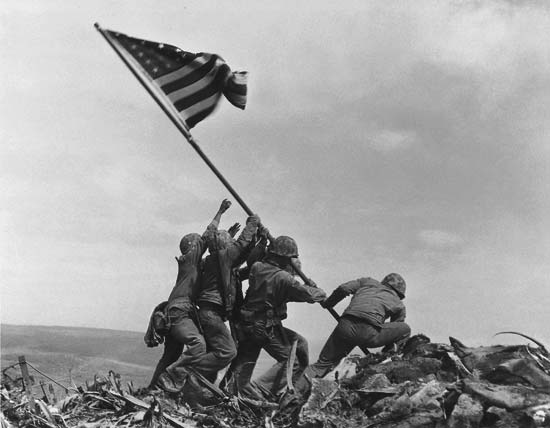 Island, the middle of the three Volcano Islands, Japan. Situated in the western Pacific, it is about 5 mi (8 km) long, 800 yards to 2.5 mi (730 m–4 km) wide, and has an area of 8 sq mi (20 sq km). It was under Japanese control until 1945, when it was the scene of one of the severest campaigns of World War II. After extensive bombing by U.S. planes (December 1944–February 1945), it was invaded by U.S. marines and was finally completely taken by mid-March; it became a strategic base for U.S. planes en route to Japan. In 1968 it was returned to Japan.
Place: Iwo Jima
Location: island, Japan
Type: Physical Place
Related Event: World War II, Iwo Jima, Battle of
Related Place: Volcano Islands, Japan, Pacific Ocean
Keywords: island, Volcano Islands, Iwo Jima, Japan, Pacific Ocean, World War II, Iwo Jima, Battle of
Related Articles
---
The Hutchinson Unabridged Encyclopedia with Atlas and Weather Guide
Largest of the three Japanese Volcano Islands in the western Pacific Ocean, 1,222 km/760 mi south of Tokyo; area 22 sq km/9 sq mi. Annexed by Japan i
See more from Credo