Topic Page: Barton, Clara, 1821-1912
---
Definition:
Barton, Clara
from
The Hutchinson Unabridged Encyclopedia with Atlas and Weather Guide
US health worker, founder of the American Red Cross 1881 and its president until 1904. A volunteer nurse, she tended the casualties of the American Civil War 1861–65 and in 1864 General Benjamin Butler named her superintendent of nurses for his forces.
Born in Oxford, Massachusetts, USA, Barton was trained as a teacher before becoming involved in projects for the welfare of American soldiers. She was present at the Baltimore riot at the outbreak of the Civil War 1861 and also at the Battles of Antietam and Fredericksburg 1862.
weblinks
Clara Barton in Dansville
---

Summary Article: Barton, Clara Harlowe (1821-1912)
from An Encyclopedia of American Women at War: From the Home Front to the Battlefields
A Union battlefield nurse during the Civil War, Clara Barton founded the American Red Cross.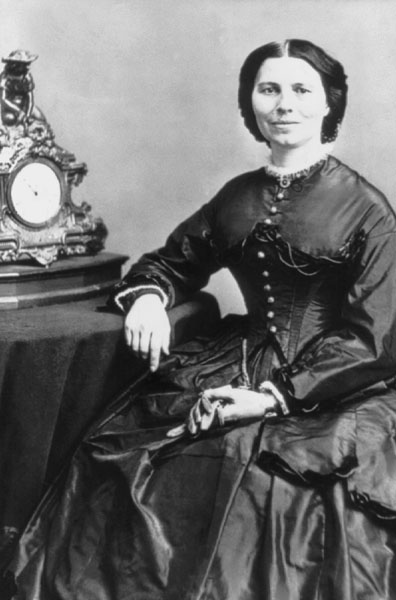 Clarissa Harlowe Barton was born December 25, 1821, in North Oxford, Massachusetts, the youngest of five children of Capt. Stephen Barton, a prosperous farmer and former soldier. As a child she studied Latin, chemistry, and philosophy. In order to combat her natural shyness, Clara was sent away by her family at age 17 to become a teacher in Massachusetts's District 9, located in Worcester County. She became well known for her teaching skills and her disciplined classrooms. Barton would teach in several other local school districts for the next six years before finally establishing her own school in North Oxford.
Needing a change, she entered the Liberal Institute in Clinton, New York, an advanced school for female teachers, which placed her in a new pedagogical position in Hightstown, New Jersey, upon her graduation. Her success there inspired her to open one of the first free public schools in the state in nearby Bordentown. It successfully expanded to over 600 students by 1854. Unfortunately, the school board refused to offer Barton the high-paying position to head the school and hired a man instead.
Frustrated, Barton moved to Washington, D.C., where she worked as the first female clerk in the U.S. Patent Office. There she earned pay equal to that of her male counterparts. When she lost her position after the election of President James Buchanan in 1856, she returned home to Massachusetts. Once Abraham Lincoln entered the White House in 1861, Barton returned to Washington to work as a copyist.
When the 6th Massachusetts Infantry arrived in the capital after having been attacked by a pro-Confederate mob in Baltimore on April 19, Barton housed many of the wounded in her home. All of the regiment's baggage had been lost during the riot, so Barton rounded up clothing, food, and supplies from local merchants in order to provide for the troops whom she now considered "her boys." This experience inspired her to pursue a broader effort to improve the care for soldiers. After her experience with the Massachusetts troops, she wrote several letters home appealing to family and friends to send supplies for the army in Washington. When the wounded arrived after the July 21 Battle of Bull Run, she scoured the unprepared city for medicine, bandages, and proper food.
Her father's illness later that year forced Barton to return home briefly, but she came back to Washington in 1862 even more dedicated to serving the needs of the army and its soldiers. In August, she procured six wagons filled with supplies and personally drove them to the Union lines outside of Culpepper, Virginia. She remained with the army, which remained heavily engaged with Confederate forces for the remainder of that summer. Working in various field hospitals, Barton served as a nurse. She attended to the wounded from the Second Battle of Bull Run, Cedar Mountain, Chantilly, Harper's Ferry, and South Mountain. She worked so close to the fighting at the Battle of Antietam that a stray bullet allegedly passed through her sleeve and killed a man she was attending. Barton followed the Army of the Potomac back east towards the Rappahannock River and continued to tend to wounded soldiers in Falmouth after the Battle of Fredericksburg in December. Her bravery and tireless work, as well as her commitment to enduring the same conditions as the soldiers, earned her the affectionate moniker "Angel of the Battlefield."
In 1863, Barton left Virginia for South Carolina to be closer to her brother, Capt. David Barton, who was serving with Union forces at Hilton Head, outside of Charleston. The pace of military operations were slower in this theater, so Barton became actively involved in the work of fellow reformer Frances Dana Gage, who was educating former slaves who were left behind by their masters. Barton's involvement in this work ignited her commitment to the social equality of African Americans.
Barton's efforts to improve conditions for the troops, however, were undermined by the U.S. Sanitary Commission (USSC), which considered itself the sole agency of the Army's welfare and discouraged the participation of outsiders such as Barton. Barton continued her support as a nurse and a distributor of supplies for federal forces during the siege of Fort Wagner that summer but found continued resistance from both the military and the USSC in spite of all of her selfless efforts. During her time in South Carolina, Barton also allegedly had a romantic affair with a married Union officer, Col. John H. Elwell, which eventually soured. Barton would never marry.
Disillusioned with her experience in South Carolina, Barton returned to Washington, D.C., at the end of 1863. She spent the beginning of 1864 recovering from the Hilton Head trip and gathering supplies for the upcoming spring campaign of the Army of the Potomac. Much as she had the two previous years, Barton traveled with Union forces, tending to the numerous wounded from Gen. Ulysses S. Grant's Overland Campaign. Although she avoided any official affiliation with the Army or the federal government, on June 23, 1864, the War Department named her head of diet and nursing of the X Corps Hospital under Gen. Benjamin Butler's Army of the James. Throughout the remainder of 1864, she served in this hospital as well as in those in both Fredericksburg and Petersburg, Virginia. At the end of the year, she returned home to Oxford to care for her dying brother Stephen. She remained there until the war's conclusion in April.
After the war, she committed herself to a nationwide campaign of searching for missing soldiers. Her work was highlighted by a visit to the former Union prison at Andersonville, Georgia, where she helped to locate and mark the graves of the nearly 15,000 federal soldiers who died there. In all, she located 22,000 of the nearly 62,000 missing soldiers missing during the conflict.
Barton also lectured in various cities about her wartime experiences and worked with the suffrage movement. During her lecture circuit, she gave over 200 speeches with such famous Americans as abolitionist William Lloyd Garrison, former slave and abolitionist Frederick Douglass, and author Mark Twain. Her busy lecture schedule and public appearance commitments drove Barton to ill health. In 1869, under doctor's orders, Barton traveled to Europe to rest and regain her health. During her visit, she found herself caught in the middle of combating European nations in the Franco-Prussian War of 1870–1871. Much as she had during the Civil War, Barton performed nursing duties, establishing field hospitals and procuring medical supplies. It was through these efforts that she worked frequently with the International Red Cross and was urged by European patrons to establish a chapter in the United States.
By 1873, Barton had returned to Massachusetts to continue recovering from her poor health, but by 1876 she became active in the nation's capital once again. This time, she lobbied tirelessly for the United States to sign the Treaty of Geneva and for the nation to establish its own national Red Cross. Barton made her appeals directly to President Rutherford B. Hayes. Her efforts were finally rewarded in 1881 when the United States created the American Red Cross and made Barton its first president. A year later, the United States signed the Treaty of Geneva. Barton became the first female representative at the International Red Cross Convention. She was heralded as a hero for all of her efforts to officially include the United States.
As the head of the Red Cross, Barton approached her duties with the same indefatigable vigor she had shown during her work on the Civil War battlefields. She personally coordinated several major disaster relief efforts, including that launched after the historic 1900 Galveston, Texas, hurricane. Under Barton's tutelage, the organization provided food, clothing, shelter, and medical care to the victims of dozens of other emergencies throughout the United States, including floods, storms, epidemics, and other catastrophes.
In spite of all of its successes, the American Red Cross endured several growing pains such as disorganized bookkeeping and competition from rival organizations. Meanwhile, within the rank and file, many of Barton's subordinates viewed her leadership as inflexible and autocratic. Several argued that the organization had grown large enough for a more centralized, bureaucratic leadership rather than that of one individual. In 1904, Barton was forced to resign her position. She retired to Glen Echo, Maryland, where she published several books about her experiences and continued to support the causes of woman suffrage and civil rights.
Barton died on April 12, 1912, at her home in Glen Echo and was buried in the family cemetery plot in Oxford, Massachusetts.
See also: American Red Cross; Civil War (1861–1865); Nursing; United States Sanitary Commission (USSC).
References and Further Reading
The Story of My Childhood

. Baker and Taylor Company

New York

, 1907.
.
The American Red Cross: The First Century

. Harper & Row

New York

, 1981.
Woman of Valor: Clara Barton and the Civil War

. The Free Press

New York

, 1995.
Clara Barton: Professional Angel

. University of Pennsylvania Press

Philadelphia

, 1987.
.
Related Articles
---
Encyclopedia of Women Social Reformers
(1821–1912) United States Clara Barton, the "Angel of the Battlefield," was to the American Civil War what Florence Nightingale, the "Lady...
Contemporary World Issues: Emergency Management: A Reference Handbook
Clara Barton was born in Oxford, Massachusetts, on Christmas Day in 1821. She began her long career as a pioneer in relief work in 1861. At that...
Bridgeman Images: Peter Newark American Pictures
Artist: Brady Mathew (1823-96) Location: Private Collection Credit: Clara Barton (1821-1912), c.1865 (b/w photo), Brady, Mathew (1823-96) / Private
See more from Credo