Topic Page: Ball, Lucille, 1911-1989
Summary Article: Ball, Lucille (Désirée)
From Britannica Concise Encyclopedia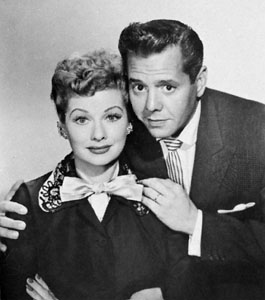 (born Aug. 6, 1911, Celoron, near Jamestown, N.Y., U.S.—died April 26, 1989, Los Angeles, Calif.) U.S. actress and television star. She performed in films from 1933 and starred in a comedy radio series from 1947. With her bandleader husband, Desi Arnaz, she created the very successful television comedy series I Love Lucy (1951–57) and later the Lucy-Desi Comedy Hour (1957–60). After their divorce in 1960, Ball appeared in The Lucy Show (1962–68) and Here's Lucy (1968–74). With her red hair and rasping voice and a comic persona alternately brassy and feminine, she was the preeminent female star of the early decades of television.
Birth Place: Celoron, New York, United States
Death Place: Los Angeles, California, United States
Name: Ball, Lucille or Lucille Ball
Gender: female
Nationality: American
Activity: American actress
Keywords: Ball, Lucille, Emmy Award, wife, American, "Five Came Back", Lucille Ball, comedy, motion picture, acting, situation comedy, New York, television, Celoron, Los Angeles, Kennedy Center Honors, "I Love Lucy", "Easy to Wed", comedian, radio, Arnaz, Desi, comic actor, "Dark Corner, The", California
Related Articles
---
The Penguin Biographical Dictionary of Women
What could I do? I couldn't dance. I couldn't sing. I could talk . —Quoted by David Shipman (editor) in Movie Talk ...
See more from Credo