Topic Page: Balaklava (Ukraine)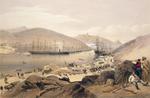 Summary Article: Balaklava
from The Columbia Encyclopedia
(bӘlӘklä'vӘ), section of the city of Sevastopol, on the Crimean peninsula. In ancient times it was an important Greek commercial city. In the Middle Ages it belonged to the Genoese until it was taken (1475) by the Turks, who gave it its present name. In the Crimean War, Balaklava became famous for an allied victory (Oct., 1854) over the Russians and particularly for the charge of the Light Brigade, celebrated by Tennyson. On Oct. 25, through a disputed error in orders, the earl of Cardigan led an English light cavalry brigade of some 670 in a hopeless charge on a heavily protected Russian position, and more than two thirds of his men were killed or wounded. Balaklava was the capital of the former Balaklava dist. in the Crimean region until 1957, when it was incorporated into Sevastopol. There are ruins of a Genoese fortress (14th–15th cent.) in Balaklava.
Related Articles
---
Penguin Encyclopedia of Places
Small port in S Crimea 13 km (8 miles) S of Sevastopol, famous for the battle (1854) during the Crimean War at which the charge of the...
Collins English Dictionary
n 1 a small port in S Crimea: scene of an inconclusive battle (1854), which included the charge of the Light Brigade, during the Crimean War
Merriam-Webster's Collegiate(R) Dictionary
pronunciation village Ukraine in Crimea SE of Sevastopol
See more from Credo