Summary Article: Baez, Joan (1941–)
from Music in American Life: An Encyclopedia of the Songs, Styles, Stars, and Stories That Shaped Our Culture
Jacqueline Edmondson is associate dean for undergraduate and graduate programs in the College of Education at the Pennsylvania State University. She is also a professor of education. Edmondson's research includes an interest in nonfiction texts for adolescent readers and general audiences. She has published several biographies for Greenwood Press, among them Jerry Garcia: A Biography (2009) and John Lennon: A Biography (2010).
Joan Chandos Baez once described herself as a humanist, pacifist, and folksinger, in that order. She has a deep passion for human rights and social justice and a long-standing commitment to nonviolence. Baez became a public figure in the late 1950s when she took the stage to sing folk music. She is known for her distinct soprano voice and unique finger-picking style on the guitar. Influenced early in her career by Pete Seeger (1919–) and Bob Dylan (1941–), she learned to combine music with her political agenda. Baez used her public image to bring attention to civil rights issues, human rights violations, and environmental causes, even when it meant risking her own personal safety and her musical career.
Baez was born in New York City to Albert Baez, a Mexican American, and Joan Bridge Baez, a Scottish American. Raised in the Quaker religion, Baez and her sisters Pauline and Mimi (1945–2001), who was also a folksinger and activist, learned from an early age to advocate for peace. The Baez family moved frequently, living in many U.S. cities and abroad, because Albert worked in health care and was involved with UNESCO.
After the Baez family moved from California to Boston in 1958, Joan began to play her guitar and sing folk music in coffeehouses. She was a regular at Club 47, and after her 1959 performance at the Newport Folk Festival in front of thirteen thousand people, her popularity soared. Baez began her recording career in 1960. Her first three albums went gold: Joan Baez (1960), Joan Baez 2 (1961), and Joan Baez in Concert Part 1 (1962).
Bob Dylan listened to Baez's music and was among her fans. The two met in 1961 in Greenwich Village, and a relationship developed between them. Baez invited Dylan, who was not as well known as she was at the time, to join her onstage at the 1963 Newport Folk Festival. Baez, who advocated for civil rights and school integration in the south alongside Martin Luther King Jr., also performed with Dylan during the March on Washington in 1963. Although their personal relationship was relatively short-lived, their influence on each other's music was long-standing. Baez later wrote two songs for Dylan, "To Bobby" (1972) and "Diamonds and Rust" (1975).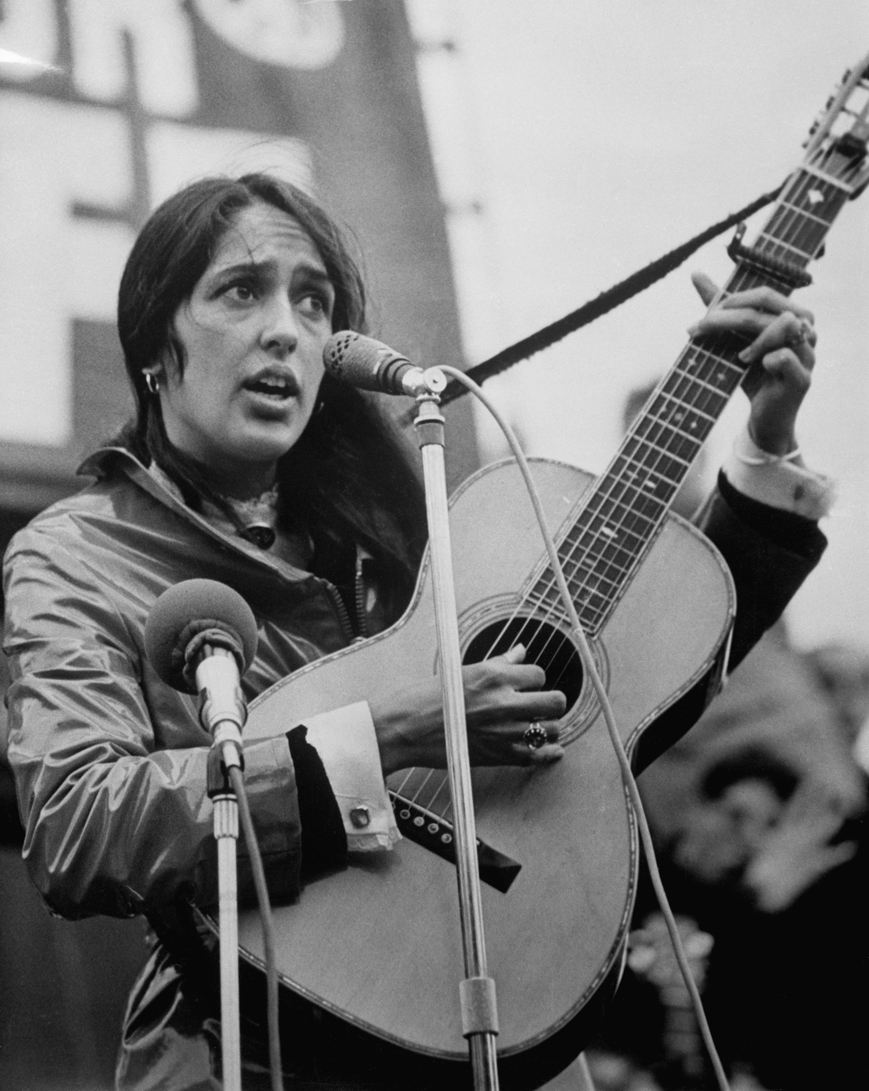 As the Vietnam War raged, Baez worked tirelessly to help young men avoid the draft. She was jailed several times for her activism, and during one of her arrests she met David Harris, a draft-resister and activist. The two married in March 1968, and just over a year later Harris was imprisoned for fifteen months for refusing to be drafted into the military. Their son Gabriel was born while Harris was in jail. Their marriage ended soon after his release.
Baez performed in George Harrison (1943–2001) and Ravi Shankar's (1920–) Concert for Bangladesh in 1971, and she traveled the world to share her music and advocate for human rights. In 1972 she spent eleven days in Hanoi, North Vietnam, surviving the Christmas Bombings, in which over sixteen hundred people were killed.
In the 1980s and 1990s Baez performed at Live Aid and on behalf of Amnesty International. She traveled to Czechoslovakia, where she met with Vaclav Havel and performed for thousands of people. Havel later claimed that Baez influenced the Velvet Revolution, a nonviolent revolution that resulted in the overthrow of the communist government in that country. She also performed in Sarajevo during the Yugoslav civil war.
Baez continues to record and tour more than fifty years after she first took the stage in the coffeehouses of Boston, and she continues to take on human rights projects, including advocating for gay and lesbian rights, protesting the U.S. invasion of Iraq in 2003, and joining those trying to fight poverty and environmental problems. She has recorded thirty-four studio and live albums, eight of which are gold, and nineteen compilations. Baez received seven Grammy nominations, and in 2007 she was honored with the Grammy Lifetime Achievement Award.
See also: Awards and Prizes for Music; Coffee Shops and American Music; Dylan, Bob; Folk Music; Odetta; Seeger, Pete; Social Causes of Musicians
Official Web Site: http://joanbaez.com/contents.html
Related Articles
---
Encyclopedia of the Vietnam War: A Political, Social, and Military History
Birth Date: January 9, 1941 Popular American musician, songwriter, folk singer, and social protestor. Born on January 9, 1941, in Staten...
The Penguin Biographical Dictionary of Women
Instead of getting hard ourselves and trying to compete, women should try and give their best qualities to men – bring...
The 100 Greatest Americans of the 20th Century: A Social Justice Hall of Fame
Credit: Associated Press In 1956, as a high school student, Joan Baez attended a conference on world issues sponsored by the Quakers. There she
See more from Credo