Topic Page: Baez, Joan
---
Definition:
Baez, Joan
from
The Columbia Encyclopedia
(bīpstr;ĕz, bä'–), 1941–, American folk singer and political activist, b. New York City. Baez began singing traditional folk ballads, blues, and spirituals in Cambridge, Mass., coffeehouses in a clear soprano voice with a three-octave range. She made folk music, which had been largely ignored, popular. Baez's records were the first folk albums to become best-sellers. Her later albums include several of her own compositions, e.g., "Song for David" and "Blessed Are." Among the first performers to urge social protest, she sang and marched for civil and student rights and peace. Since the late 1960s she has devoted time to her school for nonviolence in California and has performed at concerts supporting a variety of humanitarian causes.
---

Summary Article: Baez, Joan (1941–)
From Encyclopedia of Activism and Social Justice
Folk singer and activist Joan Baez was born January 9, 1941, on Staten Island, New York, to Dr. Albert Baez, a Mexican-born physicist, and Joan Bridge Baez, of Scottish and English descent. She was the second of three daughters. Joan Baez's older sister was Pauline Baez. Her younger sister, born Margarita Mimi Baez, was a singer, guitarist, and activist in her own right as Mimi Fariña (Fariña died of neuroendocrine cancer in 2001).
Dr. Baez and his wife were practicing Quakers, and Dr. Baez had turned down lucrative defense industry jobs during the Cold War. The family moved frequently due to Dr. Baez's work, living in towns across the United States as well as in France, Switzerland, Italy, and Iraq. Baez was only 10 when her family moved to Baghdad, but the poverty and inhumane treatment of the people there deeply affected her. The family ultimately settled in the Boston area in the late 1950s after Dr. Baez took a position at MIT.
As a teenager, Baez learned to play the ukulele first, then the guitar. She also sang in her school choir. She began her political involvement early. While still in high school, Baez attended a conference with the Quakers' social-action wing, the American Friends Service Committee; it was at this conference that she met 27-year-old Martin Luther King, Jr. Baez also involved herself in issues in her hometown. When she boycotted a high-school air-raid drill, saying that the drills were false and misleading, she made front-page news in her hometown.
After graduating from high school, Baez attended Boston University but dropped out after one semester to spend her time performing as a singer-songwriter at the clubs and coffeehouses that lined Harvard Square. Baez's most significant venue at that time was Club 47 on Mount Auburn Street in Cambridge, where she was paid $20 a night to perform twice a week. Baez gained substantial exposure when she made her debut at the Newport Folk Festival in 1959. She signed with Vanguard Records, which was a small folk label at the time, and released her first album, Joan Baez, in 1960; Joan Baez, Volume 2, followed in 1961. Early in her career, Baez worked within the historical folk repertoire, adding more political content in the 1960s. Her first albums earned her a position in the American roots revival; she worked with other artists, including Bob Dylan, with whom she toured in the 1960s.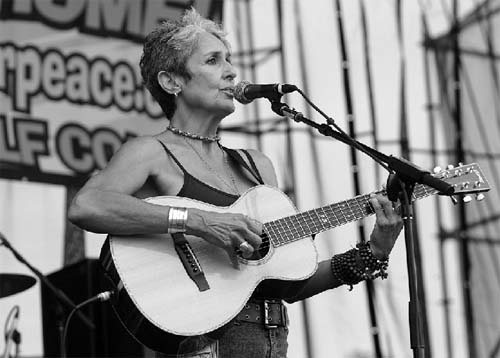 Baez has a long history of engagement with civil rights issues. She was involved with the struggle for migrant workers' rights as well as with the black rights movement. In 1963, she sang "We Shall Overcome" at Dr. Martin Luther King, Jr.'s March on Washington, a performance that linked her permanently to the song in the public consciousness. In 1966, she participated in the migrant farmworker strikes led by César Chávez.
As the Vietnam War escalated, the folksinger turned her attention toward war and draft protests. In 1964, Baez announced that she was refusing to pay 60% of her income taxes, as that percentage would go to fund U.S. military operations, and she encouraged draft resistance at her concerts. She also participated in the Free Speech Movement at the University of California at Berkeley and traveled to Hanoi with the U.S.-based Liaison Committee. With Ira Sandperl, Baez founded the Institute for the Study of Nonviolence in 1965 in Carmel Valley, California, and helped establish the presence of Amnesty International on the U.S. West Coast. Baez's work, both musically and politically, was often controversial. In 1967, the Daughters of the American Revolution denied her permission to perform at Constitution Hall. That same year, Baez was arrested twice (and once jailed) for blocking the entrance of the Armed Forces Induction Center in Oakland, California, as an act of civil disobedience. In 1968, she married David Harris, a Vietnam draft protestor and anti-war organizer who was ultimately imprisoned for draft resistance. Harris spent most of the couple's marriage in jail, but his interest in country music steered Baez toward country rock influences, which emerged in her work beginning with the appropriately titled David's Album. The couple had one child, Gabriel Earl, before divorcing in 1973.
Baez was among the performers at the original historic Woodstock music festival in 1969. In the 1970s, she began writing her own material, including the well-known song "Diamonds and Rust" (which was later covered by Judas Priest). In 1972, Baez traveled to North Vietnam as a member of a peace delegation to address human rights issues and deliver mail to American POWs. The delegation was caught in the United States' Christmas bombing of Hanoi.
Baez was appalled by the Vietnamese communists' human rights record, and she eventually arranged for the publication of a full-page newspaper advertisement describing its failures and offenses. The advertisement, which ran in four major newspapers in the United States, isolated Baez politically, as many American leftists were hesitant to criticize what purported to be a left-wing regime. The incident made Baez aware of the problems of partisanship within the human rights movement. This new awareness led her to found the Humanitas International Human Rights Committee, an organization focused on criticizing all oppressive regimes, regardless of where they fall within the political spectrum. She headed that organization for 13 years.
As the war in Southeast Asia drew to a close, Baez turned her attentions to problems in South America. She dedicated her first album sung entirely in Spanish to the Chilean people, who were then enduring the oppressive rule of Augusto Pinochet. Included on that record was a Spanish-language version of "We Shall Not Be Moved" ("No Nos Moveran"), which had been banned from public performance in Spain for more than four decades under Generalissimo Franco's regime. Baez was the first to perform the song publicly in 1977, 3 years after Franco's death. In 1981, Baez mounted a tour of Chile, Brazil, and Argentina but was not allowed to perform, as none of the three countries wished to give her a public forum in which to air her criticisms of their human rights practices.
Baez has also dedicated time and energy to the struggle for gay and lesbian rights in the United States. In an interview in the mid-1970s, she said that she considers herself bisexual, making her one of the first celebrities to publicly "out" herself. She performed at benefit concerts held to help defeat the 1978 Briggs Initiative (California's Proposition 6), which would have banned homosexuals from teaching in public schools, and participated in memorial marches for Harvey Milk, San Francisco's assassinated, openly gay city supervisor.
Even while taking a long hiatus from recording in the late 1980s, Baez continued her political activities. She participated in rallies for the nuclear freeze movement and played a significant role in 1985's Live Aid concert. Baez has also participated in a number of other human rights tours, including Amnesty International's A Conspiracy of Hope Tour in 1986. In 1991, Baez performed for crowds protesting the Persian Gulf War, and in 2003, she performed at two rallies in San Francisco protesting America's invasion of Iraq. In 2004, she participated in the filmmaker Michael Moore's Slacker Uprising Tour, advocating for young adults to vote for peace candidates in the national election. In 2005, she appeared at the anti-war protest started by Cindy Sheehan near President George W. Bush's ranch in Crawford, Texas, participated in a tribute to the survivors of Hurricane Katrina held at the Temple in Black Rock City during the annual Burning Man festival, and participated in protests held in Washington, D.C., against the Iraq War.
She has spoken out against the death penalty. In 1992, she appeared at a vigil protesting the execution of Robert Alton Harris, who was the first man executed after the reinstatement of the death penalty in California, and in 2005, she participated in the protest against the execution of Tookie Williams at San Quentin prison in California. Baez still contributes a stipend from the royalties of her album Come From the Shadows to the Resource Center for Nonviolence in Santa Cruz, California.
Baez has earned many awards, including the American Civil Liberties Union's Earl Warren Civil Liberties Award in 1976, the Jefferson Award from the Institute of Public Service in 1980, the Lennon Peace Tribute Award in 1982, and the Chevalier from the Légion d'Honneur, France, in 1983. Eight of Baez's records have reached gold status for sales, and she has been nominated for six Grammys. In 1980, Baez was awarded two honorary doctorates: one from Antioch University and the other from Rutgers University.
See also

Amnesty International; Civil Disobedience; Civil Rights Movement; Conscientious Objectors to War; Dylan, Bob; Nonviolence and Activism
Further Readings
1988

). And a voice to sing with: A memoir. New York:

Signet Books

.
(
1996

). Joan Baez: A bio-bibliography. Westport, CT:

Greenwood Press

.
(
2002

). Positively 4th street: The lives and times of Joan Baez, Bob Dylan, Mimi Baez Fariña and Richard Fariña. New York:

North Point Press

.
(
2006

). Joan Baez and the issues of Vietnam: Art and activism versus conventionality. Stuttgart, Germany:

Ibidem-Verlag

.
(
Related Articles
---
The Penguin Biographical Dictionary of Women
Instead of getting hard ourselves and trying to compete, women should try and give their best qualities to men – bring...
The Faber Companion to 20th Century Popular Music
A central figure of the folk revival of the early sixties, Baez's unmistakable soprano and consistent commitment to...
The 100 Greatest Americans of the 20th Century: A Social Justice Hall of Fame
Credit: Associated Press In 1956, as a high school student, Joan Baez attended a conference on world issues sponsored by the Quakers. There she
See more from Credo