Topic Page: Bacon's Rebellion, 1676
---
Definition:
Bacon's Rebellion
from
Chambers Dictionary of World History
A rising against the royal governor in the American colony of Virginia, rooted in a conflict between small frontier farmers and the indigenous peoples. The rebellion reflected the rift between the western farmers and the eastern aristocracy represented by the colonial government. When Governor William Berkeley, perhaps protecting trading interests with the Native Americans, failed to respond to a Native American attack against western settlers, Nathaniel Bacon led a misguided reprisal against innocent Native Americans. In 1676 Berkeley sought to bring the farmers to trial, but the opposition escalated, resulting in the burning of Jamestown. After Bacon's death, the rebellion collapsed.
---

Summary Article: Bacon's Rebellion
from World History Encyclopedia
Bacon's Rebellion was an upheaval in the Chesapeake region in 1675–1676. Class distinction and struggle permeated life during the Colonial period. Occurring 100 years before the Declaration of Independence, this event is described as the "first American Revolution" and is a case study in class struggle: years of distrust and animosity between Virginia elites and freemen erupted into violence and lawlessness.
At the center of the rebellion was the effort by wealthy elites to keep the colony's best lands and privileges out of the hands of the freemen. The freemen, formerly indentured servants, had worked a specified amount of time for the cost of travel to the colonies. Once released from servitude, the freemen sought land and a new start. Virginia elites felt threatened by the large numbers of freemen and feared grievances would spill over to servants and slaves and lead to open rebellion. The fear was somewhat unwarranted, however, as Native American relations on the frontier actually provided the main cause for the revolution. White settlers pushed into the western back country because most of the best coastal lands were in the hands of elites. Left unprotected by inadequate militia, these settlers, many of them freemen and their families, suffered raids by hostile indigenous groups living in the same remote regions.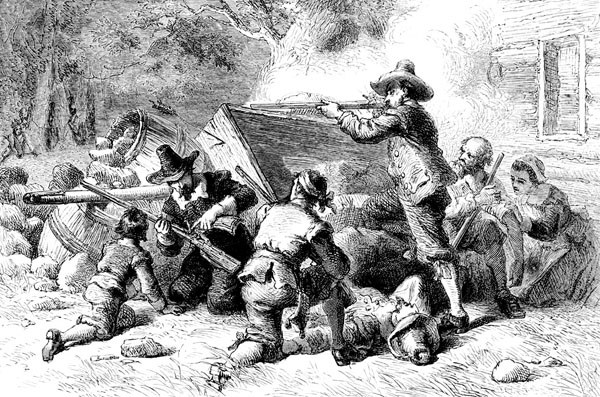 Declining tobacco prices due to England's war with the Dutch had forced many planters to seek favorable trade with friendly Native Americans, and officials were reluctant to upset relations because of isolated incidents on the frontier. Along the James River a group of freemen of humble means, led by disgruntled wealthy planter Nathaniel Bacon, Jr., took reprisal by carrying out a campaign that made little distinction between friendly and hostile indigenous groups. Invited to Jamestown by Governor William Berkeley, Bacon demanded a militia commission. Berkeley, fearing Bacon more than hostile Native Americans, accused the freemen of treason and declared their leader a traitor.
Bacon was arrested but later released. Bacon persisted in his quest for power, eventually winning a seat in the colonial legislature. Berkeley failed to prevent Bacon from taking his seat, and, faced with violence, he fled Virginia. With Berkeley gone, Bacon increased his forces and plundered the estates of pro-Berkeley elites. The class struggle escalated as Berkeley offered freedom to servants who joined his militia, while Bacon offered freedom to slaves and servants of Berkeley supporters. Troops from England were on the way to suppress the rebellion as Bacon descended into random plunder and theft. Bacon became ill —most sources credit dysentery—and died on October 26, 1676, leaving his men without a leader. The British troops arrived and arrested all but eighty of Bacon's followers in November.
On his return to Virginia, Berkeley carried out the hanging of about 24 wealthy men who had supported Bacon. Their estates were taken to compensate pro-Berkeley victims who were plundered by Bacon's forces. King Charles II of England was displeased with Berkeley's response and called him back to England, where he died in 1677.
Subsequent legislation loosened Virginia's social system for whites, but made it even more difficult for slaves. Some scholars feel that slavery took a decidedly more cruel turn in the wake of Bacon's Rebellion, with officials there determined to draw rigid color lines to preclude future alliances among poor whites, indentures, and slaves.
Today, Nathaniel Bacon Jr. is viewed by some as a champion of liberty who fought a cruel tyrant, hence a precursor of the American Revolution. Some scholars think this assessment too charitable and that Bacon was a selfish, power-hungry criminal.
Bibliography
Samuel Wiseman's Book of Record: The Official Account of Bacon's Rebellion in Virginia, 1676–1677

Plymouth, UK:

Lexington Books

, 2009.
ed.

The Governor and the Rebel

New York:

W. W. Norton

, 1957.

1676—The End of American Independence

Syracuse, NY:

Syracuse University Press

, 1984.

Bacon's Rebellion

." In Class in America : An Encyclopedia, edited by . Westport, CT:

Greenwood Press

, 2007.
"