Topic Page: Bacon, Francis, 1561-1626
---
Definition: BACON, Francis Thomas, 1561-1626 from A Biographical Dictionary of People in Engineering: From Earliest Records to 2000
---

Summary Article: Bacon, Francis, Viscount St. Albans (1561–1626)
from Encyclopedia of Tudor England
Francis Bacon, Viscount St. Albans, politician, author, and natural historian, was truly a Renaissance man. He was involved in public life, he published on a variety of different subjects, and he was interested in both the arts and natural history. His proposed reformation of natural history, which, in part, led to what is now called "experimental science," "Baconian science," or the "empirical method," has been credited with significantly changing attitudes toward and methods of conducting scientific research. At his death, he left a plethora of publications that represent the dogmas of his time but also call for change, specifically a decreased reliance on established authorities as sole sources of knowledge.
Bacon was born in London on 22 January 1561 to Sir Nicholas Bacon and his second wife, Anne Cooke Bacon. Nicholas Bacon was lord keeper of the Great Seal, and Anne was the daughter of Edward VI's tutor, Sir Anthony Cooke, and sister-in-law of William Cecil, Lord Burghley, Elizabeth I's lord treasurer. Although Francis was born into a wealthy, powerful, and well-connected family, he was the youngest of eight children and therefore had to find a profession rather than rely on his family's riches. In 1573, Bacon entered Trinity College, Cambridge, and from there was admitted to Gray's Inn in 1576; in 1582, he became a barrister and began to rise steadily in the political system.
Between 1584 and 1618, he was a member of Parliament for a number of different ridings, and he continued to achieve higher positions in Gray's Inn. Yet Bacon struggled with financial difficulties, and he was repeatedly denied important positions in the Elizabethan court. He also made the acquaintance of Robert Devereux, Earl of Essex, who supported Bacon in his attempts to gain higher public office. However, when Essex rebelled against Elizabeth, Bacon was instrumental in convicting him of treason. For Essex's trial in 1601, Bacon wrote "A Declaration of the Practices and Treasons attempted and committed by Robert, late Earle of Essex." During his years as a barrister and member of Parliament, Bacon also penned A Conference of Pleasure (1592) to be used in a masque; contributed to Gesta Grayorum (1594), another masque; wrote Maximes of the Law (1596–1597), his first important legal text; and completed the first edition of his very consequential work, Essays, in 1597.
Bacon's fortunes—both financial and political—began to drastically improve with the accession of James I in 1603. On 23 July 1603, Bacon, in a group of 300 people, was knighted by the king. Bacon continued to curry favor with the king by publishing, in 1603, Discourse Touching the Happy Union, a document in support of James's plan to unite England and Scotland. In 1604, Bacon attempted to repair his damaged relationship with the friends and family of Essex by writing Apologie in certaine imputations concerning the late Earle of Essex. He also began to publish texts outlining his view of natural history with The Advancement of Learning, printed in 1605. In 1607, Bacon finally received an important position at court, that of solicitor general. His advancement continued in 1608 when he was named treasurer of Gray's Inn; in 1611, when he became judge of the Knight Marshall's Court; in 1613, when he was appointed attorney general; in 1616, when he became a privy councillor; and on 3 March 1617, when he was named to his father's old position, lord keeper of the Great Seal. In 1618, he became lord chancellor, and in that same year he was named a peer, awarded the title Baron Verulam of Verulam. In 1621, at the age of 60, he was named Viscount St. Albans.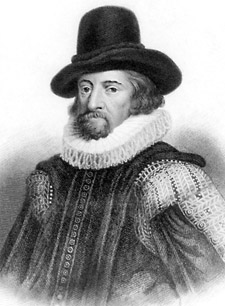 Despite this intense public career, Bacon continued to publish works on politics, philosophy, and natural science. In 1616, he published the first edition of The Works of the Most High and Mightie Prince, James, and in 1620, he published the Novum Organum, a work that called for a new understanding of knowledge acquisition. Rather than rely on authorities—classical, medieval, and theological texts—as sources of all knowledge and wisdom, Bacon argued, people should understand the world by experiencing it. He urged thinkers to gather empirical details about nature to understand nature. Bacon contended that no one could learn about the world just by thinking or reading about it.
Bacon, to his chagrin, could suddenly devote much more of his energy to writing following his banishment from court. On 14 March 1621, Christopher Aubrey and Edward Egerton accused Bacon of bribery. Bacon became ill and claimed he could not come to court to face charges, but he did allow that he may have been guilty of accepting certain bribes, although not for the purpose of perverting justice. On 1 May 1621, he was stripped of the Great Seal and was soon after fined and imprisoned for a few days in the Tower of London. Although he attempted to regain power at court, especially when Charles I became king in 1625, Bacon was never able to retake his seat in Parliament.
Away from court, Bacon continued to write and publish. He published History of Henry VII in 1622. In 1623, he printed De Augmentis Scientiarium, and during his banishment he began planning Instauratio Magna, a work he never completed. He also began writing New Atlantis and Sylva Sylvarum, both of which were printed posthumously. He also published in 1625 the third edition of Essays, which by then contained 58 essays, considerably more than the 10 comprising the first edition. In 1625, he published Apophthegms and The Translation of Certain Psalms into English Verse.
Bacon died, probably from pneumonia or bronchitis, at Highgate on 9 April 1626. One story assigns the cause of his chill to a scientific experiment. Apparently, as Bacon was traveling from London to Highgate, he stopped his coach to collect snow to observe the effects of snow as a preservative of fowl's flesh. Before he was able to complete his observations, he became ill and died. Whether or not the story is true, it demonstrates Bacon's belief in experience and experiment. Through his huge body of extant writings, Bacon's philosophical, political, and legal ideas greatly impacted both his culture and the ones that followed, leading to changes in the ideologies of scientific research, literature, and the philosophy of human nature. Bacon himself acknowledged his own historical importance when he wrote in his will, "For my name and memory, I leave it to men's charitable speeches, and to foreign nations, and the next ages."
Deanna Smid
See also Essex's Rebellion
Further Reading
The Advancement of Learning and New Atlantis

. Edited by Arthur Johnston. Clarendon

Oxford

, 1974.
.
Francis Bacon

. Stanford University Press

Stanford, CA

, 1992.
Francis Bacon: A Biography

. East-West

London

, 1981.
Hostage to Fortune: The Troubled Life of Francis Bacon

. Victor Gollancz

London

, 1998.
, and Alan Stewart.
Francis Bacon: The History of a Character Assassination

. Yale University Press

New Haven, CT

, 1996.
Related Articles
---
Blackwell Guides to Literature: The Seventeenth - Century Literature Handbook
Bacon led a busy and highly influential life as a politician, a bureaucrat, an essayist, and a jurist. His enduring influence as a thinker and a pros
Continuum Encyclopedia of British Literature
Lord Chancellor of England, philosopher, and man of letters, Bacon was one of the most original thinkers of the 16th and...
The Encyclopedia of Christian Civilization
Francis Bacon, who was born in 1561 in London, England, and died in 1626, did much to advance the modern scientific method. Although he is usually l
See more from Credo