Topic Page: Astaire, Fred
---
Definition:
Astaire, Fred
from
Philip's Encyclopedia
US dancer, actor, and choreographer. Astaire's sparkling, improvised solo dances redefined the musical. In 1933 cinema's greatest partnership was formed, when he starred opposite Ginger Rogers in Flying Down to Rio. Fred and Ginger made ten films together. Their first major MGM musical was The Gay Divorcee (1934). Classics include Top Hat (1935) and Swing Time (1936). Other dance partners included: Audrey Hepburn in Funny Face (1957), Rita Hayworth in You Were Never Lovelier (1942), and Judy Garland, Easter Parade (1948). In 1949 he received a special Academy Award for his contribution to film.
---
Summary Article: Astaire, Fred
from Movies in American History: An Encyclopedia
Fred Astaire, the debonair singing and dancing star of dozens of twentieth-century film musicals, is known worldwide as one of Hollywood's most respected and best-liked performers. Always well-mannered, and modest in his view of himself, Astaire managed to avoid celebrity scandal all his life while carving out a unique persona as a genteel yet thoroughly American figure who could casually bring high style to a popular song and, almost at a whim, spring into a dazzling dance solo or duet, captivating in its grace, athletic in its energy.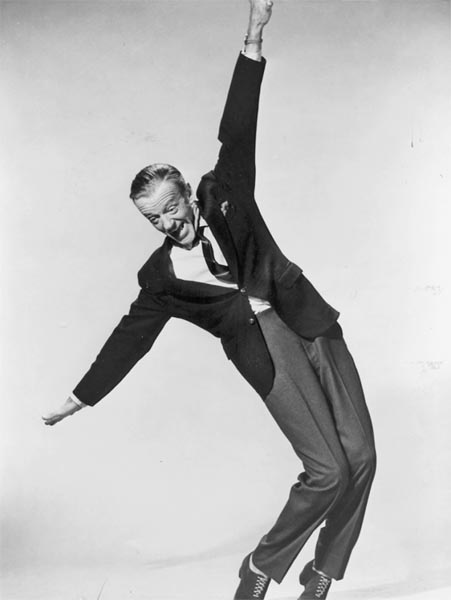 Born Frederick Austerlitz Jr. on May 10, 1899, in Omaha, Nebraska, Astaire was the second child of an Austrian immigrant, Frederick Austerlitz, and his American wife, Joanna Gelius. His older sister, Adele, demonstrated dance and performance abilities at an early age, and Astaire's mother bundled Fred and Adele off to New York when the boy was four-and-a-half years old in order to find a place for them on the vaudeville stage. In his autobiography, Steps in Time, Astaire indicates that this sudden change in his life was not unwelcome—it represented the possibility for adventure, as he and his sister worked the prestigious Orpheum vaudeville circuit for a time, and then began to ascend the show business ladder by making musicals in London and New York. In the late 1920s and early 1930s, they performed in shows written by some of the best composers of the day—George Gershwin, Cole Porter, and the team of Howard Dietz and Arthur Schwartz.
By 1933, Adele Astaire had retired and Fred moved on to Hollywood, where he had been offered a small role playing himself in an MGM musical, Dancing Lady. RKO Studios eventually offered him fifth billing in Flying Down to Rio, in which he would be teamed for the first time with Ginger Rogers. Cast as a couple, Rogers and Astaire stole the show from the three performers whose names appeared above theirs on the marquee—Dolores Del Rio, Gene Raymond, and Raul Roulien. It was the pair's mesmerizing dance routine of the tango-like "Carioca" that caught the public's eye, something that did not go unnoticed by the studio heads at RKO, which made Rogers and Astaire headliners in their next film. Appearing together in a number of subsequent films, the pair became a top 10 box-office draw for several years in the mid-1930s.
The black-and-white pictures Astaire made with Rogers for RKO ultimately came to define him. Most of these films were directed by Mark Sandrich, with Hermes Pan assisting Astaire in choreographing the dance numbers, Pandro S. Berman producing, and Carroll Clark providing the art direction (within a visual mode originated by Van Nest Polglase). Fairy-tale sets with glossy dance floors and lots of formal wear, especially for the men, characterized these confections.
The Gay Divorcee was the first, and one of the two best, of the six quintessential Astaire-Rogers RKO productions. Rogers was never lovelier than she was when she played Mimi Glossop in this film. Mimi is a reluctant partner to Astaire's Guy Holden, who woos her with his dazzling dance moves. In the film's signature dance sequence, set to Cole Porter's languorous "Night and Day," Holden, in white tie and tails, seduces the shy Mimi, drawing her into an elegant dance floor courtship, the two in perfect romantic harmony.
In the 1940s and '50s, after the Astaire-Rogers team had split, Astaire appeared in several spectacular color film musicals (mostly for MGM), including Easter Parade, Royal Wedding, The Band Wagon, Daddy Long Legs, Funny Face, and Silk Stockings. In these pictures, he was paired with a new generation of dance and film partners, including Judy Garland, Jane Powell, Leslie Caron, and Cyd Charisse.
Noted as a couples dancer, Astaire was often unfavorably compared to Gene Kelly as a solo performer; although in individual sequences such as his Bojangles dance in Swing Time, he nevertheless delighted audiences. Although clearly an incredibly gifted dancer, whether performing with a partner or by himself, it may be that Astaire is, indeed, best remembered in top hat and tails, gliding across the dance floor with Rogers in his early RKO musicals.
Astaire was married to Phyllis Livingston Potter for 21 years before her death in 1954; and to Robyn Smith from 1980 until his death on June 22, 1987, in Los Angeles.
See also: Musical, The Romantic Comedy, The