Topic Page: Astaire, Fred
---
Definition:
Astaire, Fred
from
Philip's Encyclopedia
US dancer, actor, and choreographer. Astaire's sparkling, improvised solo dances redefined the musical. In 1933 cinema's greatest partnership was formed, when he starred opposite Ginger Rogers in Flying Down to Rio. Fred and Ginger made ten films together. Their first major MGM musical was The Gay Divorcee (1934). Classics include Top Hat (1935) and Swing Time (1936). Other dance partners included: Audrey Hepburn in Funny Face (1957), Rita Hayworth in You Were Never Lovelier (1942), and Judy Garland, Easter Parade (1948). In 1949 he received a special Academy Award for his contribution to film.
---
Summary Article: Astaire, Fred
from Britannica Concise Encyclopedia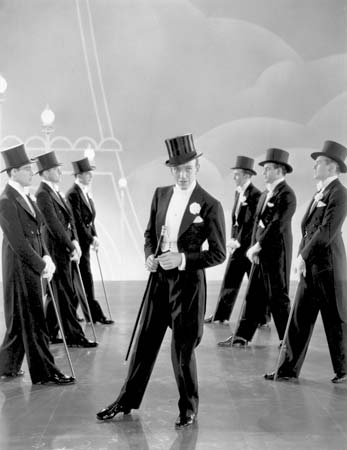 (born May 10, 1899, Omaha, Neb., U.S.—died June 22, 1987, Los Angeles, Calif.) U.S. dancer and singer of stage and movies. At age seven he began his popular vaudeville dance act with his sister Adele, and they made their Broadway debut in 1917; they continued dancing in stage hits until Adele retired in 1932. Astaire's successful film appearances with Ginger Rogers began with Flying Down to Rio (1933) and continued until 1939. In the 1940s and 1950s he danced on-screen with Eleanor Powell, Cyd Charisse, and Judy Garland. His singing, though untrained, was admired by the finest songwriters of his time. He retired in 1971 but occasionally appeared in films and on television. His combination of sophisticated, seemingly effortless grace and technical virtuosity revolutionized popular-dance performance.
Birth Place: Omaha, city, Nebraska, United States
Death Place: Los Angeles, California, United States
Name: Astaire, Fred or Fred Astaire
Gender: male
Nationality: American
Activity: American dancer and singer
Keywords: theatrical production, "Steps in Time", "Top Hat", American, Omaha, "Swing Time", acting, Los Angeles, vaudeville, "Flying Down to Rio", "Funny Face", Rogers, Ginger, "For Goodness Sake", autobiography, Lifetime Achievement Award, "Gay Divorcée, The", Fred Astaire, theatrical dance, "On the Beach", "That's Entertainment, Part 2", Academy Award, motion picture, "Towering Inferno, The", Astaire, Fred, American literature, Kennedy Center Honors, Nebraska, "Pleasure of His Company, The", Honorary Oscar, "Easter Parade", Grammy Award, Hollywood, musical, "Carefree", California, musical film