Topic Page: Arikara Indians
---
Definition:
Arikara
from
Merriam-Webster's Collegiate(R) Dictionary
(1811) 1 : a member of an American Indian people of the Missouri River valley in No. Dakota 2 : the language of the Arikara
---
Summary Article: ARIKARA or REE
From Encyclopedia of Native Tribes of North America
The third of the upper Missouri River horticultural tribes, the Arikara, are a Caddoan people and a relatively late offshoot of the Skidi Pawnee. In the 1780s French traders reported them below the Cheyenne River in present South Dakota. In 1804, Lewis and Clark found them between the Grand and Cannonball Rivers, close to the present boundary between North and South Dakota, and already weakened in numbers due to smallpox. They were also often on unfriendly terms with the Mandan, Hidatsa, and surrounding Sioux. For a time they apparently rejoined the Skidi on the Loup River, Nebraska, but subsequently returned north, and by 1851 were on the Heart River. In 1862 they finally joined the Hidatsa and Mandan on the Fort Berthold Reservation, North Dakota, where their descendants have remained. Despite their early hostility to Americans, some Arikara served as scouts for the U.S. Army during the Indian Wars. Over the years their lands were allotted, and the Missouri bottom lands were lost during the Garrison Dam development in the 1950s.
In 1804 the Arikara numbered 2,600. The census of 1930 gave 420. In 1945 the reported figure was 780, and in 1970, 928. The "Three Affiliated Tribes of the Fort Berthold Reservation" (Mandan Hidatsa and Arikara) now run a museum that exhibits buckskin clothing and historical items. There are usually at least four powwows held each year on the reservation: The White Shield, Mandaree, Little Shell and Twin Buttes powwows, which are combinations of the northern Plains and pan-Lakota intertribal forms. In 1990, the three tribes numbered 6,000, with approximately half living in the Fort Berthold Reservation. The total 2001 population of the three affiliated tribes (Mandan, Hidatsa and Arikara) enrolled at Fort Berthold was 10,789.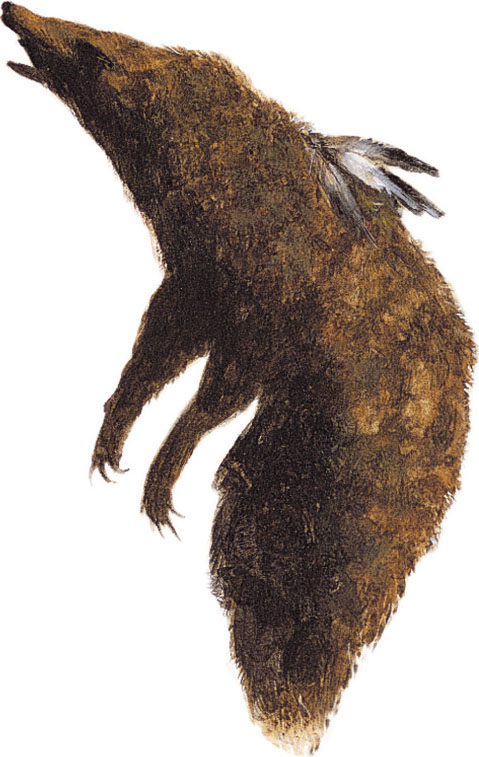 متعلقہ کریڈو مضامین
---
DK Eyewitness Books: North American Indian
FERTILE RIVER VALLEYS and open prairies, hot summers and numbingly cold winters – the Mandan and Hidatsa learned to adapt to and exploit thei
Merriam-Webster's Collegiate(R) Dictionary
pronunciation (1811) 1 : a member of an American Indian people of the Missouri River valley in No. Dakota 2 : the language of the Arikara
کریڈو سے مزید دیکھیں