Summary Article: angle
From The Hutchinson Unabridged Encyclopedia with Atlas and Weather Guide
In mathematics, the amount of turn or rotation; it may be defined by a pair of rays (half-lines) that share a common endpoint (vertex) but do not lie on the same line. Angles are measured in degrees (°) or radians (rads or c) – a complete turn or circle being 360° or 2π rads.
All angles around a point on a straight line add up to 180°. All angles around a point add up to 360°.
Angles are classified generally by their degree measures: acute angles are less than 90°; right angles are exactly 90° (a quarter turn) and are created by two perpendicular lines crossing; obtuse angles are greater than 90° but less than 180° (a straight line); reflex angles are greater than 180° but less than 360°; supplementary angles add up to 180°.
Angles in triangles A triangle has three interior angles that together add up to 180°. In an equilateral triangle these angles are equal (60°). The exterior angles of a triangle (those produced if one side is extended beyond the triangle) are equal to the sum of the opposite internal angles.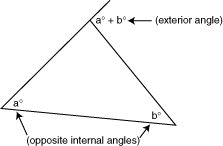 Unknown angles in a right-angled triangle can be worked out using trigonometry.
Angles in polygons Regular polygons have three types of angle: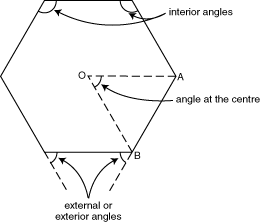 The angle at the centre is equal to the exterior angle and it is found by dividing 360° by the number of sides in the polygon.
For example, the angle at the centre of a hexagon is 60°:
360 ÷ 6 = 60°
Angles at parallel lines Angles created by a line crossing two parallel lines are known as opposite angles, corresponding angles, or alternate angles.
Angles in circles Angles within a circle can be calculated using circle theorems.
essays
Working out angles
weblinks
Ask Dr Math
CoolMath
Maths Year 2000
Dave's Short Trig Course
Discovery School's Webmath
Easymaths
Funbrain
Interactive Mathematics: Miscellany and Puzzles
Mathematics Lessons that Are Fun, Fun, Fun!
MATHguide
Maths for Morons Like Us
Maths Is Fun
Maths Online
Plus Magazine
Similar Triangles
SOS Mathematics: Trigonometry
StudyWeb
Trigonometry
images
alternate angles
angle
angles in triangles