Topic Page: Amusement parks
Summary Article: Amusement Parks
From Encyclopedia of Play in Today's Society
Amusement parks are a place where entertainment and fun are offered to visitors in a variety of forms: shows, prepared activities, places to shop and eat, games of various types, and rides. Amusement parks, whatever their differences—and there are many—do have several elements in common. First, they are consciously designed and constructed to provide a concentrated experience and have the stated objective of providing enjoyment. There is nothing incidental about people visiting to have a good time; that is the stated purpose of the amusement park. How parks do that in their various forms, now and in the past, provides an interesting picture of what people in different time periods and locations have thought of as fun and what has constituted play. Second, and most important to the majority of visitors, amusement parks have rides. These rides can vary from a fairly sedate small auto traveling in a circle or a carousel to thrill rides such as roller coasters. Third, even though there are cultural differences, amusement parks in the United States, Europe, Middle East, and Asia are remarkably similar in that they all have rides, games, and food; often have themes; and are dedicated to fun and play. Fourth, they are a place for children, adolescents, and young adults. Everything is aimed at fulfilling the desires ofthat demographic group. Generally, an adult going to an amusement park is usually accompanying younger family members.
Amusement parks are generally permanent establishments, although the term can be stretched to include the amusement section that can be found at state, country, or regional fairs. Not only are amusement parks usually permanent, but they are carefully designed to channel traffic, leading visitors to one high point after another. There is often a theme, whether it based on a general concept (such as Europe or Africa at Busch Gardens), on a form of entertainment (such as the Universal and other film theme parks), or on a particular identity (such as Disney and all its characters or the Warner Brothers cartoon characters at Six Flags).
The Earliest Amusement Parks
Our idea of what makes an amusement park is informed largely by current amusement parks, with their large collections of rides, state-of-the-art electronics and mechanical engineering, and often nonstop entertainment found throughout the park. Amusement parks have not always been like that, however, and have undergone a dramatic change, especially since the 1890s. Further, although it may surprise many Americans, amusement parks are not an American invention but are originally from Europe.
The world's first amusement park appeared in Denmark in 1583 and still exists. Known as Bakken, it has, of course undergone substantial changes over the past centuries. Bakken has evolved from something like a medieval fairground into a modern amusement park. Today it is visited by over 3 million people in its yearly March through August season. While it has new rides and other changes each year, there are still some elements of continuity. The organization that manages the park has existed since the mid-1880s and combines an old-style management of small operations with modern machinery. Bakken is home to a clown representing the 18th-century character, Pierrot, and while many of the rides are new, Bakken has retained its 1932 roller coaster, which is one of the oldest in Europe.
Amusement parks did not spread through Europe until the 18th century, with the opening of parks in Vienna, Austria, and in Britain. This progression then came to a halt until the middle of the 19th century, when parks in Britain, Denmark (the famous Tivoli), and elsewhere also came into existence.
The Growth of Amusement Parks
The real boom in amusement parks would not occur until the last quarter of the 19th century. A major impetus for the appearance of amusement parks was that with the development of the industrial revolution, there was some increase in disposable income for families to spend on amusements. Transportation networks, such as railroads, began to develop, allowing people to travel to where a park might open. The relative ease of movement encouraged Sunday trips to amusement parks.
Another factor encouraging the appearance of amusement parks was the appearance of international expositions and world's fairs. In addition to their mission of "improvement" and education, these fairs provided opportunities for visitors to eat and be entertained. As the century progressed, the fairs, which brought together large crowds of people also grew more frequent and increasingly became more sophisticated in their amusements. By the time of the Chicago Exposition of 1893 (World's Columbian Exposition), visitors could see the wonders of industry, or go to another part of the fair and see "Little Egypt" dance, or take a ride on the world's first Ferris wheel. At the Saint Louis Exposition of 1904, visitors could not only take rides but also visit replicas of Pacific, Asian, and North African villages with real natives or eat what some claim were the world's first hot dogs. As each year progressed, the range of amusements increased. Unlike today's amusement parks, fun was not the objective, but its various venues provided many of the basics we see in amusement parks today: shows and other entertainment, rides, and food.
Inspired by the success of the amusement venues of the fairs and expositions, amusement parks began to appear in cities in both America and Europe. In many locations, amusement parks with some rides and other entertainment were opened by trolley companies. The idea was that trolley companies had little business on the weekends. By starting amusement parks, the trolley companies would then also provide the transportation for visitors. The concept worked very well and trolley parks opened throughout the country, particularly in the northeastern United States. One of these was Whalom Park, which was opened in Lunenburg, Massachusetts, in 1893 by the Fitchburg and Leominster Street Railway Company. The park was a success and remained open until 2000.
A little to the south, another trolley park named White City opened near Worcester, Massachusetts, with local trolleys carrying visitors to and from the park. That particular amusement park opened in 1905 and stayed in existence until 1960. The name "White City" had first been used for the Chicago Exposition of 1893 and became a fairly common name for amusement parks by the end of the 19th century in places such as Atlanta; Cleveland, Ohio; New Orleans; and New Haven, Connecticut. "White City" came from the large number of electric lights at the parks. In a time where electricity was a novelty, the use of lighting added what was a festive tone to a place dedicated to amusement and fun. A trolley park in western Pennsylvania known as Kennywood opened in 1898, and would later develop into a major entertainment corporation with international affiliations.
In the following years there were many other amusement parks that came into existence. Euclid Beach Park operated near Cleveland, Ohio, from 1895 to 1969. Riverview Park in Chicago, best known, perhaps, for the Bobs roller coaster, ran from 1904 to 1967. Another was New lersey's Palisades Amusement Park (often advertised in issues of Superman Comics in the 1950s), which operated from 1898 to 1971.
Similar parks also began to appear throughout Europe and Asia, and those that existed began to expand. Vienna's Prater amusement park, which had been in existence since the 18th century, became the first amusement park in Europe to have a Ferris wheel.
Coney Island, perhaps the most famous collection of amusement parks in America before World War II, began its operations in the second half of the 19th century. By the 1860s, visitors were coming to this location on Long Island (where some claim that the hot dog was first sold in 1867, predating the Saint Louis item). Here several amusement parks operated side by side through the years. The first of these was the Sea Lion Park, which opened in 1895, to be followed that same year by Steeplechase Park. In the next decade other amusement parks would open, such as Luna Park and Dreamland. By 1920, Coney Island would boast a Ferris wheel, and in the same year a subway line ran from Manhattan to Coney Island. In 1927, a major roller coaster, the Cyclone, would open. Coney Island's time as a center for amusement parks would slow by the time of World War II.
Amusement parks themselves did not all go the way of the parks at Coney Island with the end of World War II. In 1945, new amusement parks were beginning to open. With the increased availability ofthe automobile, theme parks, often with a Christmas or other theme, opened, principally in the northeast. These parks, whether they were known as "North Pole," "Santa's Village," "Frontier Town," "Six-Gun City," or "Storyland," were family destinations. They had rides that would seem tame compared with later parks, some games, and food, and were very popular. These were small-scale operations, often family owned and operated, and from the end of World War II until the mid-1950s, they were a common form of amusement park.
Modern Amusement Parks
In the mid-1950s, however, there appeared an amusement park that not only would become popular in its own right but would influence the expectations of visitors and the design and appearance of amusement parks throughout the world. In 1955 Walt Disney opened Disneyland. Disney's amusement park marked a radical departure and eventually served as a model for amusement parks in the future. It was not a family or small-scale business but was the project of a corporate entity with substantial financial assistance from the American Broadcasting Corporation (ABC), another corporate entity. It was a large park that was based on themes such as Frontierland, Fantasyland, or Adventureland. In each instance, rides and other attractions were combined into a specially created environment. From the beginning, Disneyland was a success, with new features such as a recreation of the Matterhorn and a monorail being introduced before the 1950s were over.
In the 1960s, the larger theme parks became more prominent as many ofthe smaller operations either made changes and expanded, or went out of business altogether. In the early 1960s, Six Flags Over Texas opened, beginning a franchise of 21 amusement parks that would establish a presence throughout North America.
Just as Disney had begun amusement parks based on films and television, the entertainment business, specifically film studios, would begin to develop their own amusement parks with tie-ins to their films. The Universal Studios theme park evolved from back lot tours for tourists in Hollywood to entertainment complexes there and in Orlando, Florida. The Orlando complex began as a movie-inspired theme park with rides based on popular films. Since that time, it has expanded with hotels, restaurants, and the Universal Islands of Adventure. The Islands of Adventure is another theme park, based on the premise of different islands, each with their own theme. Even though the park is very sophisticated technically, it still employs some of the basic concepts first developed by Disney. Not only is there the idea of themed rides and other amusements, but just as Snow White and other characters greeted Disneyland visitors in the 1950s, tourists at the Universal Studios complex can see and spend time with Spiderman or the Cat in the Hat.
Amusement Parks Worldwide
Theme parks are also common throughout Europe and in many ways, with their advanced technology behind a great deal of the entertainment, are similar to American parks. They are, however, related to European culture. Asterix Park in France is based on the French cartoon character Asterix. Disneyland Paris (formerly known as Euro Disney) opened in 1992 and hastily made concessions to European expectations; it has since become very successful. In Germany, there has been a fascination with the American West and Native Americans, and that motif shows up in several theme parks either as the main theme or as a theme area within a larger park. LEGOLAND, based on the LEGO toys, first opened in 1968 in Denmark and has expanded into Germany, the United States, and the United Kingdom. There are plans to open a LEGOLAND in Dubai. The LEGO-LAND parks are targeted toward younger children, with themes based on LEGO toys and rides that are generally less extreme than those found at other parks.
Amusement parks are prominent in Asia. There are two Asian Disneylands, one in Hong Kong and one in Tokyo. Japan also has a Universal Studios theme park, and Korea has several amusement parks located near the capital, Seoul. Australia has a Sea World, a Warner Brothers Movie theme park, and Dreamland, which claims to have some of the fastest thrill rides in the world.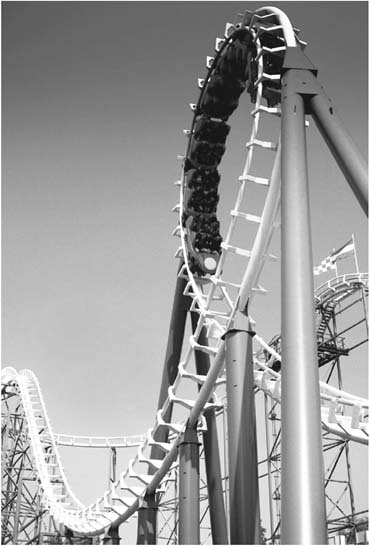 In the Middle East, the most prominent center for amusement parks is Dubai, where a collection of theme parks known as Dubailand is constantly undergoing expansion. Universal Studios, Six Flags, Dreamworks, and other franchises have all announced plans to develop new parks there.
See Also
Arcades, Play as Catharsis, Play as Entertainment, Psychology of, Play as Entertainment, Sociology of, Roller Coasters
Bibliography
The American Amusement Park Industry: A History of Technology and Thrills

(

Twayne Publishers

, 1991.).
,
The Global Theme Park Industry

(

CABI

, 2007.).
,
"Roller Coasters, Theme Parks, and Postmodernism,"

Cultural Critique (

no.37

) : , Autumn, 1997.
Team Rodent: How Disney Devours the World

(

Ballantine Publishing Group

, 1998.).
,
Institute for Theme Park Studies

,

www.themeparkcity.com/itps/index.htm

(cited (November 2008).).
Amusing the Million: Coney Island at the Turn of the Century

(

Hill & Wang

, 1978.).
,
Once Upon an American Dream: The Story of Euro Disneyland

(

University of Kansas Press

, 2001.).
,
Lukas, Scott A.

, ed.,

The Themed Space: Locating Culture, Nation, and Self

(

Lexington Books

, 2007.).
World's Fair Midways; An Affectionate Account of American Amusement Areas from the Crystal Palace to the Crystal Ball

(

Exposition Press

, 1966.).
,
"Walt Disney World: Bounded Ritual Space and the Playful Pilgrimage,"

Anthropological Quarterly

v.53

: , 1980.
The Amusement Park Guide: Coast to Coast Thrills

(

Globe Pequot Press

, 2001.).
,
The Kid of Coney Island: Fred Thompson and the Rise of American Amusements

(

Oxford University Press

, 2001.).
,
Related Articles
---
Encyclopedia of American Urban History
Descendants of the medieval trade fairs and European pleasure gardens of the late 17th and 18th centuries, amusement parks have evolved from...
Encyclopedia of Early Cinema
In the years before World War I , there were more than 1,500 amusement parks in North America and scores more scattered across Europe. Most...
See more from Credo