Summary Article: Amazon.Com
From Gale Encyclopedia of U.S. Economic History
Amazon.com is one of the world's largest electric commerce (e-commerce) websites and a major retailer of books, consumer electronics, and digital media. Amazon also leads the electronic reader (e-reader) market with its popular Kindle line, as well as providing software and file storage on Amazon Cloud Drive, a secure online network. In addition, the Amazon Marketplace provides pass-through sales (standardized online storefronts for independent third-party sellers) for a wide variety of individuals and companies. Since its beginnings in 1995, Amazon.com has become a global leader in e-commerce, with an average of 130 million unique visitors a month and revenues of $74 billion in 2013. Meanwhile, it had posted less than $2 billion in profit during 16 years as a publicly traded company and in most years has had a negative net income. Despite its spotty profitability record, Amazon has had a disproportionately large effect on the economy, not only through its introduction of new models for distribution, marketing, and customer service but also by forcing significant changes in the book industry and other sectors.
The company was started in 1995 by Jeff Preston Bezos (1964–), a native of New Mexico with a background in electrical engineering and computer science. Determined to take advantage of what he considered the enormous potential of online commerce, Bezos left a lucrative finance job in New York City and relocated to Seattle, Washington. His original idea was to sell books online, offering a wider selection and better prices than brick-and-mortar stores could provide. Because so many new books are published every year, physical stores can stock only a fraction, especially since they must also devote shelf space to Bibles, reference books, literary classics, and other works that are in continuing demand. Amazon.com provided shoppers with a way to order almost any book in print and have it shipped directly to their door. Some popular books were warehoused by Amazon and sold directly to customers, while many more were brokered by Amazon—that is, ordered from the publisher on demand and shipped to the customer.
This approach required a substantial investment not only in information technology infrastructure but also in innovative computer programming that would allow orders to be placed and filled seamlessly. Customer service was also computerized, but to compensate for the lack of personal contact between booksellers and book buyers, Bezos focused on ways to personalize the customer experience. Between 2000 and 2006 Amazon led the way in gathering and using customer information in order to drive sales through customer-specific marketing online—keeping track of what the visitor has viewed and suggesting items they might like. Moreover, the company quickly expanded its business model from books to movies and other types of media and then to merchandise of almost every kind. Amazon also added the Marketplace functionality to connect shoppers with other vendors. Almost all transactions carried out through Amazon.com produce some revenue for the company, but often the profit margin is extremely thin, which means the company must compensate by generating high sales volumes.
Another revenue generator for the company is the Kindle e-book reader, which was introduced in 2007. Despite its high price point of $399, the first Kindle tapped an enthusiastic market by providing an improved reading experience and access to a large selection of e-books. Since that time Amazon has continued to expand the Kindle line, which now includes high-definition tablets as well as dedicated e-readers, and has steadily lowered Kindle prices (in 2014 a Kindle Fire HD could be purchased for as low as $139). The popularity of e-books, in addition to the ease of ordering traditional books online, has contributed to the downsizing or disappearance of brick-and-mortar bookstores. The Borders Group liquidated in 2011, closing nearly 700 Borders and Waldenbooks locations, and in 2013 Barnes & Noble announced that it would be closing about one-third of its stores over the next decade. Barnes & Noble has had some success in following the Amazon model, however, developing Kindle's only real competitor, the Nook, and strengthening its online sales and marketing. Amazon has also been an innovator in the delivery of digital media, competing with Apple's iTunes for the music download market and with Netflix for streaming media. In addition, Amazon has expanded its product range to include such business-to-business products as industrial equipment.
Amazon.com has developed a global infrastructure to meet international demand. In addition to its headquarters in Seattle, the company operates 22 customer service centers in 14 nations and has approximately 70 fulfillment centers that warehouse and distribute stock. Of these centers, 38 are in the United States and Canada; 25 in Europe; and 14 in Japan, China, and India. Amazon also operates a number of software development facilities in North America, Europe, Asia, and South Africa. The Internet domain amazon.com, which is consistently one of the most visited websites on the Internet, is supported by regional variants in every continent except Africa. These include amazon.cn or z.cn (China), amazon.in (India), and amazon.co.jp (Japan) in Asia; amazon.de (Germany), amazon.es (Spain), amazon.fr (France), amazon.it (Italy), and amazon.co.uk (UK) in Europe; and amazon.com.au (Australia). Regional variants in the Americas include amazon.ca (Canada), amazon.com.mx (Mexico), and amazon.com.br (Brazil). As of 2013 Amazon had more than 100,000 employees.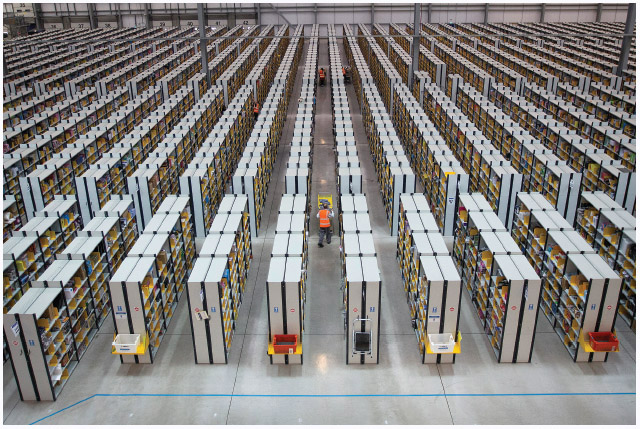 Despite its weak record of profitability, the value of Amazon stock has generally remained high, in part because many analysts believe it is a viable business model and has unlimited room for growth. Moreover, stockholders have generally supported the company's philosophy of emphasizing marketplace dominance and customer satisfaction over immediate profits. Amazon's aggressive business tactics have drawn criticism, however, and the company has been involved in controversies that range from litigation over anticompetitive practices to issues regarding differential pricing, inappropriate product content, unsafe working conditions, and customer review policies. Responses to these problems have varied from swift change to prolonged confrontation, and Amazon's public communications have not always been transparent or timely. Nevertheless, the Amazon approach has been marked by a willingness to try out new strategies—and to rethink or retool an initiative when necessary. Operational and strategic innovations produced by Amazon have been adopted or adapted by many other businesses, both online and off, resulting in a record of national and global economic influence equaled by few companies.
SEE ALSO Apple, Inc.; E-Commerce Industry; Internet and the Economy; Personal Computers
BIBLIOGRAPHY
One Click: Jeff Bezos and the Rise of Amazon.com

. Portfolio/Penguin

New York

, 2011. Print.
The Impact of E-Commerce Strategies on Firm Value: Lessons from Amazon.com and Its Early Competitors

." Journal of Business

77.2

(2004):

S135-54

. Print.
. "
Seizing the White Space: Business Model Innovation for Growth and Renewal

. Harvard Business

Boston

, 2010. Print.
The Age of the Platform: How Amazon, Apple, Facebook, and Google Have Redefined Business

. Motion

Las Vegas

, 2011. Print.
; .
Related Articles
---
The Hutchinson Unabridged Encyclopedia with Atlas and Weather Guide
Multinational online shop that sells a wide range of goods. When it was first launched in 1995 by Jeff Bezos, it sold only books, but it subsequently
Gale Encyclopedia of U.S. Economic History
Amazon.com is one of the world's largest electric commerce (e-commerce) websites and a major retailer of books, consumer electronics, and digital me
Dictionary of Media and Communication Studies
US-based electronic superstore selling everything from books to computers, from cameras to furniture, from gourmet food to health products, clothing
See more from Credo