Topic Page: Allen, Woody, 1935-
Summary Article: Allen, Woody
from Movies in American History: An Encyclopedia
A legendary filmmaker and consummate auteur, Woody Allen has been writing and directing films since 1966. Since 1969 he has averaged one movie per year. His unique style generally favors the script and actors over avant-garde cinematic techniques and special effects. While he occasionally experiments with narrative techniques, his films are noted for complex characters, long scenes of dialogue, and location shoots. He is one of a few filmmakers who retains complete creative control over his films.
Allan Stewart Konigsberg was born December 1, 1935 in Brooklyn, New York, to Nettie and Martin Konigsberg. His mother was a bookkeeper and his father a jeweler. While Allen's parents were both born and raised on Manhattan's Lower East Side, Allen and his sister were raised in middle-class Brooklyn, where he attended public schools. After high school Allen attended NYU, but didn't apply himself and was eventually expelled.
Even before he graduated from high school, Allen was ghostwriting jokes for Sammy Kaye, Guy Lombardo, and Arthur Murray. After he dropped out of college, he signed with the William Morris Agency to write comedy skits for Pat Boone, Buddy Hackett, and others. In 1953, he left for Hollywood to work on the Colgate Comedy Hour for NBC. While he was in Hollywood he met Danny Simon, the brother of Neil Simon, who became his mentor. In 1956, Allen returned to New York, where he wrote nightclub routines for a number of celebrities. In 1958, he left the William Morris Agency and formed a business relationship with Jack Rollins and Charles Joffe, who launched his film career and continue to work with him, producing most of his films. During the 1960s Allen wrote for television and worked as a stand-up comic, touring the country and appearing frequently on The Tonight Show. His film career began in 1965 with the box-office hit, What's New Pussycat?, which he scripted. Since then he has written and directed over 40 films.
Allen is a prolific filmmaker. Every year he has a film in release, one in production, and one he is writing. His filmmaking approach, which is based on a restricted number of takes and tight schedules, keeps his budgets low (currently around $12 million per picture) and allows him to keep to his rigorously defined timetable. Allen is philosophical about his filmmaking vision, something reflected in the movies he creates. For instance, in Manhattan, which Allen co-wrote, Yale (Michael Murphy) suggests that "the essence of art is to provide a certain working through of the situation for people, so that you can get in touch with feelings that you didn't know that you had." This notion emphasizes the therapeutic value of art for the artist. Indeed, films such as Stardust Memories, Deconstructing Harry, and Vicky Cristina Barcelona, emphasize the point that art exists for the sake of the artist, often with only a peripheral regard for the audience. Reflecting this sense of art as a process of creative "working through of the situation," Allen's films frequently repeat subjects he approached in previous work: Manhattan is a more refined version of Annie Hall, Hannah and Her Sisters fleshes out some of the ambiguities in Interiors, while Match Point deals with the same issues as Crimes and Misdemeanors. For Allen, then, it seems that art is also becoming and, perhaps, never arrives.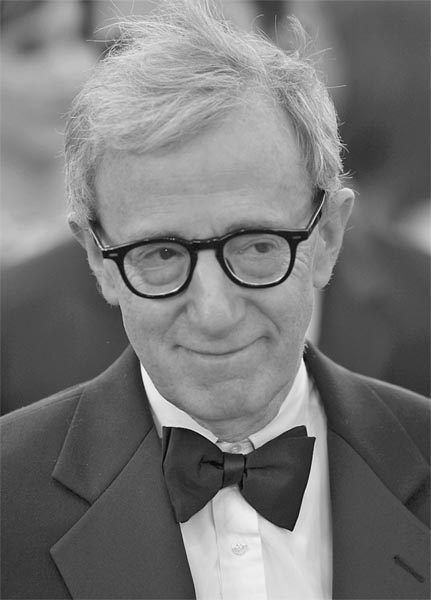 Allen's films can be divided into three periods: his early slapstick-comedy and Diane Keaton films; his Mia Farrow period; and his post–Mia Farrow period. (Allen had long-term, intimate relationships with both women.) Allen's early films relied heavily on slapstick and visual comedy. During this period he developed the Chaplinesque character, most often played by Allen himself, of the lovable, anxious schlemiel. With Annie Hall, Allen moved toward the seriocomedy he would master in the 1980s. A romantic comedy that deals with the complexity of intimate relationships, Annie Hall also relies on various forms of comedy to ease the filmic tension Allen masterfully creates in this film. In the 1980s, Allen's films relied more on situational comedy and situational irony than on physical comedy, as his early films had. The result is a period of filmmaking that more closely examines the nature of relationships and growth into middle age, what might be termed "mature comedies."
While many critics consider his Mia Farrow years to be his best, after his relationship with Farrow ended, his films became more diverse in form and content. (An acrimonious split between Allen and Farrow led to court battles over their adopted and biological children and Allen ultimately marrying the much younger Soon-Yi Previn, the adopted daughter of Farrow and Andre Previn, who had lived with Farrow and Allen while the two were together.). Everyone Says I Love You (1996) is a musical, while films like Sweet and Lowdown (1999) and Match Point (2005) bear little resemblance in style to any of Allen's previous films. Also, he began casting other actors in the "Woody Allen" character: John Cusak in Bullets over Broadway (1994), Kenneth Branagh in Celebrity (1998), and Will Ferrell in Melinda and Melinda (2004). In 2004, Allen made the greatest change in his film career: he started shooting films in England. New York City had become an integral part of his films; but artistically the change in location, said Allen, was necessary for him to view the world differently. Many of the themes Allen has dealt with in the past are there, but English and European culture play a role in the narrative. While frustrated with Hollywood's current business model, which favors blockbusters, Allen sees the move in pragmatic terms: European audiences tend to embrace his films more than American audiences.
Interestingly, especially because Allen, both in his personal life and in his films, seems hopelessly unable to determine "what women want," he has directed more women in Oscar-nominated roles than any other living filmmaker. A close examination of Allen's films reveals that most of them reflect his desire to understand women. This may appear directly, as in films such as Interiors, Alice, Purple Rose of Cairo, and Vicky Cristina Barcelona, or indirectly, through the male characters' relationships with women, in films like Annie Hall, Crimes and Misdemeanors, Hannah and Her Sisters (which covers all manner of sins), and Match Point. Setting the stage for most of the films that follow, Annie Hall explores Alvy Singer's attempt to come to terms with his relationship with women—and Annie in particular. The nature of women is a recurring theme in Allen's films. Films like Interiors, September, Alice, and Vicky Cristina Barcelona (none of which Allen appears in as an actor) focus on female protagonists and examine personal relationships from the female perspective. These characters are carefully and deeply wrought, and within each film reveal different aspects of the feminine psyche.
Sex is also a prominent and recurring theme in Allen's films. The 1970s emerged as an era in America during which sexuality could be discussed more openly. While never graphically portrayed in his films, the omnipresence of sex through innuendo, jokes, or postcoital conversations, reflected society's changing attitudes toward sexuality. But beneath the jokes and shock value created by the frank discussions of the subject in his early films (Everything You Always Wanted to Know about Sex and Sleeper), Allen presents viewers epistemological inquiries into human sexuality. For instance, in one scene in Annie Hall, also co-written by Allen, in a postcoital moment between Alvy (Allen) and Annie (Keaton), Alvy rolls over, turns on the light, and says, "As Balzac said, 'there goes another novel.' " This statement directly addresses the creative impulse expressed in both the sexual and the artistic moment. Allen, it seems, is suggesting that the creative impulse can be expressed through art or sexuality, but that for the artist, and by extension humanity in general, sexual desire tends to pervert what he understands as the transcendent quality of creativity. Indeed, in many of Allen's films, the artist is compromised by his sexual desires.
Another prominent motif in Allen's films is the city of New York. His recent European films notwithstanding, New York City plays a significant role in almost all of his work. Allen himself has stated that Manhattan is his homage to New York, and Hannah and Her Sisters offers an architectural tour of the city. The city shapes Allen's characters, and is integral to his plots. Indeed, the absence of the city in A Midsummer Night's Sex Comedy underscores the significance of the city in modern America. As the primary symbol of American modernity, Allen appears to be saying that the city acts to repress humanity's innate carnal desires; only in some Burkeian place of the sublime, then, can humanity's essential self finally emerge. Because Allen's characters, in both his comedies and his dramatic films, are so often repressed, so often representative of charmingly neurotic figures struggling mightily to disclose their own inner selves, it is not surprising that this brilliant director places most of them in the city, in the American city, New York City.
Allen continues to make films and gather awards. By 2009, he had received 46 Academy Award nominations and taken home the top prize 10 times. While most of his nominations have been for screenwriting, for which he holds the record at 14, most of his wins have gone to women who have acted in his films.
See also: Annie Hall Manhattan
Selected Filmography
Midnight in Paris (2011);

Whatever Works

(2009);.
Vicky Cristina Barcelona

(2008);.
Match Point

(2005);.
Deconstructing Harry

(1997);.
Mighty Aphrodite

(1995);.
Husbands and Wives

(1992);.
Shadows and Fog

(1991);.
Crimes and Misdemeanors

(1989);.
Hannah and Her Sisters

(1986);.
A Midsummer Night's Sex Comedy

(1982);.
Manhattan

(1979);.
Interiors

(1978);.
Annie Hall

(1977);.
Sleeper

(1973);.
Bananas

(1971).
References
The Films of Woody Allen

. Citadel

New York

, 1991.
.
The Films of Woody Allen

. Cambridge University Press

Cambridge, UK

, 1993.
.
Woody Allen Interviews

. University Press of Mississippi

Jackson

, 2006.
., and Kathie Coblentz, eds.
Reconstructing Woody: Art, Love, and Life in the Films of Woody Allen

. Rowman & Littlefield

Lanham, MD

, 1998.
.
Woody Allen

. Twayne

Boston

, 1987.
.
The Films of Woody Allen

. Scarecrow Press

Lanham, MD

, 2006.
., ed.