Topic Page: Allen, Richard, 1760-1831
---
Definition:
Allen, Richard
from
Chambers Biographical Dictionary
1760-1831
US clergyman
Born to slave parents in Philadelphia, he bought his freedom, became an itinerant preacher, and at the age of 27 founded the Free African Society of Philadelphia, the first organization of free African-Americans. He was spiritual leader of the first African Methodist Episcopal Church, and served as its bishop from 1816 to 1831. Throughout his life in Philadelphia, Allen worked as a leader in many African-American institutions to improve the lives of newly freed slaves.
---

Summary Article: RICHARD ALLEN (1760-1831)
from Slavery in the United States: A Social, Political, and Historical Encyclopedia
Born a slave in Philadelphia, Pennsylvania, Richard Allen grew up during the American Revolutionary War era. This period was directly influenced by philosophies promoting citizen's rights, religious freedom, and a burgeoning antislavery movement. After purchasing his freedom, Allen worked as a preacher, in addition to being a business and community leader. Ultimately he became founder, minister, and first bishop of the African Methodist Episcopal (AME) Church. Allen dedicated his life to the support of civil rights, racial equality, and the economic freedom of black people.
Richard Allen was born on February 14, 1760. His mother, father, and three siblings were owned by a Philadelphia lawyer named Benjamin Chew. In 1768 Chew sold the family to Stokely Sturgis, a plantation owner and farmer in Delaware. At the age of seventeen Allen and his brother, with the permission of Sturgis, began to attend Methodist meetings, leading Allen to join the Methodist Society and formally convert to Methodism in 1777.
At the society, Allen learned to read and write. He also began to preach at the society meetings. Other slaveowners feared that these assemblies where slaves embraced religion would make them less willing servants. Therefore Allen and his brother worked to ensure that their work in the fields was completed without interruption. Although Sturgis sold and divided his family at this time, he soon allowed Allen to hold Methodist meetings at his home. Influenced by these meetings, Sturgis also converted to Methodism in 1780, and he soon declared a moral opposition to owning slaves. He then offered Allen and his brother the chance to purchase their freedom for $2,000. They worked approximately five years as bricklayers, woodcutters, and wagon drivers to raise the money.
As he worked to pay for his freedom, Allen began a spiritual sojourn as an itinerant preacher, and he addressed black and white congregations at Methodist churches in Delaware, Pennsylvania, and Maryland. Although he lacked a formal education, he worked diligently to acquire and refine the social skills that would help him to solidify his leadership attributes.
In 1786, at the request of the white Methodist ministry, Allen accepted an invitation to preach at St. George's Church to a mixed-race congregation in Philadelphia. He quickly increased the church's black membership, resulting in the church elders agreeing to erect a balcony in the sanctuary. They also chose to limit the number of services that blacks could attend, and insisted that they be segregated to the balcony seating area. When Allen approached the elders about establishing a separate church for the black congregants, they opposed the idea.
On April 12, 1787, Allen and the Reverend Absalom Jones founded the Free African Society, a nondenominational association dedicated to the abolition of slavery and racial hatred. Allen's commitment to the principles of Methodism led him to eventually leave the society. During a service at St. George's, Reverend Jones decided to challenge the segregated seating plan by occupying the front of the church. In the middle of prayer the elders asked Jones to return to the balcony. Allen and the other members who were already seated in the balcony then left St. George's in unison.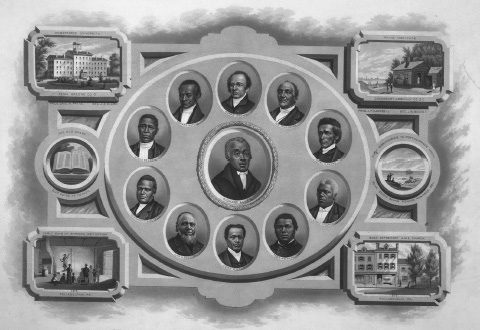 The movement for a separate and independent black church was gaining momentum. In 1794 the Free African Society founded the African Church of Philadelphia. As a result of the treatment of blacks at the Methodist church, this group became part of the Protestant Episcopal Church. On July 29, 1794, a blacksmith shop owned by Allen in Philadelphia was officially dedicated as Bethel African Church (also called Mother Bethel). It is the oldest piece of land in the United States continuously owned by blacks.
Allen was soon named Bethel's deacon, and he began a fight with white Methodist leaders who tried to take control of the church. In 1807 the Pennsylvania Supreme Court ruled that since the congregation owned the land on which they worshiped, they had the authority to decide who preached there. This ruling led to the formation of many African Methodist churches in the northeastern United States. The court granted Bethel independent status on January 1, 1816. At the convention of sixteen independent congregations later that year in Philadelphia, these churches united under the name African Methodist Episcopal (AME) Church. They now gained autonomy from white Methodist doctrines and jurisdiction. Allen was ordained an elder and became the first bishop of the new denomination on April 11, 1816.
Allen and the AME Church have played a crucial role in black history. The first members were poor people, and many were not able to read or write. Allen started night school classes in order to educate the local membership. The fundamentals of the African Society for the Education of Youth program that he founded and created still resonate today with the AME Church's operation of several colleges and universities throughout this country.
Frederick Douglass spoke against slavery from Bethel's pulpit. It also served as a stop on the Underground Railroad, providing comfort and shelter to fugitive slaves. Allen used his position to publish articles and deliver sermons against slavery, racism, and oppression. Other religious groups have historical origins related to ideological or theological ideals, but the AME Church was founded on the principles of nondiscrimination, social justice, and economic development for blacks in the United States.
The AME Church migrated to Haiti and Canada by 1830. Today membership is estimated at 1.2 million persons, with thousands of congregations in twenty-nine countries worldwide. Richard Allen remained pastor and bishop of Bethel AME Church until his death on March 26, 1831.
See also: Absalom; African Methodist Episcopal Church; Underground Railroad.
For Further Reading
"The African Methodist Church: 200 Years of Service to the Community."

Crisis

94

(June/July):

40-43

.
1987.
Richard Allen: An Apostle of Freedom

. Lawrenceville, NJ: Africa World Press.
2000.
Encyclopedia of African-American Religions

. New York: Garland.
, J. Gordon Melton, and Gary L. Ward, eds. 1993.
"New Light on Richard Allen: The Early Years of Freedom."

William and Mary Quarterly

46

(

2

):

332-340

.
1989.
Encyclopedia of African-American Culture and History

. New York: Macmillan Library Reference.
, David Lionel Smith, and Cornel West, eds. 1996.