Topic Page: Speer, Albert, 1905-1981
Summary Article: Speer, Albert (1905–1981)
from Germany at War: 400 Years of Military History
Third Reich minister for armaments. Born on March 19, 1905 in Mannheim, Albert Speer was educated at the Munich Institute of Technology and the Institute of Technology in Berlin-Charlottenburg. He received his architect's license in 1927. He was the protégé and academic assistant of Heinrich Tessenow when he first met Adolf Hitler at a Nazi rally in December 1930. Speer joined the Nazi Party in March 1931. He also joined the Nazi organization for professional architects and soon began receiving party commissions. In 1933, Speer designed the party's celebrations at Tempelhof Airport, introducing the "cathedral of light" concept that became a hallmark of party rallies. This brought him to the attention of Josef Goebbels, the minister of propaganda, who put Speer in contact with Hitler. The Führer soon commissioned Speer to design his official apartments.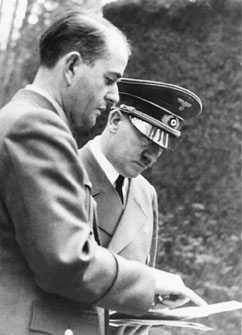 By 1934, Albert Speer was Hitler's architect, and he also held several official posts. In January 1937, Speer added the title of inspector general of construction for Berlin. He reported directly to Hitler and impressed the Nazi leader by completing the Reich Chancellery in only nine months. In January 1938, Hitler made Speer the first commissioner for the Chancellery. Speer now controlled all building and industrial materials as well as the transport and labor—some 65 million workers—associated with them.
In 1941, Speer offered his services to the army reserve and became chief of defense construction. When Fritz Todt died in a plane crash in February 1942, Hitler again turned to Speer. On February 15, Speer was sworn in as the new minister for armament and munitions. His brief also covered most aspects of construction and transportation, including control of the paramilitary Organization Todt.
Between 1942 and 1944, Speer tripled overall German armament output. Ammunition production increased 300 percent, and tank output rose 600 percent. By 1943, he was in charge of naval armaments as well as German rocket and atomic programs. Many saw him as Hitler's successor, since the two shared a close acquaintance based on their mutual interest in architecture.
The workload, however, took its toll on Speer. It also brought him into contact with the concentration camps and the conditions of slave labor, which Speer claimed to have found abhorrent. After touring facilities in the northeast, Speer fell gravely ill in the winter of 1943–1944. He remained hospitalized until early May 1944.
When he returned, Speer found his influence diminished. His name appeared on the list of putative ministers during the attempted coup of July 20, 1944; his friendship with Hitler and the fact that he was listed as someone to be approached after the attempted coup saved him. Speer remained at his posts and was made responsible for the construction of Germany's western defenses. Yet Speer was now less than committed to the Nazi cause. He spoke publicly of final victory and promised miracle weapons, but he privately doubted both. When Hitler adopted a scorched-earth policy, Speer sought to undermine it, and he involved himself in several wild schemes to assassinate or eliminate the top Nazi leadership.
On April 23, 1945, Speer visited Hitler in his Berlin bunker. He then flew to join Admiral Karl Dönitz's successor government at Flensburg as minister of economics and production. While there, following the German surrender, Speer was debriefed for the U.S. Strategic Bombing Survey before being arrested by the British on May 23, 1945. He then became one of the main defendants at the International Military Tribunal at Nuremburg. Speer adopted the strategy of accepting collective responsibility while simultaneously denying personal culpability. Found guilty, he received 20 years' imprisonment and served the full sentence.
While he was in prison, Speer wrote the accounts of his work and experiences in Nazi Germany that would make him both famous and infamous. He remained a significant literary and historical figure until his death in Paddington, England, on September 1, 1981.
See also: Armaments Procurement, German Armed Forces; Atlantic Wall; Dönitz, Karl; Hitler, Adolf; International Military Tribunal (The Nuremberg Trials); Organization Todt (OT); Todt, Fritz