Topic Page: Agnew, Spiro T., 1918-1996
---
Definition:
Agnew, Spiro Theodore
from
Philip's Encyclopedia
US statesman, vice president (1969-73) to Richard M. Nixon. Agnew served as governor of his native Maryland (1967-69). He was a staunch advocate of US involvement in the Vietnam War. Re-elected as vice president in 1972, he was forced to resign after the discovery of political bribery and corruption in Maryland. He did not contest further charges of tax evasion and was given a three-year probationary sentence and fined US$10,000.
---

Summary Article: Agnew, Spiro T.
From American Government A to Z: The Presidency A to Z
Spiro Theodore Agnew (1918–1996) served as vice president under Richard Nixon from 1969 to 1973. Agnew functioned as a hard-line spokesman for the administration by frequently attacking Nixon's opponents. After he was implicated in a bribery scheme, however, Agnew became one of only two vice presidents to resign from office (the other was John C. Calhoun).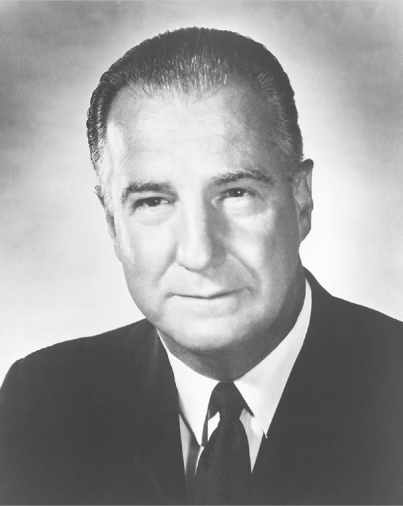 Agnew served as an army officer during World War II, and he saw combat in France and Germany. After the war he earned a law degree from the Baltimore Law School and opened a law office in Towson, Maryland, a Baltimore suburb. Agnew had been a Democrat, but he switched to the Republican Party in the late 1940s and actively supported local Republican candidates. In 1962 he was elected executive of Baltimore County, a post with responsibilities similar to those of a mayor.
Agnew ran for governor of Maryland in 1966. During the campaign he acquired a reputation as a liberal, in part because his Democratic opponent, George Mahoney, was a segregationist, whereas Agnew supported some civil rights initiatives. Substantial support from blacks and liberal Democrats helped him to defeat Mahoney decisively, despite the Democratic Party's three-to-one advantage over the Republicans among Maryland's registered voters.
With the cooperation of the Maryland legislature, Agnew reformed the state's tax code, increased aid to the poor, passed an open housing law, repealed the ban on racial intermarriage, liberalized the abortion law, and enacted strict regulations to reduce water pollution. In 1968, however, Agnew appeared to shift to the right. In particular, his uncompromising response to race riots in Baltimore after the assassination of civil rights leader Martin Luther King Jr. in April 1968 caused observers to question his liberal image.
On August 7, 1968, Agnew placed Richard Nixon's name in nomination for president at the Republican national convention in Miami. After Nixon won the nomination, he surprised many observers by choosing Agnew as his running mate. Agnew was virtually unknown outside Maryland, but Nixon hoped that he would appeal to southern voters who might be drawn to the third-party candidacy of former Alabama governor George C. Wallace.
During the 1968 campaign Agnew made several political blunders that betrayed his lack of national political experience. His claim that the Democratic presidential candidate, Vice President Hubert H. Humphrey, was "squishy soft on communism" rekindled memories of Nixon's extreme anticommunist rhetoric during the 1940s and 1950s. Agnew also used the derogatory term Polack in a statement referring to a person of Polish ancestry and remarked in an interview that "if you've seen one city slum, you've seen them all." Despite these mistakes, Nixon and Agnew defeated Democrats Humphrey and Maine senator Edmund S. Muskie in the Electoral College vote 301–191.
As vice president, Agnew had little influence on policy decisions, but he became the president's mouthpiece against liberal members of the news media, Vietnam War protesters, and other groups perceived by the administration as enemies. In 1972 Nixon, with Agnew as his running mate, defeated the Democratic nominee, Sen. George McGovern of South Dakota, in a landslide.
In August 1973 the U.S. attorney in Baltimore disclosed that Agnew was under investigation for having received bribes from contractors during his years as Baltimore County executive and governor of Maryland. Agnew claimed he was innocent, but his lawyers worked out a plea bargain in which the vice president agreed to resign, to plead "no contest" to income tax evasion, and to pay a $10,000 fine and $150,000 in back taxes. In return, the Justice Department agreed not to prosecute Agnew for taking bribes. He resigned the vice presidency on October 10, 1973. Two days later Nixon nominated Gerald R. Ford to replace him.
Early in 1974 Agnew was disbarred. He decided to write a novel to pay his debts, and in 1976 he published The Canfield Decision, a story about a U.S. vice president who becomes involved with Iranian militants. He also established a profitable international consulting business for companies doing business in the Middle East. In 1980 he published his autobiography, Go Quietly ... or Else, in which he claimed he was innocent of the crimes that forced his resignation. In 1994, two years before he died of acute leukemia, Agnew revealed that he had not spoken with Nixon since his resignation from the vice presidency.
Related Articles
---
Political Glossaries: A Glossary of US Politics and Government
(1918–96) A former Republican governor of Maryland, Spiro Agnew (born Spiro Anagnostopoulos) was Vice President of the United States between 1969 and
Chambers Biographical Dictionary
1918-96 US politician Born in Baltimore, Maryland, the son of a Greek immigrant, he served in World War II and studied law at the University of Maryl
Bloomsbury Biographical Dictionary of Quotations
I agree with you that the name of Spiro Agnew is not a household name. I certainly hope that it will become one within the...
See more from Credo