Topic Page: Hay, John, 1838-1905
---
Definition: Hay, John Milton from Philip's Encyclopedia
---
Summary Article: Hay, John from The Political Lincoln: An Encyclopedia
John Milton Hay (1838–1905), Lincoln's highly capable assistant personal secretary, was a surrogate son to the president, far more like Lincoln in temperament and interests than his own son Robert Todd Lincoln. Hay's humor, intelligence, love of wordplay, fondness for literature, and devotion to his boss made him a source of comfort to the beleaguered president in the loneliness of the White House. Though twenty-nine years younger than Lincoln, Hay became as much a friend and confidant to the president as their age difference would allow.
Hay was born in Indiana, raised in a small town in western Illinois, and educated at Brown University. In 1860, while apprenticing in the Springfield law office of his uncle, Milton Hay, young John was recruited to assist Lincoln's private secretary, John G. Nicolay, a school chum from Pittsfield, Illinois. Attorney Hay said that his nephew had "great literary talent and great tact," and that he "will never make a lawyer," but that he "may be a poet some day, and he can at least write good English." Indeed he could. In the White House, Hay frequently composed letters for Lincoln's signature. Most of them were routine, but one—the famous 1864 letter of condolence to the widow Bixby—achieved world renown. In addition, he contributed dozens of anonymous and pseudonymous articles to newspapers during the Civil War, giving the administration's interpretation of events. In those pieces, he in effect served the function that would later be handled by a presidential press secretary.
Hay also acted as one of Lincoln's troubleshooters, helping to solve difficult problems. In early 1864 Hay spent weeks in Florida promoting that state's return to the Union in accordance with the president's so-called Ten Percent Plan for reconstruction. After that effort fizzled, he was dispatched to Niagara Falls a few months later to investigate Confederate peace feelers that the influential newspaper editor Horace Greeley had urged the administration to heed. Hay helped expose the Confederate effort as nothing more than a ruse to bolster the Peace Democrats, who were insisting that the war be abandoned. That same year Lincoln also sent Hay to St. Louis to investigate rumors of a potential uprising.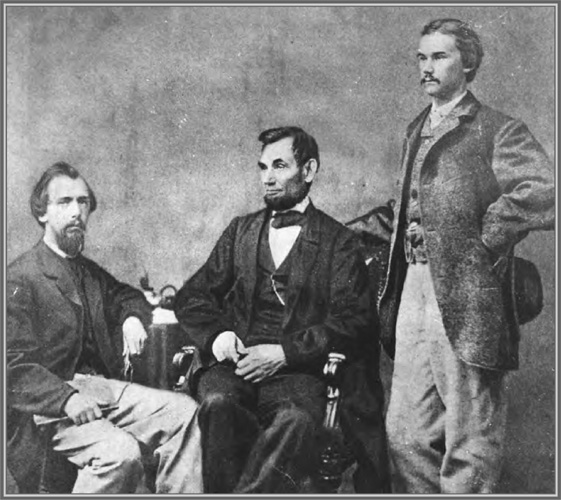 Hay greatly admired his boss. In summer 1863 he wrote Nicolay that the president
is in fine whack. I have rarely seen him more serene & busy. He is managing this war, the draft, foreign relations, and planning a reconstruction of the Union, all at once. I never knew with what tyrannous authority he rules the Cabinet, till now. The most important things he decides & there is no cavil. I am growing more and more firmly convinced that the good of the country absolutely demands that he should be kept where he is till this thing is over. There is no man in the country, so wise, so gentle and so firm. I believe the hand of God placed him where he is.
Hay scouted rumors that radicals dominated administration policy:
You may talk as you please of the Abolition Cabal directing affairs from Washington: some well meaning newspapers advise the President to keep his fingers out of the military pie: and all that sort of thing. The truth is, if he did, the pie would be a sorry mess. The old man sits here and wields like a backwoods Jupiter the bolts of war and the machinery of government with a hand equally steady & equally firm.
Three years later he told a biographer, "Lincoln with all his foibles, is the greatest character since Christ."
Hay did not like Mary Todd Lincoln, referring to her in an 1862 letter as devilish and a "Hell-Cat." The First Lady resented Hay's unwillingness to engage in various unethical schemes to defraud the government, including misuse of the presidential stationery fund and misappropriation of a White House servant's salary.
The relations between Hay and Lincoln resembled those between Alexander Hamilton and George Washington when Hamilton served as Washington's principal aide. The journalist John Russell Young recalled that Hay
knew the social graces and amenities, and did much to make the atmosphere of the war[-]environed White House grateful, tempering unreasonable aspirations, giving to disappointed ambitions the soft answer which turneth away wrath, showing, as Hamilton did in similar offices, the tact and common sense which were to serve him as they served Hamilton in wider spheres of public duty.
Young, who often visited the White House during the Civil War, called Hay "brilliant" and "chivalrous," quite "independent, with opinions on most questions," which he expressed freely. At times sociable, Hay could also be "reserved" and aloof, "with just a shade of pride that did not make acquaintanceship spontaneous." Hay, Young said, combined "the genius for romance and politics as no one...since Disraeli"; he judged that Hay was well "suited for his place in the President's family." Young depicted Hay as "a comely young man with [a] peachblossom face," "exceedingly handsome—a slight, graceful, boyish figure—'girl in boy's clothes,' as I heard in a sniff from some angry politician." This "young, almost beardless, and almost boyish countenance did not seem to match with official responsibilities and the tumult of action in time of pressure, but he did what he had to do, was always graceful, composed, polite, and equal to the complexities of any situation which might arise." Hay's "old-fashioned speech" was "smooth, low-toned, quick in comprehension, sententious, reserved." People were "not quite sure whether it was the reserve of diffidence or aristocracy," Young remembered. The "high-bred, courteous" Hay was "not one with whom the breezy overflowing politician would be apt to take liberties." Young noticed "a touch of sadness in his temperament" and concluded that Hay "had the personal attractiveness as well as the youth of Byron" and "was what Byron might have been if grounded on good principles and with the wholesome discipline of home."
In 1863 an Ohio journalist described Hay as "that fellow five feet tall, that walks like lightning down the street," wearing "a turtle-backed hat, just the shape of his cranium, with well oiled locks, and handsome kid gloves." A "stranger might mistake him for a stray Englishman," and a "close observer will notice at once the air of weighty secrets by which he is surrounded." Hay expressed himself "in the choice and expressive language which prevails at the 'Chebang,' as he pleasantly terms the White House. Inquire affectionately after the health of the President of the mightiest nation on the earth, and John will inform you that the 'old Tycoon is in high feather.'"
A newspaperman who saw Hay in 1861 recalled that he was
a young, good-looking fellow, well, almost foppishly dressed, with by no means a low down opinion of himself, either physically or mentally, with plenty of self-confidence for anybody's use, a brain active and intellectual, with a full budget of small talk for the ladies or anybody else, and both eyes keeping a steady lookout for the interests of "number one."
When a classmate from Brown congratulated him on winning the post of assistant presidential secretary, Hay replied: "Yes. I'm Keeper of the President's Conscience."
During his service in the White House, Hay kept an invaluable diary. When he and Nicolay wrote a ten-volume biography of Lincoln (published in 1890), they relied heavily on that document, as subsequent biographers have also done. With Nicolay, he also edited an edition of Lincoln's speeches and letters. Hay achieved eminence as a diplomat, serving as assistant secretary of state (1879–1881), ambassador to Great Britain (1897–1898), and secretary of state (1898–1905). He originated the "Open Door Policy" (1899, 1900) to protect equal commercial privileges for all countries dealing with China and protect that nation's territorial integrity. He also kept up his writing, composing editorials for the New York Tribune, publishing poetry, travel literature, and regional stories that anticipated the works of Bret Harte. His anonymous 1883 novel, The Breadwinners: A Social Study, was widely read.
See also Nicolay, John G.
BIBLIOGRAPHY
"The Authorship of the Bixby Letter."

In At Lincoln's Side: John Hay's Civil War Correspondence and Selected Writings, edited by

Burlingame, Michael

. Carbondale:

Southern Illinois University Press

, 2000.

The Inner World of Abraham Lincoln.

Urbana:

University of Illinois Press

, 1994.

Burlingame, Michael

Ettlinger, John R. Turner

, eds.

Inside Lincoln's White House: The Complete Civil War Diary of John Hay.

Carbondale:

Southern Illinois University Press

, 1997.